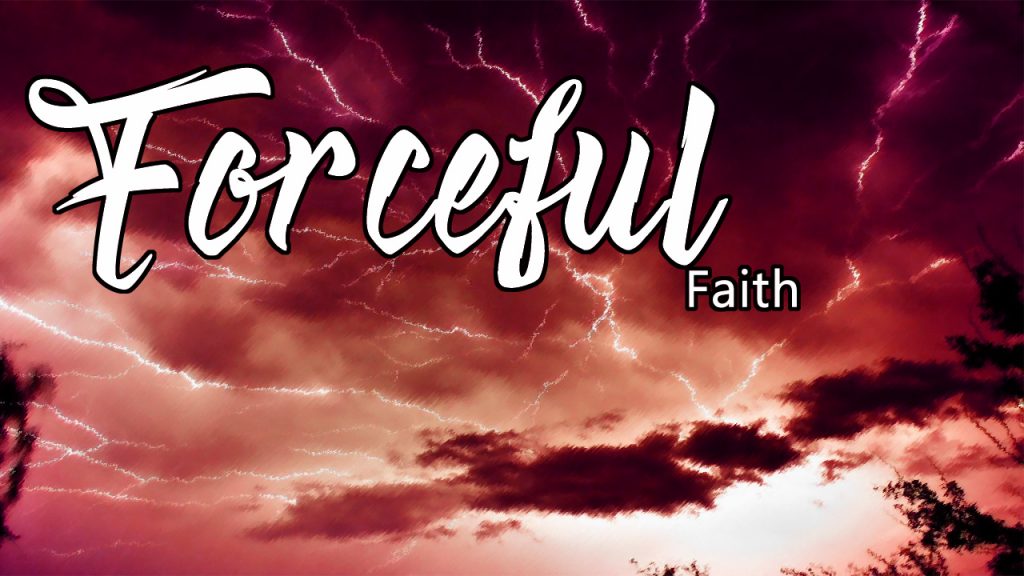 Mark 8:31-36 (KJV)
31 And he began to teach them, that the Son of man must suffer many things, and be rejected of the elders, and of the chief priests, and scribes, and be killed, and after three days rise again.
32 And he spake that saying openly. And Peter took him, and began to rebuke him.
33 But when he had turned about and looked on his disciples, he rebuked Peter, saying, Get thee behind me, Satan: for thou savourest not the things that be of God, but the things that be of men.
34 And when he had called the people unto him with his disciples also, he said unto them, Whosoever will come after me, let him deny himself, and take up his cross, and follow me.
35 For whosoever will save his life shall lose it; but whosoever shall lose his life for my sake and the gospel's, the same shall save it.
36 For what shall it profit a man, if he shall gain the whole world, and lose his own soul?
Matthew 11:12 (KJV)
12 And from the days of John the Baptist until now the kingdom of heaven suffereth violence, and the violent take it by force.
1 Peter 1:7 (KJV)
7 That the trial of your faith, being much more precious than of gold that perisheth, though it be tried with fire, might be found unto praise and honour and glory at the appearing of Jesus Christ:
Psalm 19:1 (KJV)
1 The heavens declare the glory of God; and the firmament sheweth his handywork.
Numbers 11:1-3 (KJV)
1 And when the people complained, it displeased the Lord: and the Lord heard it; and his anger was kindled; and the fire of the Lord burnt among them, and consumed them that were in the uttermost parts of the camp.
2 And the people cried unto Moses; and when Moses prayed unto the Lord, the fire was quenched.
3 And he called the name of the place Taberah: because the fire of the Lord burnt among them.
Philippians 4:11-13 (KJV)
11 Not that I speak in respect of want: for I have learned, in whatsoever state I am, therewith to be content.
12 I know both how to be abased, and I know how to abound: every where and in all things I am instructed both to be full and to be hungry, both to abound and to suffer need.
13 I can do all things through Christ which strengtheneth me.
Proverbs 18:21 (KJV)
21 Death and life are in the power of the tongue: and they that love it shall eat the fruit thereof.
Mark 4:40 (KJV)
40 And he said unto them, Why are ye so fearful? how is it that ye have no faith?
Job 3:25 (KJV)
25 For the thing which I greatly feared is come upon me, and that which I was afraid of is come unto me.
Joel 3:10 (KJV)
10 Beat your plowshares into swords and your pruninghooks into spears: let the weak say, I am strong.
2 Corinthians 12:10 (KJV)
10 Therefore I take pleasure in infirmities, in reproaches, in necessities, in persecutions, in distresses for Christ's sake: for when I am weak, then am I strong.
Hebrews 10:35-38 (KJV)
35 Cast not away therefore your confidence, which hath great recompence of reward.
36 For ye have need of patience, that, after ye have done the will of God, ye might receive the promise.
37 For yet a little while, and he that shall come will come, and will not tarry.
38 Now the just shall live by faith: but if any man draw back, my soul shall have no pleasure in him.
Luke 1:46-49 (KJV)
46 And Mary said, My soul doth magnify the Lord,
47 And my spirit hath rejoiced in God my Saviour.
48 For he hath regarded the low estate of his handmaiden: for, behold, from henceforth all generations shall call me blessed.
49 For he that is mighty hath done to me great things; and holy is his name.
Psalm 34:3-4 (KJV)
3 O magnify the Lord with me, and let us exalt his name together.
4 I sought the Lord, and he heard me, and delivered me from all my fears.
Hebrews 11:1-2 (KJV)
1 Now faith is the substance of things hoped for, the evidence of things not seen.
2 For by it the elders obtained a good report.
Psalm 100:1-5 (KJV)
1 Make a joyful noise unto the Lord, all ye lands.
2 Serve the Lord with gladness: come before his presence with singing.
3 Know ye that the Lord he is God: it is he that hath made us, and not we ourselves; we are his people, and the sheep of his pasture.
4 Enter into his gates with thanksgiving, and into his courts with praise: be thankful unto him, and bless his name.
5 For the Lord is good; his mercy is everlasting; and his truth endureth to all generations.
Psalm 100:4 (KJV)
4 Enter into his gates with thanksgiving, and into his courts with praise: be thankful unto him, and bless his name.