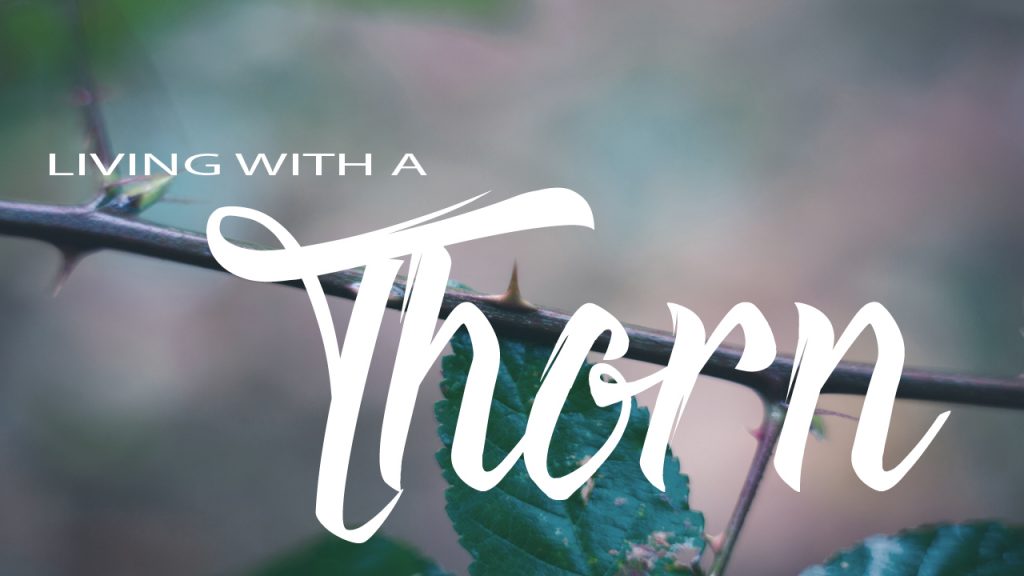 2 Corinthians 12:6-10 (KJV)
6 For though I would desire to glory, I shall not be a fool; for I will say the truth: but now I forbear, lest any man should think of me above that which he seeth me to be, or that he heareth of me.
7 And lest I should be exalted above measure through the abundance of the revelations, there was given to me a thorn in the flesh, the messenger of Satan to buffet me, lest I should be exalted above measure.
8 For this thing I besought the Lord thrice, that it might depart from me.
9 And he said unto me, My grace is sufficient for thee: for my strength is made perfect in weakness. Most gladly therefore will I rather glory in my infirmities, that the power of Christ may rest upon me.
10 Therefore I take pleasure in infirmities, in reproaches, in necessities, in persecutions, in distresses for Christ's sake: for when I am weak, then am I strong.
Acts 9:1-6 (KJV) 1 And Saul, yet breathing out threatenings and slaughter against the disciples of the Lord, went unto the high priest,
2 And desired of him letters to Damascus to the synagogues, that if he found any of this way, whether they were men or women, he might bring them bound unto Jerusalem.
3 And as he journeyed, he came near Damascus: and suddenly there shined round about him a light from heaven:
4 And he fell to the earth, and heard a voice saying unto him, Saul, Saul, why persecutest thou me?
5 And he said, Who art thou, Lord? And the Lord said, I am Jesus whom thou persecutest: it is hard for thee to kick against the pricks.
6 And he trembling and astonished said, Lord, what wilt thou have me to do? And the Lord said unto him, Arise, and go into the city, and it shall be told thee what thou must do.
2 Corinthians 5:17 (KJV)
17 Therefore if any man be in Christ, he is a new creature: old things are passed away; behold, all things are become new.
Acts 9:20-22 (KJV)
20 And straightway he preached Christ in the synagogues, that he is the Son of God.
21 But all that heard him were amazed, and said; Is not this he that destroyed them which called on this name in Jerusalem, and came hither for that intent, that he might bring them bound unto the chief priests?
22 But Saul increased the more in strength, and confounded the Jews which dwelt at Damascus, proving that this is very Christ.
2 Corinthians 5:17 (KJV)
17 Therefore if any man be in Christ, he is a new creature: old things are passed away; behold, all things are become new.
Philippians 4:12 (KJV)
12 I know both how to be abased, and I know how to abound: every where and in all things I am instructed both to be full and to be hungry, both to abound and to suffer need.
2 Corinthians 11:21-27 (KJV)
21 I speak as concerning reproach, as though we had been weak. Howbeit whereinsoever any is bold, (I speak foolishly,) I am bold also.
22 Are they Hebrews? so am I. Are they Israelites? so am I. Are they the seed of Abraham? so am I.
23 Are they ministers of Christ? (I speak as a fool) I am more; in labours more abundant, in stripes above measure, in prisons more frequent, in deaths oft.
24 Of the Jews five times received I forty stripes save one.
25 Thrice was I beaten with rods, once was I stoned, thrice I suffered shipwreck, a night and a day I have been in the deep;
26 In journeyings often, in perils of waters, in perils of robbers, in perils by mine own countrymen, in perils by the heathen, in perils in the city, in perils in the wilderness, in perils in the sea, in perils among false brethren;
27 In weariness and painfulness, in watchings often, in hunger and thirst, in fastings often, in cold and nakedness.
2 Timothy 4:6-8 (KJV)
6 For I am now ready to be offered, and the time of my departure is at hand.
7 I have fought a good fight, I have finished my course, I have kept the faith:
8 Henceforth there is laid up for me a crown of righteousness, which the Lord, the righteous judge, shall give me at that day: and not to me only, but unto all them also that love his appearing.