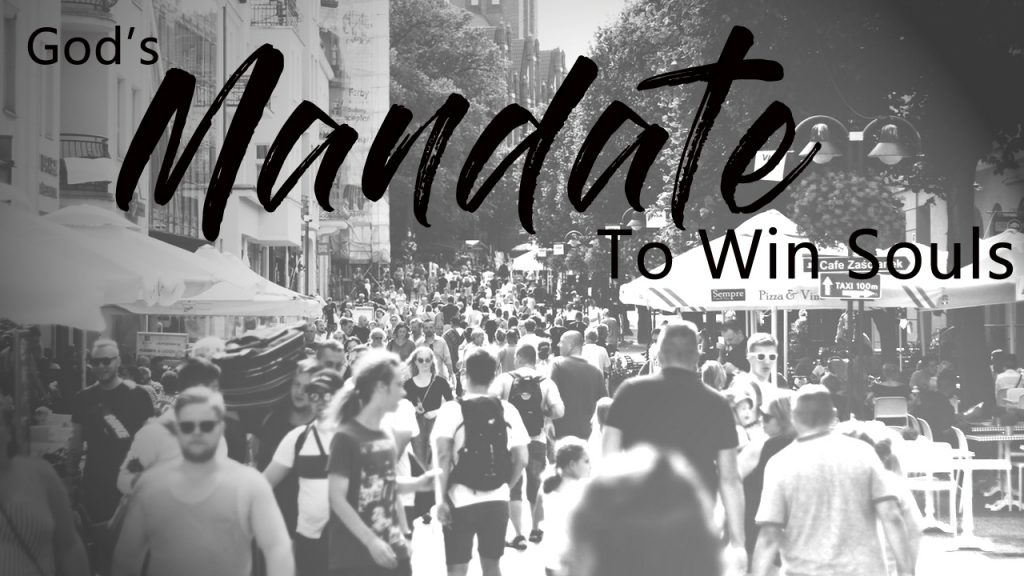 Ezekiel 3:17-18 (KJV)
17 Son of man, I have made thee a watchman unto the house of Israel: therefore hear the word at my mouth, and give them warning from me.
18 When I say unto the wicked, Thou shalt surely die; and thou givest him not warning, nor speakest to warn the wicked from his wicked way, to save his life; the same wicked man shall die in his iniquity; but his blood will I require at thine hand.
Mark 16:15 (KJV)
15 And he said unto them, Go ye into all the world, and preach the gospel to every creature.
Acts 1:8 (KJV)
8 But ye shall receive power, after that the Holy Ghost is come upon you: and ye shall be witnesses unto me both in Jerusalem, and in all Judaea, and in Samaria, and unto the uttermost part of the earth.
Acts 10:24 (KJV)
24 And the morrow after they entered into Caesarea. And Cornelius waited for them, and he had called together his kinsmen and near friends.
Acts 16:32 (KJV)
32 And they spake unto him the word of the Lord, and to all that were in his house.
1 Corinthians 9:16 (NIV)
16 For when I preach the gospel, I cannot boast, since I am compelled to preach. Woe to me if I do not preach the gospel!
1 Corinthians 3:11-15 (NLT)
11 For no one can lay any foundation other than the one we already have—Jesus Christ.
12 Anyone who builds on that foundation may use a variety of materials—gold, silver, jewels, wood, hay, or straw.
13 But on the judgment day, fire will reveal what kind of work each builder has done. The fire will show if a person's work has any value.
14 If the work survives, that builder will receive a reward.
15 But if the work is burned up, the builder will suffer great loss. The builder will be saved, but like someone barely escaping through a wall of flames.
Romans 1:14-16 (NLT)
14 For I have a great sense of obligation to people in both the civilized world and the rest of the world,[a] to the educated and uneducated alike.
15 So I am eager to come to you in Rome, too, to preach the Good News.
16 For I am not ashamed of this Good News about Christ. It is the power of God at work, saving everyone who believes—the Jew first and also the Gentile.
Ezekiel 3:19 (NLT)
19 If you warn them and they refuse to repent and keep on sinning, they will die in their sins. But you will have saved yourself because you obeyed me.
Romans 6:23 (KJV)
23 For the wages of sin is death; but the gift of God is eternal life through Jesus Christ our Lord.
Revelation 20:14 (KJV)
14 And death and hell were cast into the lake of fire. This is the second death.
Acts 20:26 (KJV)
26 Wherefore I take you to record this day, that I am pure from the blood of all men.
Acts 20:20-21 (KJV)
20 And how I kept back nothing that was profitable unto you, but have shewed you, and have taught you publicly, and from house to house,
21 Testifying both to the Jews, and also to the Greeks, repentance toward God, and faith toward our Lord Jesus Christ.
Acts 20:27 (KJV)
27 For I have not shunned to declare unto you all the counsel of God.
Romans 3:10 (KJV)
10 As it is written, There is none righteous, no, not one:
Romans 3:23 (KJV)
23 For all have sinned, and come short of the glory of God;
Romans 4:5 (KJV)
5 But to him that worketh not, but believeth on him that justifieth the ungodly, his faith is counted for righteousness.
John 14:6 (KJV)
6 Jesus saith unto him, I am the way, the truth, and the life: no man cometh unto the Father, but by me.
Mark 16:15 (KJV)
15 And he said unto them, Go ye into all the world, and preach the gospel to every creature.
Proverbs 11:30 (KJV)
30 The fruit of the righteous is a tree of life; and he that winneth souls is wise.
Matthew 4:19 (KJV)
19 And he saith unto them, Follow me, and I will make you fishers of men.
Romans 9:3 (NLT)
3 for my people, my Jewish brothers and sisters.[a] I would be willing to be forever cursed—cut off from Christ!—if that would save them.
Galatians 2:20 (NLT)
20 My old self has been crucified with Christ.[a] It is no longer I who live, but Christ lives in me. So I live in this earthly body by trusting in the Son of God, who loved me and gave himself for me.
Hebrews 10:24 (NLT)
24 Let us think of ways to motivate one another to acts of love and good works.
Ephesians 2:10 (NLT)
10 For we are God's masterpiece. He has created us anew in Christ Jesus, so we can do the good things he planned for us long ago.
2 Timothy 2:8-13 (NLT)
8 Always remember that Jesus Christ, a descendant of King David, was raised from the dead. This is the Good News I preach.
9 And because I preach this Good News, I am suffering and have been chained like a criminal. But the word of God cannot be chained.
10 So I am willing to endure anything if it will bring salvation and eternal glory in Christ Jesus to those God has chosen.
Galatians 2:11-14 (NLT)
11 But when Peter came to Antioch, I had to oppose him to his face, for what he did was very wrong.
12 When he first arrived, he ate with the Gentile believers, who were not circumcised. But afterward, when some friends of James came, Peter wouldn't eat with the Gentiles anymore. He was afraid of criticism from these people who insisted on the necessity of circumcision.
13 As a result, other Jewish believers followed Peter's hypocrisy, and even Barnabas was led astray by their hypocrisy.
14 When I saw that they were not following the truth of the gospel message, I said to Peter in front of all the others, "Since you, a Jew by birth, have discarded the Jewish laws and are living like a Gentile, why are you now trying to make these Gentiles follow the Jewish traditions?
Ephesians 2:8 (NLT)
8 God saved you by his grace when you believed. And you can't take credit for this; it is a gift from God.