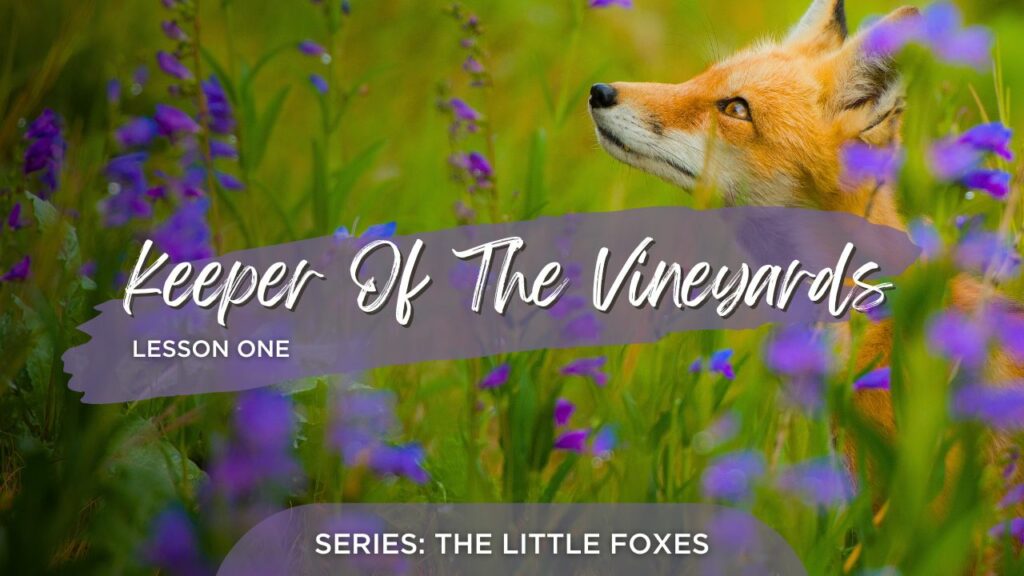 Song of Solomon 1:6 (KJV)
6
Look not upon me, because I am black, because the sun hath looked upon me: my mother's children were angry with me; they made me the keeper of the vineyards; but mine own vineyard have I not kept.
Song of Solomon 2:15 (KJV)
15
Take us the foxes, the little foxes, that spoil the vines: for our vines have tender grapes.
Proverbs 24:30-34 (KJV)
30
I went by the field of the slothful, and by the vineyard of the man void of understanding;
31 
And, lo, it was all grown over with thorns, and nettles had covered the face thereof, and the stone wall thereof was broken down.
32 
Then I saw, and considered it well: I looked upon it, and received instruction.
33 
Yet a little sleep, a little slumber, a little folding of the hands to sleep:

34 
So shall thy poverty come as one that travelleth; and thy want as an armed man.
Mark 4:1-9 (KJV)
1
And he began again to teach by the sea side: and there was gathered unto him a great multitude, so that he entered into a ship, and sat in the sea; and the whole multitude was by the sea on the land.

2 
And he taught them many things by parables, and said unto them in his doctrine,
3 
Hearken; Behold, there went out a sower to sow:
4 
And it came to pass, as he sowed, some fell by the way side, and the fowls of the air came and devoured it up.
5 
And some fell on stony ground, where it had not much earth; and immediately it sprang up, because it had no depth of earth:
6 
But when the sun was up, it was scorched; and because it had no root, it withered away.
7 
And some fell among thorns, and the thorns grew up, and choked it, and it yielded no fruit.

8 
And other fell on good ground, and did yield fruit that sprang up and increased; and brought forth, some thirty, and some sixty, and some an hundred.

9 
And he said unto them, He that hath ears to hear, let him hear.
Hebrews 12:5-11 (KJV)
5
And ye have forgotten the exhortation which speaketh unto you as unto children, My son, despise not thou the chastening of the Lord, nor faint when thou art rebuked of him:

6 
For whom the Lord loveth he chasteneth, and scourgeth every son whom he receiveth.

7 
If ye endure chastening, God dealeth with you as with sons; for what son is he whom the father chasteneth not?
8 
But if ye be without chastisement, whereof all are partakers, then are ye bastards, and not sons.
9 
Furthermore we have had fathers of our flesh which corrected us, and we gave them reverence: shall we not much rather be in subjection unto the Father of spirits, and live?

10 
For they verily for a few days chastened us after their own pleasure; but he for our profit, that we might be partakers of his holiness.
11 
Now no chastening for the present seemeth to be joyous, but grievous: nevertheless afterward it yieldeth the peaceable fruit of righteousness unto them which are exercised thereby.
John 15:2-4 (KJV)
2
Every branch in me that beareth not fruit he taketh away: and every branch that beareth fruit, he purgeth it, that it may bring forth more fruit.
3 
Now ye are clean through the word which I have spoken unto you.
4 
Abide in me, and I in you. As the branch cannot bear fruit of itself, except it abide in the vine; no more can ye, except ye abide in me.