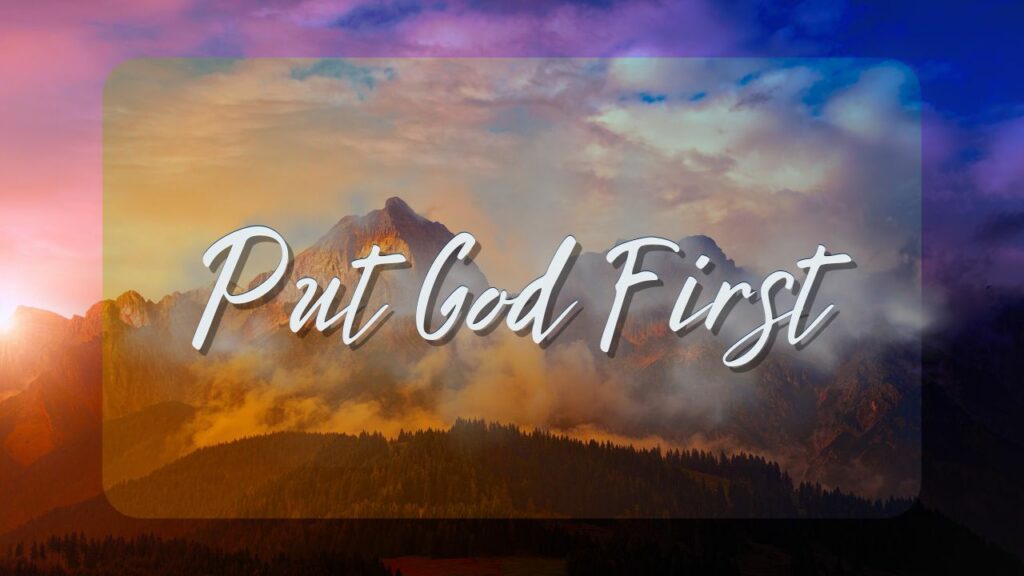 Exodus 20:3 (KJV)
3
Thou shalt have no other gods before me.
Genesis 1:1-3 (NIV)
1

In the beginning God created the heavens and the earth.
2 Now the earth was formless and empty, darkness was over the surface of the deep, and the Spirit of God was hovering over the waters.

3
And God said, "Let there be light," and there was light.
Genesis 2:7-8 (NIV)
7
Then the
Lord
God formed a man
from the dust of the ground and breathed into his nostrils the breath of life, and the man became a living being.

8
Now the
Lord
God had planted a garden in the east, in Eden; and there he put the man he had formed.
Genesis 2:18 (NIV)
18
The
Lord
God said, "It is not good for the man to be alone. I will make a helper suitable for him."
Genesis 2:21-22 (NIV)
21 So the

Lord

God caused the man to fall into a deep sleep; and while he was sleeping, he took one of the man's ribs and then closed up the place with flesh.
22 Then the

Lord

God made a woman from the rib he had taken out of the man, and he brought her to the man.
Genesis 2:16-17 (NIV)
16 And the

Lord

God commanded the man, "You are free to eat from any tree in the garden;
17 but you must not eat from the tree of the knowledge of good and evil, for when you eat from it you will certainly die."
Exodus 20:3 (NIV)
3
"You shall have no other gods before
me.
Matthew 6:25-33 (NKJV)
25
"Therefore I say to you,
do not worry about your life, what you will eat or what you will drink; nor about your body, what you will put on. Is not life more than food and the body more than clothing?
26
Look at the birds of the air, for they neither sow nor reap nor gather into barns; yet your heavenly Father feeds them. Are you not of more value than they?
27
Which of you by worrying can add one
cubit to his
stature?

28
"So why do you worry about clothing? Consider the lilies of the field, how they grow: they neither toil nor spin;
29
and yet I say to you that even Solomon in all his glory was not
arrayed like one of these.
30
Now if God so clothes the grass of the field, which today is, and tomorrow is thrown into the oven, will He not much more clothe you, O you of little faith?

31
"Therefore do not worry, saying, 'What shall we eat?' or 'What shall we drink?' or 'What shall we wear?'
32
For after all these things the Gentiles seek. For your heavenly Father knows that you need all these things.
33
But
seek first the kingdom of God and His righteousness, and all these things shall be added to you.
John 10:10 (KJV)
10
The thief cometh not, but for to steal, and to kill, and to destroy: I am come that they might have life, and that they might have it more abundantly.
Ephesians 5:15-17 (AMP)
15 Therefore see that you walk carefully [living life with honor, purpose, and courage; shunning those who tolerate and enable evil], not as the unwise, but as wise [sensible, intelligent, discerning people],
16 making the very most of your time [on earth, recognizing and taking advantage of each opportunity and using it with wisdom and diligence], because the days are [filled with] evil.
17 Therefore do not be foolish and thoughtless, but understand and firmly grasp what the will of the Lord is.
Matthew 6:19-21 (KJV)
19
Lay not up for yourselves treasures upon earth, where moth and rust doth corrupt, and where thieves break through and steal:

20
But lay up for yourselves treasures in heaven, where neither moth nor rust doth corrupt, and where thieves do not break through nor steal:

21
For where your treasure is, there will your heart be also.
Malachi 3:8-11 (KJV)
8
Will a man rob God? Yet ye have robbed me. But ye say, Wherein have we robbed thee? In tithes and offerings.
9
Ye are cursed with a curse: for ye have robbed me, even this whole nation.

10
Bring ye all the tithes into the storehouse, that there may be meat in mine house, and prove me now herewith, saith the
Lord
of hosts, if I will not open you the windows of heaven, and pour you out a blessing, that there shall not be room enough to receive it.
11
And I will rebuke the devourer for your sakes, and he shall not destroy the fruits of your ground; neither shall your vine cast her fruit before the time in the field, saith the
Lord
of hosts.
1 Corinthians 12:18-19 (NKJV)
18 But now God has set the members, each one of them, in the body just as He pleased.
19 And if they were all one member, where would the body be?
Deuteronomy 6:4 (KJV)
4
Hear, O Israel: The
Lord
our God is one
Lord
:
Mark 12:29-30 (KJV)
29
And Jesus answered him, The first of all the commandments is, Hear, O Israel; The Lord our God is one Lord:

30
And thou shalt love the Lord thy God with all thy heart, and with all thy soul, and with all thy mind, and with all thy strength: this is the first commandment.
1 Corinthians 8:5-6 (KJV)
5
For though there be that are called gods, whether in heaven or in earth, (as there be gods many, and lords many,)

6
But to us there is but one God, the Father, of whom are all things, and we in him; and one Lord Jesus Christ, by whom are all things, and we by him.
Ephesians 4:4-6 (KJV)
4
There is one body, and one Spirit, even as ye are called in one hope of your calling;
5
One Lord, one faith, one baptism,
6
One God and Father of all, who is above all, and through all, and in you all.
Philippians 2:5-11 (KJV)
5
Let this mind be in you, which was also in Christ Jesus:
6
Who, being in the form of God, thought it not robbery to be equal with God:

7
But made himself of no reputation, and took upon him the form of a servant, and was made in the likeness of men:

8
And being found in fashion as a man, he humbled himself, and became obedient unto death, even the death of the cross.
9
Wherefore God also hath highly exalted him, and given him a name which is above every name:

10
That at the name of Jesus every knee should bow, of things in heaven, and things in earth, and things under the earth;
11
And that every tongue should confess that Jesus Christ is Lord, to the glory of God the Father.
Acts 2:36-39 (KJV)
36
Therefore let all the house of Israel know assuredly, that God hath made the same Jesus, whom ye have crucified, both Lord and Christ.

37
Now when they heard this, they were pricked in their heart, and said unto Peter and to the rest of the apostles, Men and brethren, what shall we do?

38
Then Peter said unto them, Repent, and be baptized every one of you in the name of Jesus Christ for the remission of sins, and ye shall receive the gift of the Holy Ghost.

39
For the promise is unto you, and to your children, and to all that are afar off, even as many as the
Lord
our God shall call.