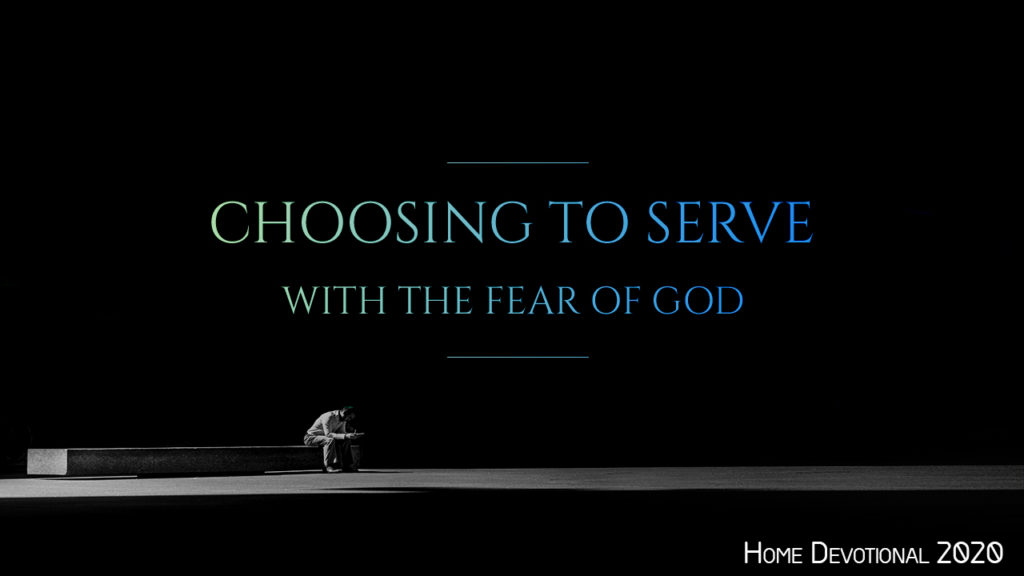 Serving the Lord begins with the Fear of God.
Deuteronomy 10:12 (NASB)
12 "Now, Israel, what does the Lord your God require from you, but to fear [or reverence] the Lord your God, to walk in all His ways and love Him, and to serve the Lord your God with all your heart and with all your soul,
For the unbeliever, the fear of God is the fear of the judgment of God and eternal death, which is eternal separation from God. For the believer, the fear of God is something much different. The believer's fear is reverence of God.
Proverbs 1:7 declares, "The fear of the LORD is the beginning of knowledge." Until we understand who God is and develop a reverential fear of Him, we cannot have true wisdom. True wisdom comes only from understanding who God is and that He is holy, just, and righteous.
Ecclesiastes 12:13 (NASB)
13 The conclusion, when all has been heard, is: fear God and keep His commandments, because this applies to every person.
The fear of God must be associated with your family's prayer, and reading of the WORD of God, together.
Family devotions are a set time when husband and wife, or parents and kids, sit down, read the Bible, and pray together. It is a time designed to build up each individual and establish a sense of unity and direction within families.
Being intentional about a devotional time and developing a family culture around that habit is important. Family devotions can initiate deep relationships with children and expand opportunities to pray with and for them. While it might require a shift in the way a family spends their time, scheduling family devotions can yield eternal dividends in a family's spiritual growth and legacy.
Isaiah 8:13 (AMP)
13 "It is the Lord of hosts whom you are to regard as holy and awesome.
He shall be your [source of] fear,
He shall be your [source of] dread [not man].
As children, the fear of discipline from our parents no doubt prevented some evil actions. The same should be true in our relationship with God. We should fear His discipline, and therefore seek to live our lives in such a way that pleases Him.
Believers are not to be scared of God. We have no reason to be scared of Him. We have His promise that nothing can separate us from His love. We have His promise that He will never leave us or forsake us. Fearing God means having such a reverence for Him that it has a great impact on the way we live our lives. The fear of God is respecting Him, obeying Him, submitting to His discipline, and worshiping Him in awe.