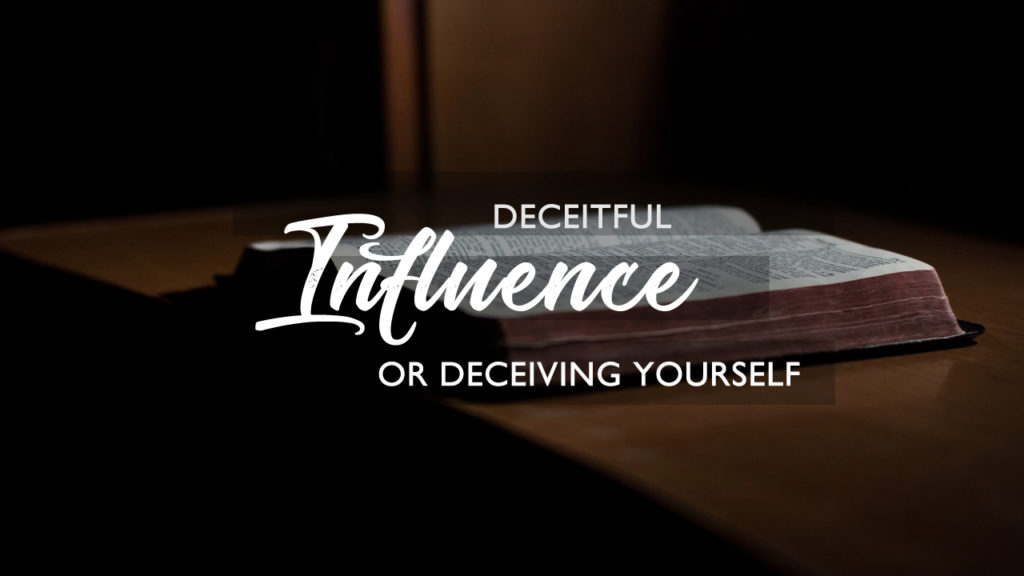 1 John 1:5-7 (KJV)
5 This then is the message which we have heard of him, and declare unto you, that God is light, and in him is no darkness at all.
6 If we say that we have fellowship with him, and walk in darkness, we lie, and do not the truth:
7 But if we walk in the light, as he is in the light, we have fellowship one with another, and the blood of Jesus Christ his Son cleanseth us from all sin.
James 4:14 (NLT)
14 How do you know what your life will be like tomorrow? Your life is like the morning fog—it's here a little while, then it's gone.
Galatians 6:7 (KJV)
7 Be not deceived; God is not mocked: for whatsoever a man soweth, that shall he also rea
Proverbs 16:18 (KJV)
18 Pride goeth before destruction, and an haughty spirit before a fall.
Galatians 3:3 (NIV)
3 Are you so foolish? After beginning by means of the Spirit, are you now trying to finish by means of the flesh?
Galatians 6:7-8 (KJV)
7 Be not deceived; God is not mocked: for whatsoever a man soweth, that shall he also reap.
8 For he that soweth to his flesh shall of the flesh reap corruption; but he that soweth to the Spirit shall of the Spirit reap life everlasting.
Genesis 2:17 (KJV)
17 But of the tree of the knowledge of good and evil, thou shalt not eat of it: for in the day that thou eatest thereof thou shalt surely die.
Genesis 3:4 (KJV)
4 And the serpent said unto the woman, Ye shall not surely die:
Galatians 6:7 (KJV)
7 Be not deceived; God is not mocked: for whatsoever a man soweth, that shall he also reap.
Acts 16:31-33 (KJV)
31 And they said, Believe on the Lord Jesus Christ, and thou shalt be saved, and thy house.
32 And they spake unto him the word of the Lord, and to all that were in his house.
33 And he took them the same hour of the night, and washed their stripes; and was baptized, he and all his, straightway.
Matthew 28:19-20 (KJV)
19 Go ye therefore, and teach all nations, baptizing them in the name of the Father, and of the Son, and of the Holy Ghost:
20 Teaching them to observe all things whatsoever I have commanded you: and, lo, I am with you always, even unto the end of the world. Amen.
Luke 24:44-47 (KJV)
44 And he said unto them, These are the words which I spake unto you, while I was yet with you, that all things must be fulfilled, which were written in the law of Moses, and in the prophets, and in the psalms, concerning me.
45 Then opened he their understanding, that they might understand the scriptures,
46 And said unto them, Thus it is written, and thus it behooved Christ to suffer, and to rise from the dead the third day:
47 And that repentance and remission of sins should be preached in his name among all nations, beginning at Jerusalem.
Ephesians 4:1-6 (KJV)
1 I therefore, the prisoner of the Lord, beseech you that ye walk worthy of the vocation wherewith ye are called,
2 With all lowliness and meekness, with longsuffering, forbearing one another in love;
3 Endeavouring to keep the unity of the Spirit in the bond of peace.
4 There is one body, and one Spirit, even as ye are called in one hope of your calling;
5 One Lord, one faith, one baptism,
6 One God and Father of all, who is above all, and through all, and in you all.
Matthew 18:15 (KJV)
15 Moreover if thy brother shall trespass against thee, go and tell him his fault between thee and him alone: if he shall hear thee, thou hast gained thy brother.
Luke 17:1 (KJV)
1 Then said he unto the disciples, It is impossible but that offences will come: but woe unto him, through whom they come!
2 Timothy 2:26 (KJV)
26 And that they may recover themselves out of the snare of the devil, who are taken captive by him at his will.
Revelation 22:14-15 (KJV)
14 Blessed are they that do his commandments, that they may have right to the tree of life, and may enter in through the gates into the city.
15 For without are dogs, and sorcerers, and whoremongers, and murderers, and idolaters, and whosoever loveth and maketh a lie.
John 8:44-45 (KJV)
44 Ye are of your father the devil, and the lusts of your father ye will do. He was a murderer from the beginning, and abode not in the truth, because there is no truth in him. When he speaketh a lie, he speaketh of his own: for he is a liar, and the father of it.
45 And because I tell you the truth, ye believe me not.
Leviticus 19:28 (KJV)
28 Ye shall not make any cuttings in your flesh for the dead, nor print any marks upon you: I am the Lord.
Leviticus 19:28 (NIV)
28 "'Do not cut your bodies for the dead or put tattoo marks on yourselves. I am the Lord.
1 Timothy 2:9 (KJV)
9 In like manner also, that women adorn themselves in modest apparel, with shamefacedness and sobriety; not with broided hair, or gold, or pearls, or costly array;
Mark 5:1-15 (KJV)
1 And they came over unto the other side of the sea, into the country of the Gadarenes.
2 And when he was come out of the ship, immediately there met him out of the tombs a man with an unclean spirit,
3 Who had his dwelling among the tombs; and no man could bind him, no, not with chains:
4 Because that he had been often bound with fetters and chains, and the chains had been plucked asunder by him, and the fetters broken in pieces: neither could any man tame him.
5 And always, night and day, he was in the mountains, and in the tombs, crying, and cutting himself with stones.
6 But when he saw Jesus afar off, he ran and worshipped him,
7 And cried with a loud voice, and said, What have I to do with thee, Jesus, thou Son of the most high God? I adjure thee by God, that thou torment me not.
8 For he said unto him, Come out of the man, thou unclean spirit.
9 And he asked him, What is thy name? And he answered, saying, My name is Legion: for we are many.
10 And he besought him much that he would not send them away out of the country.
11 Now there was there nigh unto the mountains a great herd of swine feeding.
12 And all the devils besought him, saying, Send us into the swine, that we may enter into them.
13 And forthwith Jesus gave them leave. And the unclean spirits went out, and entered into the swine: and the herd ran violently down a steep place into the sea, (they were about two thousand;) and were choked in the sea.
14 And they that fed the swine fled, and told it in the city, and in the country. And they went out to see what it was that was done.
15 And they come to Jesus, and see him that was possessed with the devil, and had the legion, sitting, and clothed, and in his right mind: and they were afraid.
1 John 5:19 (KJV)
19 And we know that we are of God, and the whole world lieth in wickedness.
1 Corinthians 15:33 (KJV)
33 Be not deceived: evil communications corrupt good manners.
Galatians 5:19-26 (KJV)
19 Now the works of the flesh are manifest, which are these; Adultery, fornication, uncleanness, lasciviousness,
20 Idolatry, witchcraft, hatred, variance, emulations, wrath, strife, seditions, heresies,
21 Envyings, murders, drunkenness, revellings, and such like: of the which I tell you before, as I have also told you in time past, that they which do such things shall not inherit the kingdom of God.
22 But the fruit of the Spirit is love, joy, peace, longsuffering, gentleness, goodness, faith,
23 Meekness, temperance: against such there is no law.
24 And they that are Christ's have crucified the flesh with the affections and lusts.
25 If we live in the Spirit, let us also walk in the Spirit.
26 Let us not be desirous of vain glory, provoking one another, envying one another.
Mark 14:38 (NIV)
38 Watch and pray so that you will not fall into temptation. The spirit is willing, but the flesh is weak."
Lamentations 3:40 (NIV)
40 Let us examine our ways and test them,
and let us return to the Lord.
2 Corinthians 13:5 (NIV)
5 Examine yourselves to see whether you are in the faith; test yourselves. Do you not realize that Christ Jesus is in you—unless, of course, you fail the test?
Psalm 1:1-3 (KJV)
1 Blessed is the man that walketh not in the counsel of the ungodly, nor standeth in the way of sinners, nor sitteth in the seat of the scornful.
2 But his delight is in the law of the Lord; and in his law doth he meditate day and night.
3 And he shall be like a tree planted by the rivers of water, that bringeth forth his fruit in his season; his leaf also shall not wither; and whatsoever he doeth shall prosper.
Psalm 115:11 (KJV)
11 Ye that fear the Lord, trust in the Lord: he is their help and their shield.
Galatians 6:7 (KJV)
7 Be not deceived; God is not mocked: for whatsoever a man soweth, that shall he also reap.