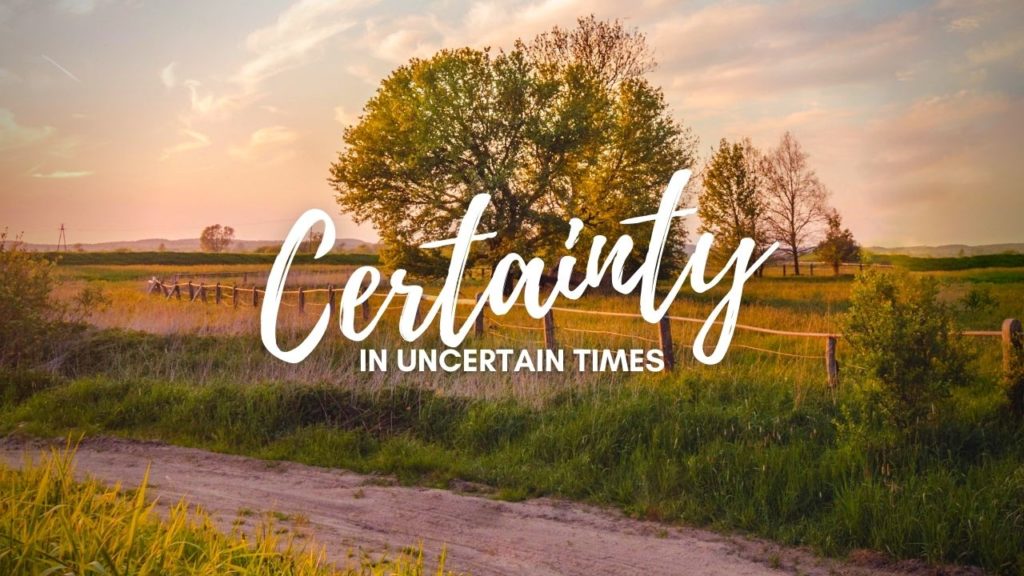 We are living in a very challenging time right now. So much has happened just this year. A global pandemic should have been enough but let's add financial hardships, high racial tension, a multitude of protests turned riots, abuse of powers by our government and a lengthy presidential race that should have ended a month ago. Just to name a few. It makes sense why so many are living in fear, anxiety and depression.
What makes less sense is that Christians would have these same feelings. We should be a people of faith and trust that God will see us through. This problem isn't exclusive to Christians of today. The bible is filled with stories of those who share many of the same feeling we have and their story to overcome.
1 Samuel 17:4-11 (NIV)
4 A champion named Goliath, who was from Gath, came out of the Philistine camp. His height was six cubits and a span.
5 He had a bronze helmet on his head and wore a coat of scale armor of bronze weighing five thousand shekels;
6 on his legs he wore bronze greaves, and a bronze javelin was slung on his back.
7 His spear shaft was like a weaver's rod, and its iron point weighed six hundred shekels. His shield bearer went ahead of him.
8 Goliath stood and shouted to the ranks of Israel, "Why do you come out and line up for battle? Am I not a Philistine, and are you not the servants of Saul? Choose a man and have him come down to me.
9 If he is able to fight and kill me, we will become your subjects; but if I overcome him and kill him, you will become our subjects and serve us."
10 Then the Philistine said, "This day I defy the armies of Israel! Give me a man and let us fight each other."
11 On hearing the Philistine's words, Saul and all the Israelites were dismayed and terrified.
Israel at this point, has a history of God providing for them and seeing them through many situations. But at the sight of Goliath, Israel was dismayed and terrified. This happens all too often to us Christians. God has delivered us on so many occasions but we tend to forget when the next circumstance comes in these uncertain times.
Let's talk about what is certain in uncertain times.
1. God will see us through this storm.
Psalm 46:1-3 (KJV)
1
God is our refuge and strength, a very present help in trouble.
2
Therefore will not we fear, though the earth be removed, and though the mountains be carried into the midst of the sea;
3
Though the waters thereof roar and be troubled, though the mountains shake with the swelling thereof. Selah.
Scripture says that God is our refuge. When storms come raging, God will protect us. We don't have to live in fear. He will make a way.
When David made his way to the camp and saw Goliath taunting Israel, he asked…
"….Who is this uncircumcised Philistine that he should defy the armies of the living God?" (1 Sam 17:26 NIV)
He is basically asking, "Who is this guy and does he know who our God is?" There was no doubt in David's mind that his God was able. He never saw Goliath as a problem, he only saw the victory.
2. We can live in peace no matter the circumstances.
Philippians 4:6-7 (NLT)
6
Don't worry about anything; instead, pray about everything. Tell God what you need, and thank him for all he has done.
7
Then you will experience God's peace, which exceeds anything we can understand. His peace will guard your hearts and minds as you live in Christ Jesus.
Many Christians say they have faith or that they trust in God but will also spend most their days stressing themselves out and/or stay up all night with worry. Peace is a byproduct of faith. Scripture says that we can go to God with any situation in prayer and give thanks for all he has already done and he will give us peace. We can live in peace no matter the trial that comes our way.
If you continue reading in 1 Samuel, David never showed fear or anxiety about the situation. He had such a peace about what was going on he kept asking about the reward for killing Goliath. David never considered Israel not winning this battle.
3. God has prepared us for this moment.
1 Samuel 17:32-37 (NIV)
32
David said to Saul, "Let no one lose heart on account of this Philistine; your servant will go and fight him."
33
Saul replied, "You are not able to go out against this Philistine and fight him; you are only a young man, and he has been a warrior from his youth."
34
But David said to Saul, "Your servant has been keeping his father's sheep. When a lion or a bear came and carried off a sheep from the flock,
35
I went after it, struck it and rescued the sheep from its mouth. When it turned on me, I seized it by its hair, struck it and killed it.
36
Your servant has killed both the lion and the bear; this uncircumcised Philistine will be like one of them, because he has defied the armies of the living God.
37
The Lord who rescued me from the paw of the lion and the paw of the bear will rescue me from the hand of this Philistine." Saul said to David, "Go, and the Lord be with you."
David offered to fight Goliath and was immediately told he couldn't do it. He was told he was too young and had no experience. David then gives the King his testimony. God has used him to fight off lions and bears to protect his father's sheep. There was no doubt in David's mind that God had prepared him for this moment and that God would be with him.
Remember your own testimonies. God has brought us through many trials. There is no reason to doubt God now. The hardships of our past are the testimonies that will be used to encourage us in the next trial and will be a witness to those who don't know our God.
The bible doesn't promise us a perfect life. It doesn't promise us an easy life. It does say that God would be with us through it all if we seek him out.
Yes, this year has brought about a ton of extraordinarily difficult circumstances and hardships. But I challenge us with this…
None of it is too big for our God. This is not the year for us to worry, stress or hide in our basements. If we do our part and have faith, God will always show up on time.
1 Peter 5:7 (TLB)
Let him have all your worries and cares, for he is always thinking about you and watching everything that concerns you.