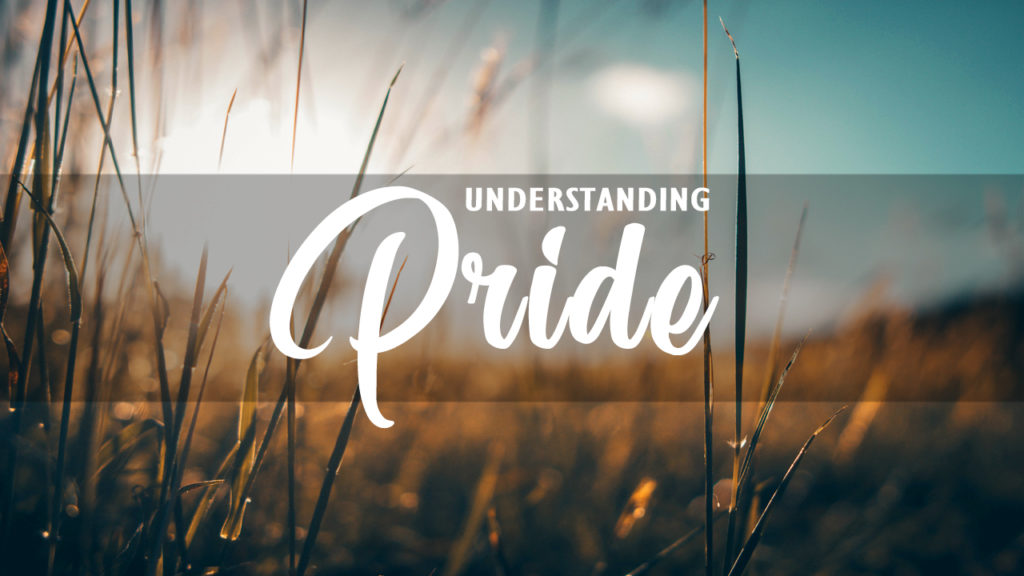 Luke 18:9-14 (KJV)
9 And he spake this parable unto certain which trusted in themselves that they were righteous, and despised others:
10 Two men went up into the temple to pray; the one a Pharisee, and the other a publican.
11 The Pharisee stood and prayed thus with himself, God, I thank thee, that I am not as other men are, extortioners, unjust, adulterers, or even as this publican.
12 I fast twice in the week, I give tithes of all that I possess.
13 And the publican, standing afar off, would not lift up so much as his eyes unto heaven, but smote upon his breast, saying, God be merciful to me a sinner.
14 I tell you, this man went down to his house justified rather than the other: for every one that exalteth himself shall be abased; and he that humbleth himself shall be exalted.
Proverbs 6:16-19 (KJV)
16 These six things doth the Lord hate: yea, seven are an abomination unto him:
17 A proud look, a lying tongue, and hands that shed innocent blood,
18 An heart that deviseth wicked imaginations, feet that be swift in running to mischief,
19 A false witness that speaketh lies, and he that soweth discord among brethren.
Romans 3:23 (KJV)
23 For all have sinned, and come short of the glory of God;
Ephesians 2:9 (KJV)
9 Not of works, lest any man should boast.
Romans 3:10 (KJV)
10 As it is written, There is none righteous, no, not one:
Galatians 6:4 (NIV)
4 Each one should test their own actions. Then they can take pride in themselves alone, without comparing themselves to someone else,
Psalm 10:4 (NIV)
4 In his pride the wicked man does not seek him;
in all his thoughts there is no room for God.
Ezekiel 28:12-19 (KJV)
12 Son of man, take up a lamentation upon the king of Tyrus, and say unto him, Thus saith the Lord God; Thou sealest up the sum, full of wisdom, and perfect in beauty.
13 Thou hast been in Eden the garden of God; every precious stone was thy covering, the sardius, topaz, and the diamond, the beryl, the onyx, and the jasper, the sapphire, the emerald, and the carbuncle, and gold: the workmanship of thy tabrets and of thy pipes was prepared in thee in the day that thou wast created.
14 Thou art the anointed cherub that covereth; and I have set thee so: thou wast upon the holy mountain of God; thou hast walked up and down in the midst of the stones of fire.
15 Thou wast perfect in thy ways from the day that thou wast created, till iniquity was found in thee.
16 By the multitude of thy merchandise they have filled the midst of thee with violence, and thou hast sinned: therefore I will cast thee as profane out of the mountain of God: and I will destroy thee, O covering cherub, from the midst of the stones of fire.
17 Thine heart was lifted up because of thy beauty, thou hast corrupted thy wisdom by reason of thy brightness: I will cast thee to the ground, I will lay thee before kings, that they may behold thee.
18 Thou hast defiled thy sanctuaries by the multitude of thine iniquities, by the iniquity of thy traffick; therefore will I bring forth a fire from the midst of thee, it shall devour thee, and I will bring thee to ashes upon the earth in the sight of all them that behold thee.
19 All they that know thee among the people shall be astonished at thee: thou shalt be a terror, and never shalt thou be any more.
Proverbs 16:18 (KJV)
18 Pride goeth before destruction, and an haughty spirit before a fall.
Proverbs 29:23 (NLT)
23 Pride ends in humiliation,
while humility brings honor.
Luke 19:1-10 (KJV)
1And Jesus entered and passed through Jericho.
2 And, behold, there was a man named Zacchaeus, which was the chief among the publicans, and he was rich.
3 And he sought to see Jesus who he was; and could not for the press, because he was little of stature.
4 And he ran before, and climbed up into a sycomore tree to see him: for he was to pass that way.
5 And when Jesus came to the place, he looked up, and saw him, and said unto him, Zacchaeus, make haste, and come down; for to day I must abide at thy house.
6 And he made haste, and came down, and received him joyfully.
7 And when they saw it, they all murmured, saying, That he was gone to be guest with a man that is a sinner.
8 And Zacchaeus stood, and said unto the Lord: Behold, Lord, the half of my goods I give to the poor; and if I have taken any thing from any man by false accusation, I restore him fourfold.
9 And Jesus said unto him, This day is salvation come to this house, forsomuch as he also is a son of Abraham.
10 For the Son of man is come to seek and to save that which was lost.