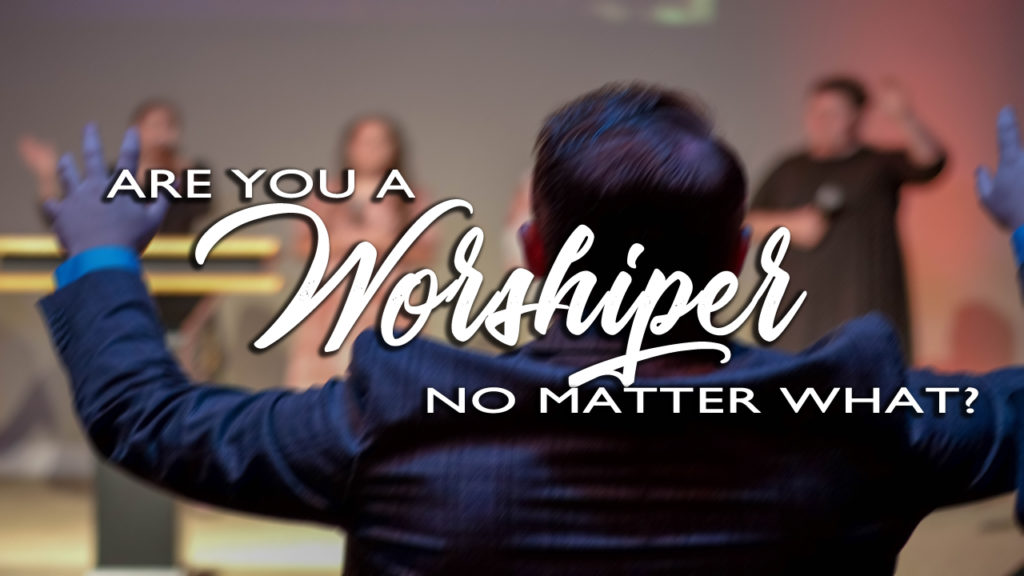 John 4:23-24 (KJV)
23 But the hour cometh, and now is, when the true worshippers shall worship the Father in spirit and in truth: for the Father seeketh such to worship him.
24 God is a Spirit: and they that worship him must worship him in spirit and in truth.
Psalm 100:1-5 (KJV)
1 Make a joyful noise unto the Lord, all ye lands.
2 Serve the Lord with gladness: come before his presence with singing.
3 Know ye that the Lord he is God: it is he that hath made us, and not we ourselves; we are his people, and the sheep of his pasture.
4 Enter into his gates with thanksgiving, and into his courts with praise: be thankful unto him, and bless his name.
5 For the Lord is good; his mercy is everlasting; and his truth endureth to all generations.
Isaiah 51:3 (KJV)
3 For the Lord shall comfort Zion: he will comfort all her waste places; and he will make her wilderness like Eden, and her desert like the garden of the Lord; joy and gladness shall be found therein, thanksgiving, and the voice of melody.
1 Chronicles 16:7-8 (KJV)
7 Then on that day David delivered first this psalm to thank the Lord into the hand of Asaph and his brethren.
8 Give thanks unto the Lord, call upon his name, make known his deeds among the people.
Psalm 150:1-6 (KJV)
1 Praise ye the Lord. Praise God in his sanctuary: praise him in the firmament of his power.
2 Praise him for his mighty acts: praise him according to his excellent greatness.
3 Praise him with the sound of the trumpet: praise him with the psaltery and harp.
4 Praise him with the timbrel and dance: praise him with stringed instruments and organs.
5 Praise him upon the loud cymbals: praise him upon the high sounding cymbals.
6 Let every thing that hath breath praise the Lord. Praise ye the Lord.
Psalm 106:1 (KJV)
106 Praise ye the Lord. O give thanks unto the Lord; for he is good: for his mercy endureth for ever.
Genesis 22:5 (KJV)
5 And Abraham said unto his young men, Abide ye here with the ass; and I and the lad will go yonder and worship, and come again to you.
Job 1:1-3 (KJV)
1 There was a man in the land of Uz, whose name was Job; and that man was perfect and upright, and one that feared God, and eschewed evil.
2 And there were born unto him seven sons and three daughters.
3 His substance also was seven thousand sheep, and three thousand camels, and five hundred yoke of oxen, and five hundred she asses, and a very great household; so that this man was the greatest of all the men of the east.
Job 1:20-22 (KJV)
20 Then Job arose, and rent his mantle, and shaved his head, and fell down upon the ground, and worshipped,
21 And said, Naked came I out of my mother's womb, and naked shall I return thither: the Lord gave, and the Lord hath taken away; blessed be the name of the Lord.
22 In all this Job sinned not, nor charged God foolishly.
Daniel 3:17-18 (KJV)
17 If it be so, our God whom we serve is able to deliver us from the burning fiery furnace, and he will deliver us out of thine hand, O king.
18 But if not, be it known unto thee, O king, that we will not serve thy gods, nor worship the golden image which thou hast set up.
1 Samuel 23:6 (KJV)
6 And it came to pass, when Abiathar the son of Ahimelech fled to David to Keilah, that he came down with an ephod in his hand.
2 Samuel 6:14 (KJV)
14 And David danced before the Lord with all his might; and David was girded with a linen ephod.
1 Thessalonians 5:18 (KJV)
18 In every thing give thanks: for this is the will of God in Christ Jesus concerning you.