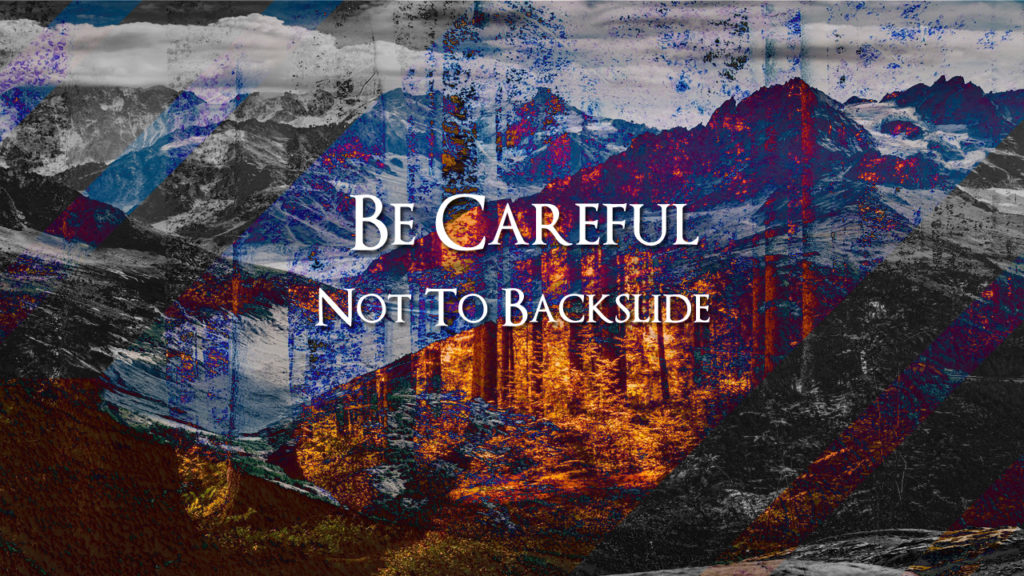 8 This people draweth nigh unto me with their mouth, and honoureth me with their lips; but their heart is far from me.
9 But in vain they do worship me, teaching for doctrines the commandments of men.
10 And he called the multitude, and said unto them, Hear, and understand:
11 Not that which goeth into the mouth defileth a man; but that which cometh out of the mouth, this defileth a man.
12 Then came his disciples, and said unto him, Knowest thou that the Pharisees were offended, after they heard this saying?
13 But he answered and said, Every plant, which my heavenly Father hath not planted, shall be rooted up.
14 Let them alone: they be blind leaders of the blind. And if the blind lead the blind, both shall fall into the ditch.
10 And so I saw the wicked buried, who had come and gone from the place of the holy, and they were forgotten in the city where they had so done: this is also vanity.
14 Wherefore he saith, Awake thou that sleepest, and arise from the dead, and Christ shall give thee light.
15 See then that ye walk circumspectly, not as fools, but as wise,
16 Redeeming the time, because the days are evil.
14 The backslider in heart shall be filled with his own ways: and a good man shall be satisfied from himself.
12 And because iniquity shall abound, the love of many shall wax cold.
9 But now, after that ye have known God, or rather are known of God, how turn ye again to the weak and beggarly elements, whereunto ye desire again to be in bondage?
13 They on the rock are they, which, when they hear, receive the word with joy; and these have no root, which for a while believe, and in time of temptation fall away.
11 Thou wilt shew me the path of life: in thy presence is fulness of joy; at thy right hand there are pleasures for evermore.
13 Those that be planted in the house of the Lord shall flourish in the courts of our God.
4 Blessed are they that dwell in thy house: they will be still praising thee. Selah.
25 Not forsaking the assembling of ourselves together, as the manner of some is; but exhorting one another: and so much the more, as ye see the day approaching.
8 Lord, I have loved the habitation of thy house, and the place where thine honour dwelleth.
15 And he said unto them, Go ye into all the world, and preach the gospel to every creature.
30 The fruit of the righteous is a tree of life; and he that winneth souls is wise.
37 Then saith he unto his disciples, The harvest truly is plenteous, but the labourers are few;
31 Let all bitterness, and wrath, and anger, and clamour, and evil speaking, be put away from you, with all malice:
7 Judge not, that ye be not judged.
13 And lead us not into temptation, but deliver us from evil: For thine is the kingdom, and the power, and the glory, for ever. Amen.
14 For if ye forgive men their trespasses, your heavenly Father will also forgive you:
11 Speak not evil one of another, brethren. He that speaketh evil of his brother, and judgeth his brother, speaketh evil of the law, and judgeth the law: but if thou judge the law, thou art not a doer of the law, but a judge.
23 Whoso keepeth his mouth and his tongue keepeth his soul from troubles.
36 But I say unto you, That every idle word that men shall speak, they shall give account thereof in the day of judgment.
27 And Jesus saith unto them, All ye shall be offended because of me this night: for it is written, I will smite the shepherd, and the sheep shall be scattered.
28 But after that I am risen, I will go before you into Galilee.
29 But Peter said unto him, Although all shall be offended, yet will not I.
30 And Jesus saith unto him, Verily I say unto thee, That this day, even in this night, before the cock crow twice, thou shalt deny me thrice.
31 But he spake the more vehemently, If I should die with thee, I will not deny thee in any wise. Likewise also said they all.
18 Pride goeth before destruction, and an haughty spirit before a fall.
3 And said, Verily I say unto you, Except ye be converted, and become as little children, ye shall not enter into the kingdom of heaven.
4 Whosoever therefore shall humble himself as this little child, the same is greatest in the kingdom of heaven.
1 Corinthians 10:11-12 (KJV)
11 Now all these things happened unto them for examples: and they are written for our admonition, upon whom the ends of the world are come.
12 Wherefore let him that thinketh he standeth take heed lest he fall.
Mark 14:32-42 (KJV)
32 And they came to a place which was named Gethsemane: and he saith to his disciples, Sit ye here, while I shall pray.
33 And he taketh with him Peter and James and John, and began to be sore amazed, and to be very heavy;
34 And saith unto them, My soul is exceeding sorrowful unto death: tarry ye here, and watch.
35 And he went forward a little, and fell on the ground, and prayed that, if it were possible, the hour might pass from him.
36 And he said, Abba, Father, all things are possible unto thee; take away this cup from me: nevertheless not what I will, but what thou wilt.
37 And he cometh, and findeth them sleeping, and saith unto Peter, Simon, sleepest thou? couldest not thou watch one hour?
38 Watch ye and pray, lest ye enter into temptation. The spirit truly is ready, but the flesh is weak.
39 And again he went away, and prayed, and spake the same words.
40 And when he returned, he found them asleep again, (for their eyes were heavy,) neither wist they what to answer him.
41 And he cometh the third time, and saith unto them, Sleep on now, and take your rest: it is enough, the hour is come; behold, the Son of man is betrayed into the hands of sinners.
42 Rise up, let us go; lo, he that betrayeth me is at hand.
1 Corinthians 15:33 (KJV)
2 Corinthians 7:10-11 (KJV)
1 Peter 4:16 (KJV)
16
Yet if any man suffer as a Christian, let him not be ashamed; but let him glorify God on this behalf.