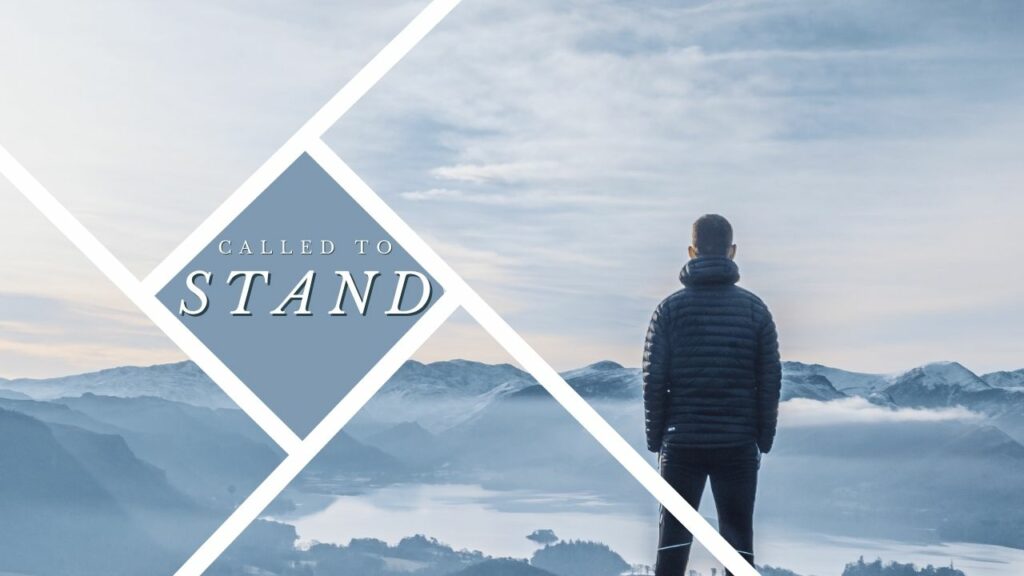 Ephesians 6:13 (KJV)
13
Wherefore take unto you the whole armour of God, that ye may be able to withstand in the evil day, and having done all, to stand.
1 Peter 5:8-9 (KJV)
8
Be sober, be vigilant; because your adversary the devil, as a roaring lion, walketh about, seeking whom he may devour:

9 
Whom resist stedfast in the faith, knowing that the same afflictions are accomplished in your brethren that are in the world.
Psalm 40:1-2 (NIV)
1
I waited patiently for the 
Lord
;
he turned to me and heard my cry.

2 
He lifted me out of the slimy pit,
out of the mud and mire;
he set my feet on a rock
and gave me a firm place to stand
John 1:40-42 (KJV)
40
One of the two which heard John speak, and followed him, was Andrew, Simon Peter's brother.
41 
He first findeth his own brother Simon, and saith unto him, We have found the Messias, which is, being interpreted, the Christ.

42 
And he brought him to Jesus. And when Jesus beheld him, he said, Thou art Simon the son of Jona: thou shalt be called Cephas, which is by interpretation, A stone.
Matthew 4:18-20 (KJV)
18
And Jesus, walking by the sea of Galilee, saw two brethren, Simon called Peter, and Andrew his brother, casting a net into the sea: for they were fishers.

19 
And he saith unto them, Follow me, and I will make you fishers of men.

20 
And they straightway left their nets, and followed him.
Matthew 16:13-16 (KJV)
13
When Jesus came into the coasts of Caesarea Philippi, he asked his disciples, saying, Whom do men say that I the Son of man am?
14 
And they said, Some say that thou art John the Baptist: some, Elias; and others, Jeremias, or one of the prophets.

15 
He saith unto them, But whom say ye that I am?
16 
And Simon Peter answered and said, Thou art the Christ, the Son of the living God.
Matthew 16:17-18 (KJV)
17
And Jesus answered and said unto him, Blessed art thou, Simon Barjona: for flesh and blood hath not revealed it unto thee, but my Father which is in heaven.

18 
And I say also unto thee, That thou art Peter, and upon this rock I will build my church; and the gates of hell shall not prevail against it.
Matthew 16:21-23 (KJV)
21
From that time forth began Jesus to shew unto his disciples, how that he must go unto Jerusalem, and suffer many things of the elders and chief priests and scribes, and be killed, and be raised again the third day.
22
Then Peter took him, and began to rebuke him, saying, Be it far from thee, Lord: this shall not be unto thee.
23 
But he turned, and said unto Peter, Get thee behind me, Satan: thou art an offence unto me: for thou savourest not the things that be of God, but those that be of men.
Matthew 26:31-34 (TLB)
31 Then Jesus said to them, 

"Tonight you will all desert me. For it is written in the Scriptures

 

that God will smite the Shepherd, and the sheep of the flock will be scattered.
32 
But after I have been brought back to life again, I will go to Galilee and meet you there."

33 
Peter declared, "If everyone else deserts you, I won't."
34 
Jesus told him, 
"The truth is that this very night, before the cock crows at dawn, you will deny me three times!"
John 18:4-11 (NIV)
4
Jesus, knowing all that was going to happen to him, went out and asked them, 
"Who is it you want?"
5 
"Jesus of Nazareth," they replied.
"I am he,"

 Jesus said. (And Judas the traitor was standing there with them.)
6 When Jesus said, 

"I am he,"

they drew back and fell to the ground.

7 
Again he asked them, 
"Who is it you want?"
"Jesus of Nazareth," they said.
8 Jesus answered, 

"I told you that I am he. If you are looking for me, then let these men go."
9 This happened so that the words he had spoken would be fulfilled: 

"I have not lost one of those you gave me."
10 
Then Simon Peter, who had a sword, drew it and struck the high priest's servant, cutting off his right ear. (The servant's name was Malchus.)

11 
Jesus commanded Peter, 
"Put your sword away! Shall I not drink the cup the Father has given me?"
Matthew 26:69-75 (KJV)
69
Now Peter sat without in the palace: and a damsel came unto him, saying, Thou also wast with Jesus of Galilee.
70 
But he denied before them all, saying, I know not what thou sayest.
71 
And when he was gone out into the porch, another maid saw him, and said unto them that were there, This fellow was also with Jesus of Nazareth.
72 
And again he denied with an oath, I do not know the man.

73 
And after a while came unto him they that stood by, and said to Peter, Surely thou also art one of them; for thy speech bewrayeth thee.
74 
Then began he to curse and to swear, saying, I know not the man. And immediately the cock crew.
75 
And Peter remembered the word of Jesus, which said unto him, Before the cock crow, thou shalt deny me thrice. And he went out, and wept bitterly.
Acts 2:14-16 (KJV)
14
But Peter, standing up with the eleven, lifted up his voice, and said unto them, Ye men of Judaea, and all ye that dwell at Jerusalem, be this known unto you, and hearken to my words:

15 
For these are not drunken, as ye suppose, seeing it is but the third hour of the day.
16 
But this is that which was spoken by the prophet Joel;
Acts 2:38-39 (KJV)
38
Then Peter said unto them, Repent, and be baptized every one of you in the name of Jesus Christ for the remission of sins, and ye shall receive the gift of the Holy Ghost.
39 
For the promise is unto you, and to your children, and to all that are afar off, even as many as the 
Lord
 our God shall call.
1 Corinthians 16:13 (NIV)
13
Be on your guard; stand firm in the faith; be courageous; be strong.