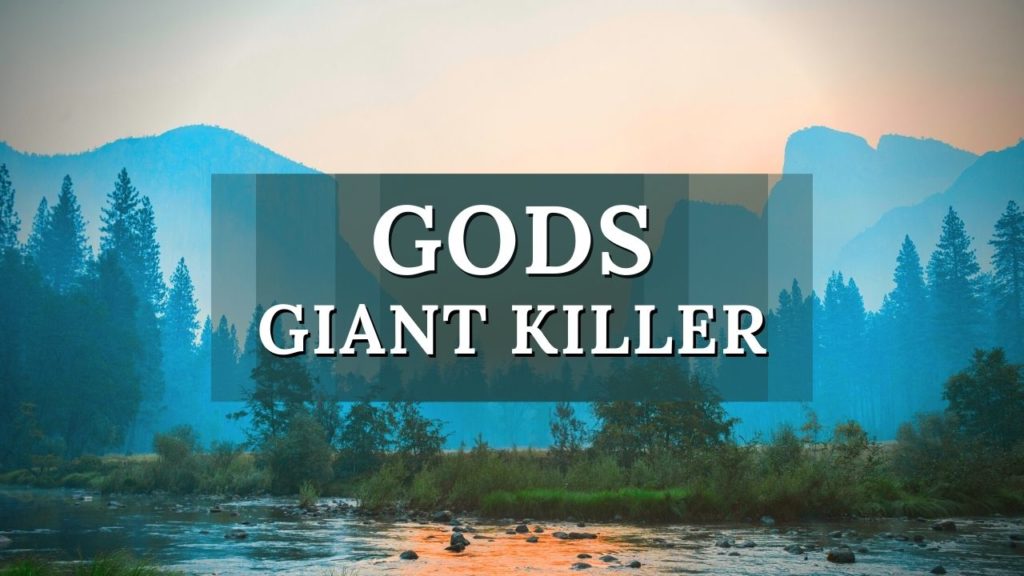 45 Then said David to the Philistine, Thou comest to me with a sword, and with a spear, and with a shield: but I come to thee in the name of the Lord of hosts, the God of the armies of Israel, whom thou hast defied.
46 This day will the Lord deliver thee into mine hand; and I will smite thee, and take thine head from thee; and I will give the carcases of the host of the Philistines this day unto the fowls of the air, and to the wild beasts of the earth; that all the earth may know that there is a God in Israel.
37 The Lord who rescued me from the paw of the lion and the paw of the bear will rescue me from the hand of this Philistine."
Saul said to David, "Go, and the Lord be with you."
15 Moreover the Philistines had yet war again with Israel; and David went down, and his servants with him, and fought against the Philistines: and David waxed faint.
16 And Ishbibenob, which was of the sons of the giant, the weight of whose spear weighed three hundred shekels of brass in weight, he being girded with a new sword, thought to have slain David.
17 But Abishai the son of Zeruiah succoured him, and smote the Philistine, and killed him. Then the men of David sware unto him, saying, Thou shalt go no more out with us to battle, that thou quench not the light of Israel.
18 And it came to pass after this, that there was again a battle with the Philistines at Gob: then Sibbechai the Hushathite slew Saph, which was of the sons of the giant.
19 And there was again a battle in Gob with the Philistines, where Elhanan the son of Jaareoregim, a Bethlehemite, slew the brother of Goliath the Gittite, the staff of whose spear was like a weaver's beam.
20 And there was yet a battle in Gath, where was a man of great stature, that had on every hand six fingers, and on every foot six toes, four and twenty in number; and he also was born to the giant.
21 And when he defied Israel, Jonathan the son of Shimeah the brother of David slew him.
22 These four were born to the giant in Gath, and fell by the hand of David, and by the hand of his servants.
2 Corinthians 10:4-6 (KJV)
4
(For the weapons of our warfare are not carnal, but mighty through God to the pulling down of strong holds;)

5
Casting down imaginations, and every high thing that exalteth itself against the knowledge of God, and bringing into captivity every thought to the obedience of Christ;

6
And having in a readiness to revenge all disobedience, when your obedience is fulfilled.
11 Put on the whole armour of God, that ye may be able to stand against the wiles of the devil.
12 For we wrestle not against flesh and blood, but against principalities, against powers, against the rulers of the darkness of this world, against spiritual wickedness in high places.
13 Wherefore take unto you the whole armour of God, that ye may be able to withstand in the evil day, and having done all, to stand.
14 Stand therefore, having your loins girt about with truth, and having on the breastplate of righteousness;
15 And your feet shod with the preparation of the gospel of peace;
16 Above all, taking the shield of faith, wherewith ye shall be able to quench all the fiery darts of the wicked.
17 And take the helmet of salvation, and the sword of the Spirit, which is the word of God:
18 Praying always with all prayer and supplication in the Spirit, and watching thereunto with all perseverance and supplication for all saints;