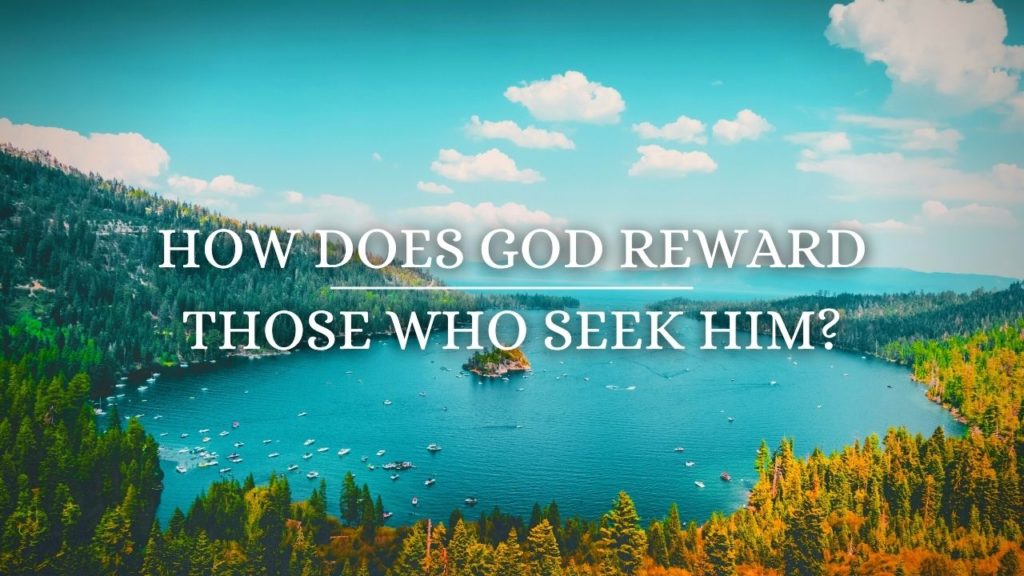 Hebrews 11:6 (KJV)
6
But without faith it is impossible to please him: for he that cometh to God must believe that he is, and that he is a rewarder of them that diligently seek him.
Romans 2:4-8 (KJV)
4
Or despisest thou the riches of his goodness and forbearance and longsuffering; not knowing that the goodness of God leadeth thee to repentance?

5 
But after thy hardness and impenitent heart treasurest up unto thyself wrath against the day of wrath and revelation of the righteous judgment of God;

6 
Who will render to every man according to his deeds:

7 
To them who by patient continuance in well doing seek for glory and honour and immortality, eternal life:

8 
But unto them that are contentious, and do not obey the truth, but obey unrighteousness, indignation and wrath,
Genesis 18:25 (KJV)
25
That be far from thee to do after this manner, to slay the righteous with the wicked: and that the righteous should be as the wicked, that be far from thee: Shall not the Judge of all the earth do right?
Hebrews 5:9 (KJV)
9
And being made perfect, he became the author of eternal salvation unto all them that obey him;
Romans 5:8 (KJV)
8
But God commendeth his love toward us, in that, while we were yet sinners, Christ died for us.
2 Timothy 2:11-12 (KJV)
11
It is a faithful saying: For if we be dead with him, we shall also live with him:

12 
If we suffer, we shall also reign with him: if we deny him, he also will deny us:
1 Peter 3:9 (KJV)
9
Not rendering evil for evil, or railing for railing: but contrariwise blessing; knowing that ye are thereunto called, that ye should inherit a blessing.
Deuteronomy 30:19-20 (KJV)
19
I call heaven and earth to record this day against you, that I have set before you life and death, blessing and cursing: therefore choose life, that both thou and thy seed may live:

20 
That thou mayest love the 
Lord
 thy God, and that thou mayest obey his voice, and that thou mayest cleave unto him: for he is thy life, and the length of thy days: that thou mayest dwell in the land which the 
Lord
 sware unto thy fathers, to Abraham, to Isaac, and to Jacob, to give them.
Acts 10:1-4 (KJV)
1
There was a certain man in Caesarea called Cornelius, a centurion of the band called the Italian band,

2 
A devout man, and one that feared God with all his house, which gave much alms to the people, and prayed to God alway.
3 
He saw in a vision evidently about the ninth hour of the day an angel of God coming in to him, and saying unto him, Cornelius.
4 
And when he looked on him, he was afraid, and said, What is it, Lord? And he said unto him, Thy prayers and thine alms are come up for a memorial before God.
Luke 15:20 (KJV)
20
And he arose, and came to his father. But when he was yet a great way off, his father saw him, and had compassion, and ran, and fell on his neck, and kissed him.
Numbers 6:24-26 (KJV)
24
The 
Lord
bless thee, and keep thee:

25 
The 
Lord
make his face shine upon thee, and be gracious unto thee:

26 
The 
Lord
 lift up his countenance upon thee, and give thee peace.
Genesis 1:27 (KJV)
27
So God created man in his own image, in the image of God created he him; male and female created he them.
Ecclesiastes 3:11 (KJV)
11
He hath made every thing beautiful in his time: also he hath set the world in their heart, so that no man can find out the work that God maketh from the beginning to the end.
John 17:3 (KJV)
3
And this is life eternal, that they might know thee the only true God, and Jesus Christ, whom thou hast sent.
Revelation 22:1-5 (KJV)
1
And he shewed me a pure river of water of life, clear as crystal, proceeding out of the throne of God and of the Lamb.

2 
In the midst of the street of it, and on either side of the river, was there the tree of life, which bare twelve manner of fruits, and yielded her fruit every month: and the leaves of the tree were for the healing of the nations.

3 
And there shall be no more curse: but the throne of God and of the Lamb shall be in it; and his servants shall serve him:

4 
And they shall see his face; and his name shall be in their foreheads.

5 
And there shall be no night there; and they need no candle, neither light of the sun; for the Lord God giveth them light: and they shall reign for ever and ever.
Romans 1:21 (KJV)
21
Because that, when they knew God, they glorified him not as God, neither were thankful; but became vain in their imaginations, and their foolish heart was darkened.
John 14:3 (KJV)
3
And if I go and prepare a place for you, I will come again, and receive you unto myself; that where I am, there ye may be also.