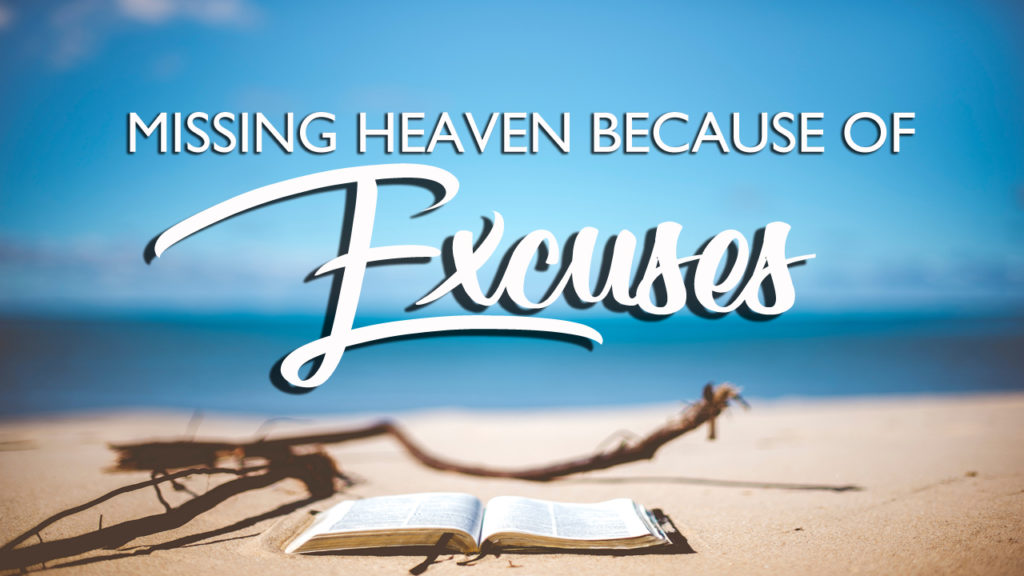 Luke 14:16-22 (KJV)
16 Then said he unto him, A certain man made a great supper, and bade many:
17 And sent his servant at supper time to say to them that were bidden, Come; for all things are now ready.
18 And they all with one consent began to make excuse. The first said unto him, I have bought a piece of ground, and I must needs go and see it: I pray thee have me excused.
19 And another said, I have bought five yoke of oxen, and I go to prove them: I pray thee have me excused.
20 And another said, I have married a wife, and therefore I cannot come.
21 So that servant came, and shewed his lord these things. Then the master of the house being angry said to his servant, Go out quickly into the streets and lanes of the city, and bring in hither the poor, and the maimed, and the halt, and the blind.
22 And the servant said, Lord, it is done as thou hast commanded, and yet there is room.
Luke 14:17 (KJV)
17 And sent his servant at supper time to say to them that were bidden, Come; for all things are now ready.
Philippians 2:5 (KJV)
5 Let this mind be in you, which was also in Christ Jesus:
2 Timothy 3:12-13 (KJV)
12 Yea, and all that will live godly in Christ Jesus shall suffer persecution.
13 But evil men and seducers shall wax worse and worse, deceiving, and being deceived.
Matthew 24:6-7 (KJV)
6 And ye shall hear of wars and rumours of wars: see that ye be not troubled: for all these things must come to pass, but the end is not yet.
7 For nation shall rise against nation, and kingdom against kingdom: and there shall be famines, and pestilences, and earthquakes, in divers places.
John 5:39
 (KJV)
39 Search the scriptures; for in them ye think ye have eternal life: and they are they which testify of me.
Mark 13:21-22
 (KJV)
21 And then if any man shall say to you, Lo, here is Christ; or, lo, he is there; believe him not:
22 For false Christs and false prophets shall rise, and shall shew signs and wonders, to seduce, if it were possible, even the elect.
2 Thessalonians 2:10-12
 (KJV)
10 And with all deceivableness of unrighteousness in them that perish; because they received not the love of the truth, that they might be saved.
11 And for this cause God shall send them strong delusion, that they should believe a lie:
12 That they all might be damned who believed not the truth, but had pleasure in unrighteousness.
Romans 1:20-21
King James Version (KJV)
20 For the invisible things of him from the creation of the world are clearly seen, being understood by the things that are made, even his eternal power and Godhead; so that they are without excuse:
21 Because that, when they knew God, they glorified him not as God, neither were thankful; but became vain in their imaginations, and their foolish heart was darkened.
Psalm 119:104
 (KJV)
104 Through thy precepts I get understanding: therefore I hate every false way.
2 Corinthians 6:2
 (KJV)
2 (For he saith, I have heard thee in a time accepted, and in the day of salvation have I succoured thee: behold, now is the accepted time; behold, now is the day of salvation.)
Isaiah 55:6
 (KJV)
6 Seek ye the Lord while he may be found, call ye upon him while he is near:
Hebrews 3:13
 (KJV)
13 But exhort one another daily, while it is called To day; lest any of you be hardened through the deceitfulness of sin.
1 Timothy 1:15
 (KJV)
15 This is a faithful saying, and worthy of all acceptation, that Christ Jesus came into the world to save sinners; of whom I am chief.
Ephesians 2:7
 (KJV)
7 That in the ages to come he might shew the exceeding riches of his grace in his kindness toward us through Christ Jesus.
Psalm 145:9
 (KJV)
9 The Lord is good to all: and his tender mercies are over all his works.
Psalm 103:8
 (KJV)
8 The Lord is merciful and gracious, slow to anger, and plenteous in mercy.