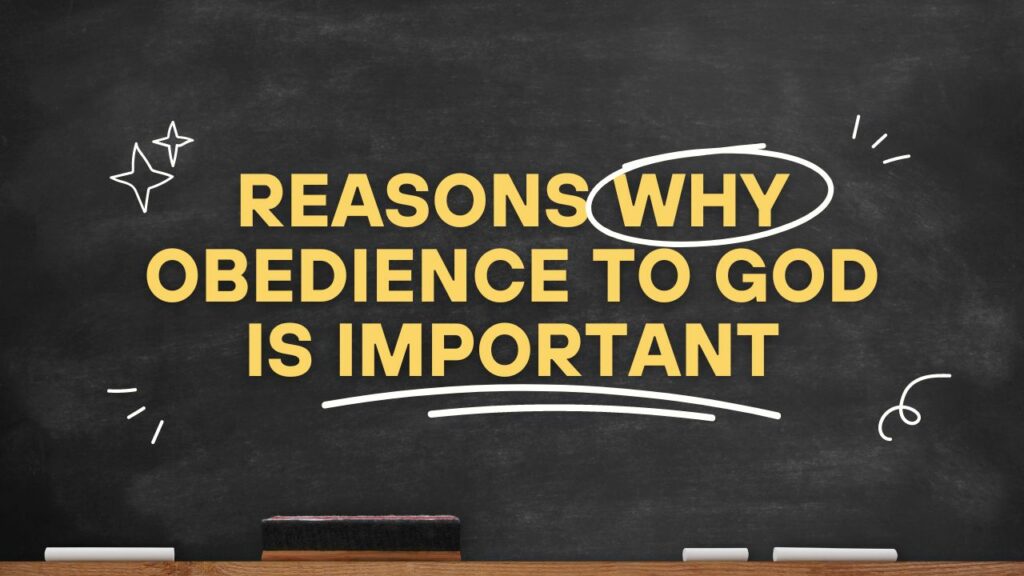 22 But Samuel replied, "What is more pleasing to the Lord: your burnt offerings and sacrifices or your obedience to his voice?  Listen! Obedience is better than sacrifice, and submission is better than offering the fat of rams.
23 Rebellion is as sinful as witchcraft, and stubbornness as bad as worshiping idols.  So because you have rejected the command of the Lord, he has rejected you as king."
22 But Samuel replied, "What is more pleasing to the Lord: your burnt offerings and sacrifices or your obedience to his voice?  Listen! Obedience is better than sacrifice, and submission is better than offering the fat of rams

46 And why call ye me, Lord, Lord, and do not the things which I say?
47 Whosoever cometh to me, and heareth my sayings, and doeth them, I will shew you to whom he is like:
48 He is like a man which built an house, and digged deep, and laid the foundation on a rock: and when the flood arose, the stream beat vehemently upon that house, and could not shake it: for it was founded upon a rock.
49 But he that heareth, and doeth not, is like a man that without a foundation built an house upon the earth; against which the stream did beat vehemently, and immediately it fell; and the ruin of that house was great.
15 If ye love me, keep my commandments.
1 I beseech you therefore, brethren, by the mercies of God, that ye present your bodies a living sacrifice, holy, acceptable unto God, which is your reasonable service.
18 And through your descendants all the nations of the earth will be blessed—all because you have obeyed me."
28 Jesus replied, "But even more blessed are all who hear the word of God and put it into practice."
22 But don't just listen to God's word. You must do what it says. Otherwise, you are only fooling yourselves. 
23 For if you listen to the word and don't obey, it is like glancing at your face in a mirror. 
24 You see yourself, walk away, and forget what you look like. 
25 But if you look carefully into the perfect law that sets you free, and if you do what it says and don't forget what you heard, then God will bless you for doing it.
2 By this we know that we love the children of God, when we love God, and keep his commandments.
3 For this is the love of God, that we keep his commandments: and his commandments are not grievous
6 Love means doing what God has commanded us, and he has commanded us to love one another, just as you heard from the beginning.
3 And we can be sure that we know him if we obey his commandments. 
4 If someone claims, "I know God," but doesn't obey God's commandments, that person is a liar and is not living in the truth. 
5 But those who obey God's word truly show how completely they love him. That is how we know we are living in him. 
6 Those who say they live in God should live their lives as Jesus did.
22 But Samuel replied, "What is more pleasing to the Lord: your burnt offerings and sacrifices or your obedience to his voice?  Listen! Obedience is better than sacrifice, and submission is better than offering the fat of rams.
23 Rebellion is as sinful as witchcraft, and stubbornness as bad as worshiping idols.  So because you have rejected the command of the Lord, he has rejected you as king."
19 Because one person disobeyed God, many became sinners. But because one other person obeyed God, many will be made righteous.
1 Corinthians 15:22-23 (NIV)
22 For as in Adam all die, so in Christ all will be made alive. 
23 But each in turn: Christ, the firstfruits; then, when he comes, those who belong to him.
1 Joyful are people of integrity, who follow the instructions of the Lord.
2 Joyful are those who obey his laws and search for him with all their hearts.
3 They do not compromise with evil, and they walk only in his paths.
4 You have charged us to keep your commandments carefully.
5 Oh, that my actions would consistently reflect your decrees!
6 Then I will not be ashamed when I compare my life with your commands.
7 As I learn your righteous regulations, I will thank you by living as I should!
8 I will obey your decrees.  Please don't give up on me!
1 Because we have these promises, dear friends, let us cleanse ourselves from everything that can defile our body or spirit. And let us work toward complete holiness because we fear God.