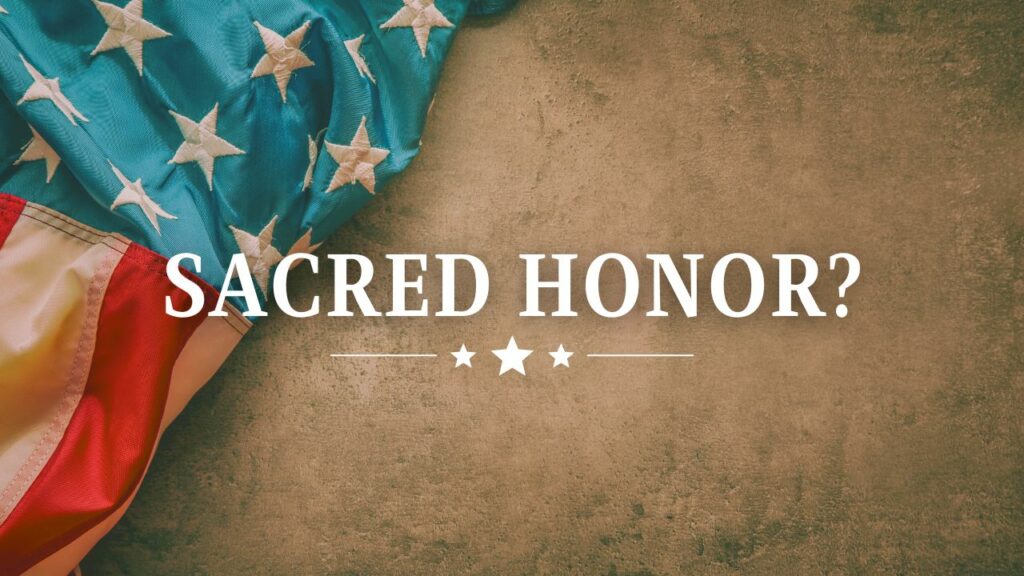 Psalm 33:10-22 (KJV)
10
The 
Lord
bringeth the counsel of the heathen to nought: he maketh the devices of the people of none effect.

11 
The counsel of the 
Lord
standeth for ever, the thoughts of his heart to all generations.

12 
Blessed is the nation whose God is the 
Lord
; and the people whom he hath chosen for his own inheritance.
13 
The 
Lord
looketh from heaven; he beholdeth all the sons of men.

14 
From the place of his habitation he looketh upon all the inhabitants of the earth.

15 
He fashioneth their hearts alike; he considereth all their works.
16 
There is no king saved by the multitude of an host: a mighty man is not delivered by much strength.
17 
An horse is a vain thing for safety: neither shall he deliver any by his great strength.

18 
Behold, the eye of the 
Lord
is upon them that fear him, upon them that hope in his mercy;
19 
To deliver their soul from death, and to keep them alive in famine.
20 
Our soul waiteth for the 
Lord
: he is our help and our shield.
21 
For our heart shall rejoice in him, because we have trusted in his holy name.
22 
Let thy mercy, O 
Lord
, be upon us, according as we hope in thee.
John 6:67 (KJV)
67
Then said Jesus unto the twelve, Will ye also go away?
John 6:68 (KJV)
68
Then Simon Peter answered him, Lord, to whom shall we go? thou hast the words of eternal life.
Luke 14:26-27 (NIV)
26 "If anyone comes to me and does not hate father and mother, wife and children, brothers and sisters—yes, even their own life—such a person cannot be my disciple.
27 And whoever does not carry their cross and follow me cannot be my disciple.
Luke 9:57-58 (KJV)
57
And it came to pass, that, as they went in the way, a certain man said unto him, Lord, I will follow thee whithersoever thou goest.

58 
And Jesus said unto him, Foxes have holes, and birds of the air have nests; but the Son of man hath not where to lay his head.
Luke 9:59-60 (KJV)
59
And he said unto another, Follow me. But he said, Lord, suffer me first to go and bury my father.

60 
Jesus said unto him, Let the dead bury their dead: but go thou and preach the kingdom of God.
Luke 9:61-62 (KJV)
61
And another also said, Lord, I will follow thee; but let me first go bid them farewell, which are at home at my house.
62 
And Jesus said unto him, No man, having put his hand to the plough, and looking back, is fit for the kingdom of God.
Ephesians 4:12 (KJV)
12
For the perfecting of the saints, for the work of the ministry, for the edifying of the body of Christ:
Matthew 22:37-39 (KJV)
37
Jesus said unto him, Thou shalt love the Lord thy God with all thy heart, and with all thy soul, and with all thy mind.

38 
This is the first and great commandment.

39 
And the second is like unto it, Thou shalt love thy neighbour as thyself.
Matthew 5:44-45 (KJV)
44
But I say unto you, Love your enemies, bless them that curse you, do good to them that hate you, and pray for them which despitefully use you, and persecute you;
45 
That ye may be the children of your Father which is in heaven: for he maketh his sun to rise on the evil and on the good, and sendeth rain on the just and on the unjust.
John 3:5 (KJV)
5
Jesus answered, Verily, verily, I say unto thee, Except a man be born of water and of the Spirit, he cannot enter into the kingdom of God.
Acts 2:38-39 (KJV)
38
Then Peter said unto them, Repent, and be baptized every one of you in the name of Jesus Christ for the remission of sins, and ye shall receive the gift of the Holy Ghost.

39 
For the promise is unto you, and to your children, and to all that are afar off, even as many as the 
Lord
 our God shall call.