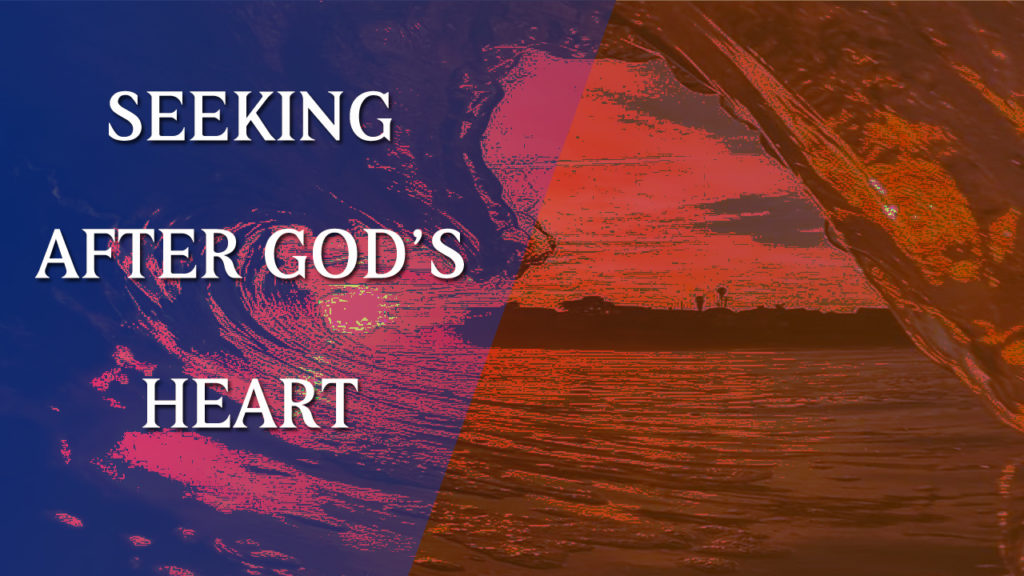 Psalm 115:1
 (KJV)
1 Not unto us, O Lord, not unto us, but unto thy name give glory, for thy mercy, and for thy truth's sake.
Psalm 118:8
 (KJV)
8 It is better to trust in the 

Lord

 than to put confidence in man.
Proverbs 3:5-6
 (KJV)
5 Trust in the Lord with all thine heart; and lean not unto thine own understanding.
6 In all thy ways acknowledge him, and he shall direct thy paths.
Psalm 115:13
 (KJV)
13 He will bless them that fear the Lord, both small and great.
1 Samuel 10:22
 (KJV)
22 Therefore they enquired of the Lord further, if the man should yet come thither. And the Lord answered, Behold he hath hid himself among the stuff.
1 Samuel 13:8-9
 (KJV)
8 And he tarried seven days, according to the set time that Samuel had appointed: but Samuel came not to Gilgal; and the people were scattered from him.
9 And Saul said, Bring hither a burnt offering to me, and peace offerings. And he offered the burnt offering.
Acts 13:22
 (KJV)
22 And when he had removed him, he raised up unto them David to be their king; to whom also he gave their testimony, and said, I have found David the son of Jesse, a man after mine own heart, which shall fulfil all my will.
1 Samuel 17:34-36
 (KJV)
34 And David said unto Saul, Thy servant kept his father's sheep, and there came a lion, and a bear, and took a lamb out of the flock:
35 And I went out after him, and smote him, and delivered it out of his mouth: and when he arose against me, I caught him by his beard, and smote him, and slew him.
36 Thy servant slew both the lion and the bear: and this uncircumcised Philistine shall be as one of them, seeing he hath defied the armies of the living God.
1 Samuel 16:6-13
 (KJV)
6 And it came to pass, when they were come, that he looked on Eliab, and said, Surely the Lord's anointed is before him.
7 But the Lord said unto Samuel, Look not on his countenance, or on the height of his stature; because I have refused him: for the Lord seeth not as man seeth; for man looketh on the outward appearance, but the Lord looketh on the heart.
8 Then Jesse called Abinadab, and made him pass before Samuel. And he said, Neither hath the Lord chosen this.
9 Then Jesse made Shammah to pass by. And he said, Neither hath the Lord chosen this.
10 Again, Jesse made seven of his sons to pass before Samuel. And Samuel said unto Jesse, The Lord hath not chosen these.
11 And Samuel said unto Jesse, Are here all thy children? And he said, There remaineth yet the youngest, and, behold, he keepeth the sheep. And Samuel said unto Jesse, Send and fetch him: for we will not sit down till he come hither.
12 And he sent, and brought him in. Now he was ruddy, and withal of a beautiful countenance, and goodly to look to. And the Lord said, Arise, anoint him: for this is he.
13 Then Samuel took the horn of oil, and anointed him in the midst of his brethren: and the Spirit of the Lord came upon David from that day forward. So Samuel rose up, and went to Ramah.
Psalm 118:22-23
 (KJV)
22 The stone which the builders refused is become the head stone of the corner.
23 This is the Lord's doing; it is marvellous in our eyes.
1 Samuel 17:23-24
 (KJV)
23 And as he talked with them, behold, there came up the champion, the Philistine of Gath, Goliath by name, out of the armies of the Philistines, and spake according to the same words: and David heard them.
24 And all the men of Israel, when they saw the man, fled from him, and were sore afraid.
1 Samuel 17:45-47
 (KJV)
45 Then said David to the Philistine, Thou comest to me with a sword, and with a spear, and with a shield: but I come to thee in the name of the Lord of hosts, the God of the armies of Israel, whom thou hast defied.
46 This day will the Lord deliver thee into mine hand; and I will smite thee, and take thine head from thee; and I will give the carcases of the host of the Philistines this day unto the fowls of the air, and to the wild beasts of the earth; that all the earth may know that there is a God in Israel.
47 And all this assembly shall know that the Lord saveth not with sword and spear: for the battle is the Lord's, and he will give you into our hands.
1 Samuel 23:14-15
 (KJV)
14 And David abode in the wilderness in strong holds, and remained in a mountain in the wilderness of Ziph. And Saul sought him every day, but God delivered him not into his hand.
15 And David saw that Saul was come out to seek his life: and David was in the wilderness of Ziph in a wood.
1 Samuel 24:4-7
 (KJV)
4 And the men of David said unto him, Behold the day of which the Lord said unto thee, Behold, I will deliver thine enemy into thine hand, that thou mayest do to him as it shall seem good unto thee. Then David arose, and cut off the skirt of Saul's robe privily.
5 And it came to pass afterward, that David's heart smote him, because he had cut off Saul's skirt.
6 And he said unto his men, The Lord forbid that I should do this thing unto my master, the Lord's anointed, to stretch forth mine hand against him, seeing he is the anointed of the Lord.
7 So David stayed his servants with these words, and suffered them not to rise against Saul. But Saul rose up out of the cave, and went on his way.
1 Samuel 24:12
 (KJV)
12 The Lord judge between me and thee, and the Lord avenge me of thee: but mine hand shall not be upon thee.
2 Samuel 5:1-5
 (KJV)
1 Then came all the tribes of Israel to David unto Hebron, and spake, saying, Behold, we are thy bone and thy flesh.
2 Also in time past, when Saul was king over us, thou wast he that leddest out and broughtest in Israel: and the Lord said to thee, Thou shalt feed my people Israel, and thou shalt be a captain over Israel.
3 So all the elders of Israel came to the king to Hebron; and king David made a league with them in Hebron before the Lord: and they anointed David king over Israel.
4 David was thirty years old when he began to reign, and he reigned forty years.
5 In Hebron he reigned over Judah seven years and six months: and in Jerusalem he reigned thirty and three years over all Israel and Judah.
2 Samuel 12:13
(KJV)
13 And David said unto Nathan, I have sinned against the Lord. And Nathan said unto David, The Lord also hath put away thy sin; thou shalt not die.
Psalm 121:1-2
 (KJV)
1 I will lift up mine eyes unto the hills, from whence cometh my help.
2 My help cometh from the Lord, which made heaven and earth.