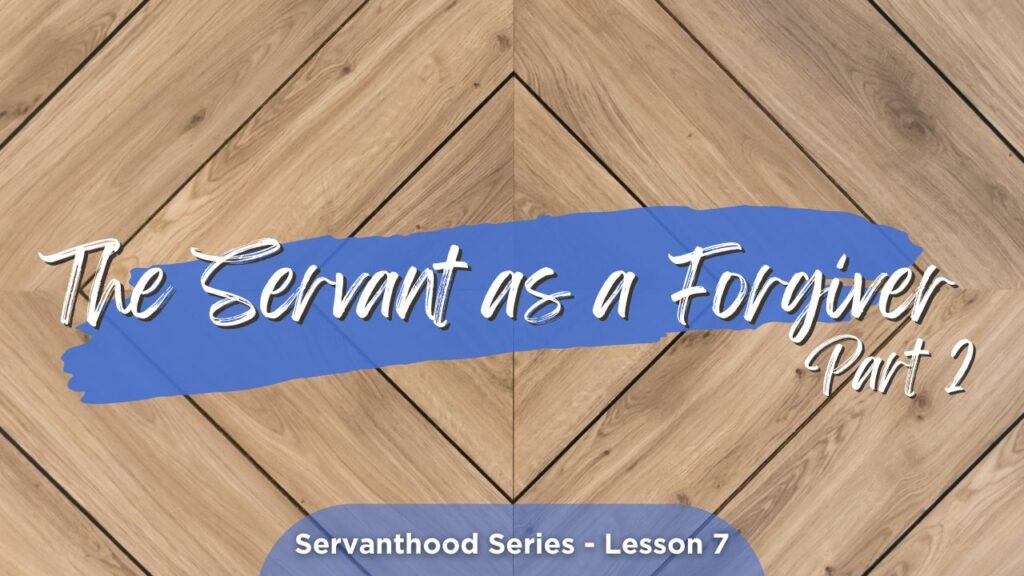 21 Then came Peter to him, and said, Lord, how oft shall my brother sin against me, and I forgive him? till seven times?
22 Jesus saith unto him, I say not unto thee, Until seven times: but, Until seventy times seven.
23 Therefore is the kingdom of heaven likened unto a certain king, which would take account of his servants.
24 And when he had begun to reckon, one was brought unto him, which owed him ten thousand talents.
25 But forasmuch as he had not to pay, his lord commanded him to be sold, and his wife, and children, and all that he had, and payment to be made.
26 The servant therefore fell down, and worshipped him, saying, Lord, have patience with me, and I will pay thee all.
27 Then the lord of that servant was moved with compassion, and loosed him, and forgave him the debt.
28 But the same servant went out, and found one of his fellowservants, which owed him an hundred pence: and he laid hands on him, and took him by the throat, saying, Pay me that thou owest.
29 And his fellowservant fell down at his feet, and besought him, saying, Have patience with me, and I will pay thee all.
30 And he would not: but went and cast him into prison, till he should pay the debt.
31 So when his fellowservants saw what was done, they were very sorry, and came and told unto their lord all that was done.
32 Then his lord, after that he had called him, said unto him, O thou wicked servant, I forgave thee all that debt, because thou desiredst me:
33 Shouldest not thou also have had compassion on thy fellowservant, even as I had pity on thee?
34 And his lord was wroth, and delivered him to the tormentors, till he should pay all that was due unto him.
35 So likewise shall my heavenly Father do also unto you, if ye from your hearts forgive not every one his brother their trespasses.
36 Be ye therefore merciful, as your Father also is merciful.
37 Judge not, and ye shall not be judged: condemn not, and ye shall not be condemned: forgive, and ye shall be forgiven:
38 Give, and it shall be given unto you; good measure, pressed down, and shaken together, and running over, shall men give into your bosom. For with the same measure that ye mete withal it shall be measured to you again.
34 And his lord was wroth, and delivered him to the tormentors, till he should pay all that was due unto him.
6 And saying, Lord, my servant lieth at home sick of the palsy, grievously tormented.
23 And in hell he lift up his eyes, being in torments, and seeth Abraham afar off, and Lazarus in his bosom.
8 (For that righteous man dwelling among them, in seeing and hearing, vexed his righteous soul from day to day with their unlawful deeds;)
1Bless the Lord, O my soul: and all that is within me, bless his holy name.
2 Bless the Lord, O my soul, and forget not all his benefits:
3 Who forgiveth all thine iniquities; who healeth all thy diseases;
4 Who redeemeth thy life from destruction; who crowneth thee with lovingkindness and tender mercies;
5 Who satisfieth thy mouth with good things; so that thy youth is renewed like the eagle's.
6 The Lord executeth righteousness and judgment for all that are oppressed.
7 He made known his ways unto Moses, his acts unto the children of Israel.
8 The Lord is merciful and gracious, slow to anger, and plenteous in mercy.
9 He will not always chide: neither will he keep his anger for ever.
10 He hath not dealt with us after our sins; nor rewarded us according to our iniquities.
11 For as the heaven is high above the earth, so great is his mercy toward them that fear him.
12 As far as the east is from the west, so far hath he removed our transgressions from us.
13 Like as a father pitieth his children, so the Lord pitieth them that fear him.
14 For he knoweth our frame; he remembereth that we are dust.
15 As for man, his days are as grass: as a flower of the field, so he flourisheth.
16 For the wind passeth over it, and it is gone; and the place thereof shall know it no more.
17 But the mercy of the Lord is from everlasting to everlasting upon them that fear him, and his righteousness unto children's children;
18 To such as keep his covenant, and to those that remember his commandments to do them.
19 The Lord hath prepared his throne in the heavens; and his kingdom ruleth over all.
20 Bless the Lord, ye his angels, that excel in strength, that do his commandments, hearkening unto the voice of his word.
21 Bless ye the Lord, all ye his hosts; ye ministers of his, that do his pleasure.
22 Bless the Lord, all his works in all places of his dominion: bless the Lord, O my soul.