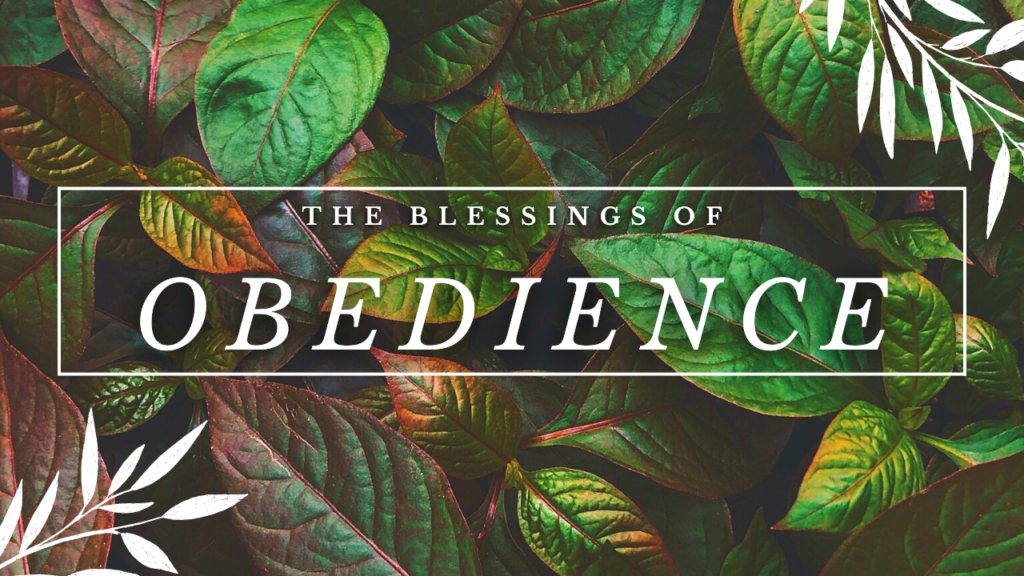 Genesis 22:15-18 (NKJV)
15Then the Angel of the LORD called to Abraham a second time out of heaven,
16 And said: "By Myself I have sworn, says the LORD, because you have done this thing, and have not withheld your son, your only son
17 Blessing I will bless you, and multiplying I will multiply your descendants as the stars of the heaven and as the sand which is on the seashore; and your descendants shall possess the gate of their enemies.
18 In your seed all the nations of the earth shall be blessed, because you have obeyed My voice
John 14:15 (NKJV)
15If ye love me, keep my commandments.
Galatians 6:7-10 (KJV)

7 Be not deceived; God is not mocked: for whatsoever a man soweth, that shall he also reap.
8 For he that soweth to his flesh shall of the flesh reap corruption; but he that soweth to the Spirit shall of the Spirit reap life everlasting.
9 And let us not be weary in well doing: for in due season we shall reap, if we faint not.
10 As we have therefore opportunity, let us do good unto all men, especially unto them who are of the household of faith.
Genesis 22:1-6 (KJV)

1 Now it came to pass after these things that God tested Abraham, and said to him, "Abraham!" And he said, "Here I am."
2 Then He said, "Take now your son, your only son Isaac, whom you love, and go to the land of Moriah, and offer him there as a burnt offering on one of the mountains of which I shall tell you."
3 So Abraham rose early in the morning and saddled his donkey, and took two of his young men with him, and Isaac his son; and he split the wood for the burnt offering, and arose and went to the place of which God had told him.
4 Then on the third day Abraham lifted his eyes and saw the place afar off.
5 And Abraham said to his young men, "Stay here with the donkey; the lad and I will go yonder and worship, and we will come back to you."
6 So Abraham took the wood of the burnt offering and laid it on Isaac his son; and he took the fire in his hand, and a knife, and the two of them went together.
Matthew 16:24 (NKJV)

24 Then Jesus said to His disciples, If anyone desires to come after Me, let him deny himself, and take up his cross, and follow Me.
Deuteronomy 11:26-28 (KJV)

26 Behold, I set before you this day a blessing and a curse;
27 A blessing, if ye obey the commandments of the LORD your God, which I command you this day:
28 And a curse, if ye will not obey the commandments of the LORD your God, but turn aside out of the way which I command you this day, to go after other gods, which ye have not known.
Romans 6:16-19 (KJV)
16 Know ye not, that to whom ye yield yourselves servants to obey, his servants ye are to whom ye obey; whether of sin unto death, or of obedience unto righteousness?
17 But God be thanked, that ye were the servants of sin, but ye have obeyed from the heart that form of doctrine which was delivered you.
18 Being then made free from sin, ye became the servants of righteousness.
19 I speak after the manner of men because of the infirmity of your flesh: for as ye have yielded your members servants to uncleanness and to iniquity unto iniquity; even so now yield your members servants to righteousness unto holiness.
Romans 6:20-23 (KJV)

20 For when ye were the servants of sin, ye were free from righteousness.
21 What fruit had ye then in those things whereof ye are now ashamed? for the end of those things is death.
22 But now being made free from sin, and become servants to God, ye have your fruit unto holiness, and the end everlasting life.
23 For the wages of sin is death; but the gift of God is eternal life through Jesus Christ our Lord