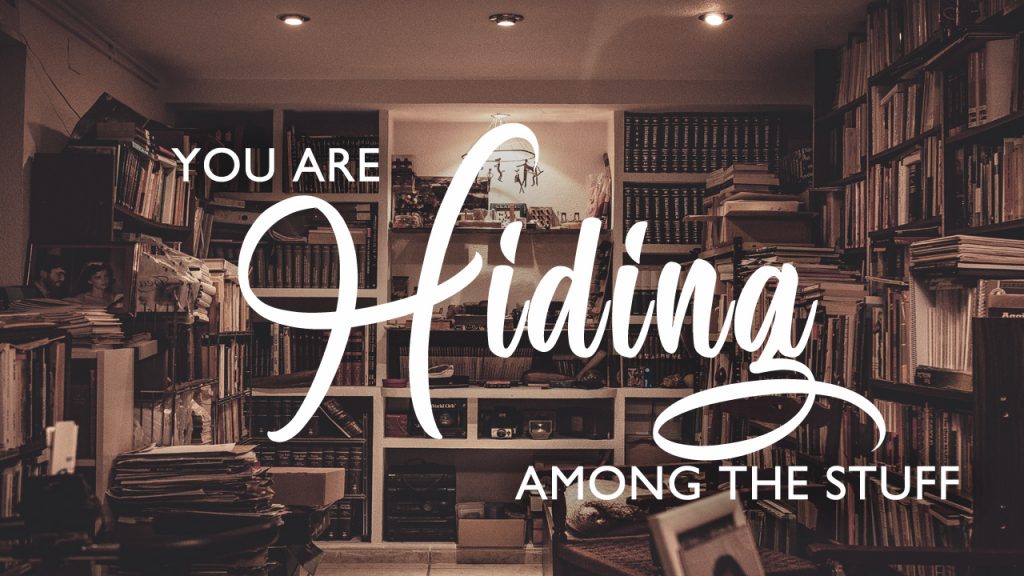 1 Samuel 10:17-22 (KJV)
17 And Samuel called the people together unto the Lord to Mizpeh;
18 And said unto the children of Israel, Thus saith the Lord God of Israel, I brought up Israel out of Egypt, and delivered you out of the hand of the Egyptians, and out of the hand of all kingdoms, and of them that oppressed you:
19 And ye have this day rejected your God, who himself saved you out of all your adversities and your tribulations; and ye have said unto him, Nay, but set a king over us. Now therefore present yourselves before the Lord by your tribes, and by your thousands.
20 And when Samuel had caused all the tribes of Israel to come near, the tribe of Benjamin was taken.
21 When he had caused the tribe of Benjamin to come near by their families, the family of Matri was taken, and Saul the son of Kish was taken: and when they sought him, he could not be found.
22 Therefore they enquired of the Lord further, if the man should yet come thither. And the Lord answered, Behold he hath hid himself among the stuff.
1 Samuel 9:2 (KJV)
2 And he had a son, whose name was Saul, a choice young man, and a goodly: and there was not among the children of Israel a goodlier person than he: from his shoulders and upward he was higher than any of the people.
1 Peter 2:9 (KJV)
9 But ye are a chosen generation, a royal priesthood, an holy nation, a peculiar people; that ye should shew forth the praises of him who hath called you out of darkness into his marvellous light;
1 Samuel 9:21 (KJV)
21 And Saul answered and said, Am not I a Benjamite, of the smallest of the tribes of Israel? and my family the least of all the families of the tribe of Benjamin? wherefore then speakest thou so to me?
1 Samuel 15:24 (KJV)
24 And Saul said unto Samuel, I have sinned: for I have transgressed the commandment of the Lord, and thy words: because I feared the people, and obeyed their voice.
1 Samuel 18:7-9 (KJV)
7 And the women answered one another as they played, and said, Saul hath slain his thousands, and David his ten thousands.
8 And Saul was very wroth, and the saying displeased him; and he said, They have ascribed unto David ten thousands, and to me they have ascribed but thousands: and what can he have more but the kingdom?
9 And Saul eyed David from that day and forward.
Proverbs 29:25 (KJV)
25 The fear of man bringeth a snare: but whoso putteth his trust in the Lord shall be safe.
1 Samuel 15:22 (KJV)
22 And Samuel said, Hath the Lord as great delight in burnt offerings and sacrifices, as in obeying the voice of the Lord? Behold, to obey is better than sacrifice, and to hearken than the fat of rams.
2 Kings 5:26 (KJV)
26 And he said unto him, Went not mine heart with thee, when the man turned again from his chariot to meet thee? Is it a time to receive money, and to receive garments, and oliveyards, and vineyards, and sheep, and oxen, and menservants, and maidservants?
Luke 18:18-23 (KJV)
18 And a certain ruler asked him, saying, Good Master, what shall I do to inherit eternal life?
19 And Jesus said unto him, Why callest thou me good? none is good, save one, that is, God.
20 Thou knowest the commandments, Do not commit adultery, Do not kill, Do not steal, Do not bear false witness, Honour thy father and thy mother.
21 And he said, All these have I kept from my youth up.
22 Now when Jesus heard these things, he said unto him, Yet lackest thou one thing: sell all that thou hast, and distribute unto the poor, and thou shalt have treasure in heaven: and come, follow me.
23 And when he heard this, he was very sorrowful: for he was very rich.
Acts 26:28 (KJV)
28 Then Agrippa said unto Paul, Almost thou persuadest me to be a Christian.
Acts 24:24-25 (KJV)
24 And after certain days, when Felix came with his wife Drusilla, which was a Jewess, he sent for Paul, and heard him concerning the faith in Christ.
25 And as he reasoned of righteousness, temperance, and judgment to come, Felix trembled, and answered, Go thy way for this time; when I have a convenient season, I will call for thee.
1 Kings 19:19-21 (KJV)
19 So he departed thence, and found Elisha the son of Shaphat, who was plowing with twelve yoke of oxen before him, and he with the twelfth: and Elijah passed by him, and cast his mantle upon him.
20 And he left the oxen, and ran after Elijah, and said, Let me, I pray thee, kiss my father and my mother, and then I will follow thee. And he said unto him, Go back again: for what have I done to thee?
21 And he returned back from him, and took a yoke of oxen, and slew them, and boiled their flesh with the instruments of the oxen, and gave unto the people, and they did eat. Then he arose, and went after Elijah, and ministered unto him.
John 21:15 (KJV)
15 So when they had dined, Jesus saith to Simon Peter, Simon, son of Jonas, lovest thou me more than these? He saith unto him, Yea, Lord; thou knowest that I love thee. He saith unto him, Feed my lambs.
Hebrews 11:8 (KJV)
8 By faith Abraham, when he was called to go out into a place which he should after receive for an inheritance, obeyed; and he went out, not knowing whither he went.
Hebrews 11:15 (KJV)
15 And truly, if they had been mindful of that country from whence they came out, they might have had opportunity to have returned.
Hebrews 11:24-26 (KJV)
24 By faith Moses, when he was come to years, refused to be called the son of Pharaoh's daughter;
25 Choosing rather to suffer affliction with the people of God, than to enjoy the pleasures of sin for a season;
26 Esteeming the reproach of Christ greater riches than the treasures in Egypt: for he had respect unto the recompence of the reward.
Mark 8:36 (KJV)
36 For what shall it profit a man, if he shall gain the whole world, and lose his own soul?
Haggai 1:5-6 (KJV)
5 Now therefore thus saith the Lord of hosts; Consider your ways.
6 Ye have sown much, and bring in little; ye eat, but ye have not enough; ye drink, but ye are not filled with drink; ye clothe you, but there is none warm; and he that earneth wages earneth wages to put it into a bag with holes.
Mark 8:38 (KJV)
38 Whosoever therefore shall be ashamed of me and of my words in this adulterous and sinful generation; of him also shall the Son of man be ashamed, when he cometh in the glory of his Father with the holy angels.
Mark 11:25-26 (KJV)
25 And when ye stand praying, forgive, if ye have ought against any: that your Father also which is in heaven may forgive you your trespasses.
26 But if ye do not forgive, neither will your Father which is in heaven forgive your trespasses.
Genesis 45:19-20 (KJV)
19 Now thou art commanded, this do ye; take you wagons out of the land of Egypt for your little ones, and for your wives, and bring your father, and come.
20 Also regard not your stuff; for the good of all the land of Egypt is your's.