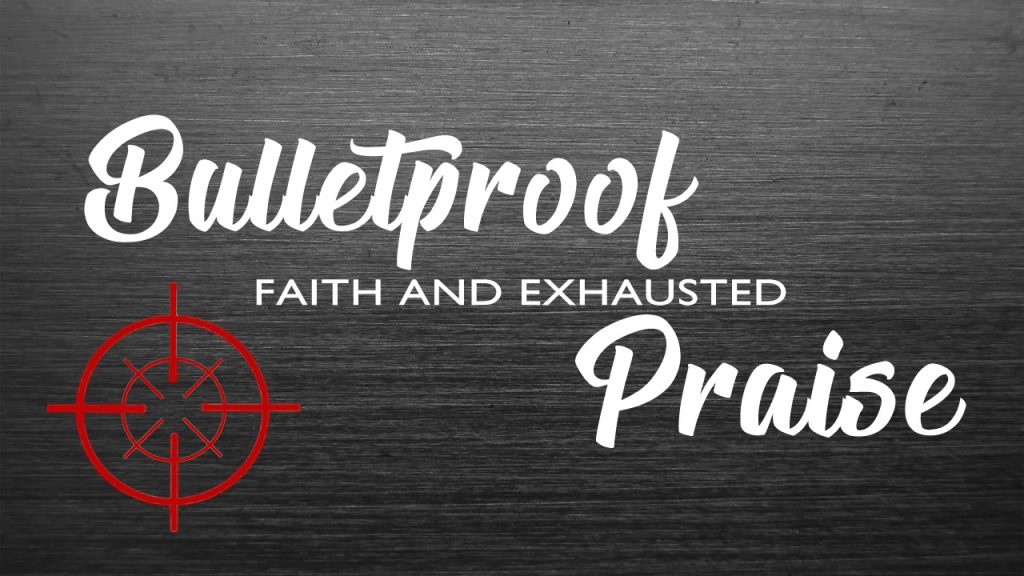 Romans 12:2-3 (NASB)
2 And do not be conformed to this world, but be transformed by the renewing of your mind, so that you may prove what the will of God is, that which is good and acceptable and perfect.
3 For through the grace given to me I say to everyone among you not to think more highly of himself than he ought to think; but to think so as to have sound judgment, as God has allotted to each a measure of faith.
1 Samuel 17:39  (NASB)
39 David girded his sword over his armor and tried to walk, for he had not tested them. So David said to Saul, "I cannot go with these, for I have not tested them." And David took them off.
Ephesians 6:16  (ESV)
16 In all circumstances take up the shield of faith, with which you can extinguish all the flaming darts of the evil one;
John 4:46-54  (NASB)
46 Therefore He came again to Cana of Galilee where He had made the water wine. And there was a royal official whose son was sick at Capernaum.
47 When he heard that Jesus had come out of Judea into Galilee, he went to Him and was imploring Him to come down and heal his son; for he was at the point of death.
48 So Jesus said to him, "Unless you people see signs and wonders, you simply will not believe."
49 The royal official *said to Him, "Sir, come down before my child dies."
50 Jesus *said to him, "Go; your son lives." The man believed the word that Jesus spoke to him and started off.
51 As he was now going down, his slaves met him, saying that his son was living.
52 So he inquired of them the hour when he began to get better. Then they said to him, "Yesterday at the seventh hour the fever left him."
53 So the father knew that it was at that hour in which Jesus said to him, "Your son lives"; and he himself believed and his whole household.
54 This is again a second sign that Jesus performed when He had come out of Judea into Galilee.
Matthew 15:21-28  (NASB)
21 Jesus went away from there, and withdrew into the district of Tyre and Sidon.
22 And a Canaanite woman from that region came out and began to cry out, saying, "Have mercy on me, Lord, Son of David; my daughter is cruelly demon-possessed."
23 But He did not answer her a word. And His disciples came and implored Him, saying, "Send her away, because she keeps shouting at us."
24 But He answered and said, "I was sent only to the lost sheep of the house of Israel."
25 But she came and began to bow down before Him, saying, "Lord, help me!"
26 And He answered and said, "It is not good to take the children's bread and throw it to the dogs."
27 But she said, "Yes, Lord; but even the dogs feed on the crumbs which fall from their masters' table."
28 Then Jesus said to her, "O woman, your faith is great; it shall be done for you as you wish." And her daughter was healed at once.
Matthew 8:5-13 (NASB)
5 And when Jesus entered Capernaum, a centurion came to Him, imploring Him,
6 and saying, "Lord, my servant is lying paralyzed at home, fearfully tormented."
7 Jesus *said to him, "I will come and heal him."
8 But the centurion said, "Lord, I am not worthy for You to come under my roof, but just say the word, and my servant will be healed.
9 For I also am a man under authority, with soldiers under me; and I say to this one, 'Go!' and he goes, and to another, 'Come!' and he comes, and to my slave, 'Do this!' and he does it."
10 Now when Jesus heard this, He marveled and said to those who were following, "Truly I say to you, I have not found such great faith with anyone in Israel.
11 I say to you that many will come from east and west, and recline at the table with Abraham, Isaac and Jacob in the kingdom of heaven;
12 but the sons of the kingdom will be cast out into the outer darkness; in that place there will be weeping and gnashing of teeth."
13 And Jesus said to the centurion, "Go; it shall be done for you as you have believed." And the servant was healed that very moment.
Matthew 11:21-24 (KJV)
21 Woe unto thee, Chorazin! woe unto thee, Bethsaida! for if the mighty works, which were done in you, had been done in Tyre and Sidon, they would have repented long ago in sackcloth and ashes.
22 But I say unto you, It shall be more tolerable for Tyre and Sidon at the day of judgment, than for you.
23 And thou, Capernaum, which art exalted unto heaven, shalt be brought down to hell: for if the mighty works, which have been done in thee, had been done in Sodom, it would have remained until this day.
24 But I say unto you, That it shall be more tolerable for the land of Sodom in the day of judgment, than for thee.
Mark 6:4-6  (NASB)
4 Jesus said to them, "A prophet is not without honor except in his hometown and among his own relatives and in his own household."
5 And He could do no [b]miracle there except that He laid His hands on a few sick people and healed them.
6 And He wondered at their unbelief. And He was going around the villages teaching.