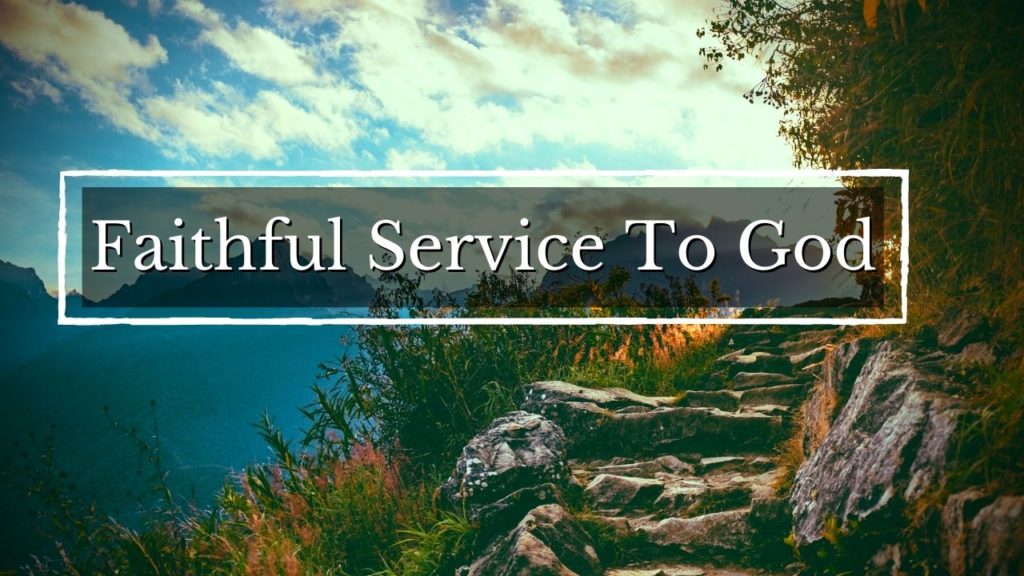 2 Timothy 1:7-9 (KJV)
7
For God hath not given us the spirit of fear; but of power, and of love, and of a sound mind.

8
Be not thou therefore ashamed of the testimony of our Lord, nor of me his prisoner: but be thou partaker of the afflictions of the gospel according to the power of God;

9
Who hath saved us, and called us with an holy calling, not according to our works, but according to his own purpose and grace, which was given us in Christ Jesus before the world began,
Ephesians 2:10 (TLB)
10
It is God himself who has made us what we are and given us new lives from Christ Jesus; and long ages ago he planned that we should spend these lives in helping others.
Ephesians 2:10 (NASB)
10
For we are His workmanship, created in Christ Jesus for good works, which God prepared beforehand so that we would walk in them.
Colossians 3:23-24 (NIV)
23 Whatever you do, work at it with all your heart, as working for the Lord, not for human masters,
24 since you know that you will receive an inheritance from the Lord as a reward. It is the Lord Christ you are serving.
Ephesians 6:5 (KJV)
5
Servants, be obedient to them that are your masters according to the flesh, with fear and trembling, in singleness of your heart, as unto Christ;
Jeremiah 1:5 (KJV)
5
Before I formed thee in the belly I knew thee; and before thou camest forth out of the womb I sanctified thee, and I ordained thee a prophet unto the nations.
Ephesians 2:10 (NIV)
10
For we are God's handiwork, created in Christ Jesus to do good works, which God prepared in advance for us to do.
Ephesians 1:6 (NIV)
6
to the praise of his glorious grace, which he has freely given us in the One he loves.
Hebrews 10:25 (KJV)
25
Not forsaking the assembling of ourselves together, as the manner of some is; but exhorting one another: and so much the more, as ye see the day approaching.
2 Timothy 2:15 (KJV)
15
Study to shew thyself approved unto God, a workman that needeth not to be ashamed, rightly dividing the word of truth.
1 Thessalonians 5:17 (KJV)
2 Timothy 2:19-22 (KJV)
19
Nevertheless the foundation of God standeth sure, having this seal, The Lord knoweth them that are his. And, let every one that nameth the name of Christ depart from iniquity.

20 
But in a great house there are not only vessels of gold and of silver, but also of wood and of earth; and some to honour, and some to dishonour.
21 
If a man therefore purge himself from these, he shall be a vessel unto honour, sanctified, and meet for the master's use, and prepared unto every good work.
22 
Flee also youthful lusts: but follow righteousness, faith, charity, peace, with them that call on the Lord out of a pure heart.
James 2:14-18 (NLT)
14 What good is it, dear brothers and sisters, if you say you have faith but don't show it by your actions? Can that kind of faith save anyone?
15 Suppose you see a brother or sister who has no food or clothing,
16 and you say, "Good-bye and have a good day; stay warm and eat well"—but then you don't give that person any food or clothing. What good does that do?

17 
So you see, faith by itself isn't enough. Unless it produces good deeds, it is dead and useless.

18 
Now someone may argue, "Some people have faith; others have good deeds." But I say, "How can you show me your faith if you don't have good deeds? I will show you my faith by my good deeds."
Matthew 28:19-20 (NLT)
19
Therefore, go and make disciples of all the nations, baptizing them in the name of the Father and the Son and the Holy Spirit.
20 
Teach these new disciples to obey all the commands I have given you. And be sure of this: I am with you always, even to the end of the age."
Romans 12:1-2 (KJV)
1
I beseech you therefore, brethren, by the mercies of God, that ye present your bodies a living sacrifice, holy, acceptable unto God, which is your reasonable service.

2 
And be not conformed to this world: but be ye transformed by the renewing of your mind, that ye may prove what is that good, and acceptable, and perfect, will of God.
Matthew 25:21 (KJV)
21
His lord said unto him, Well done, thou good and faithful servant: thou hast been faithful over a few things, I will make thee ruler over many things: enter thou into the joy of thy lord.
Matthew 25:30 (KJV)
30
And cast ye the unprofitable servant into outer darkness: there shall be weeping and gnashing of teeth.
Hebrews 13:15-16 (KJV)
15
By him therefore let us offer the sacrifice of praise to God continually, that is, the fruit of our lips giving thanks to his name.

16 
But to do good and to communicate forget not: for with such sacrifices God is well pleased.