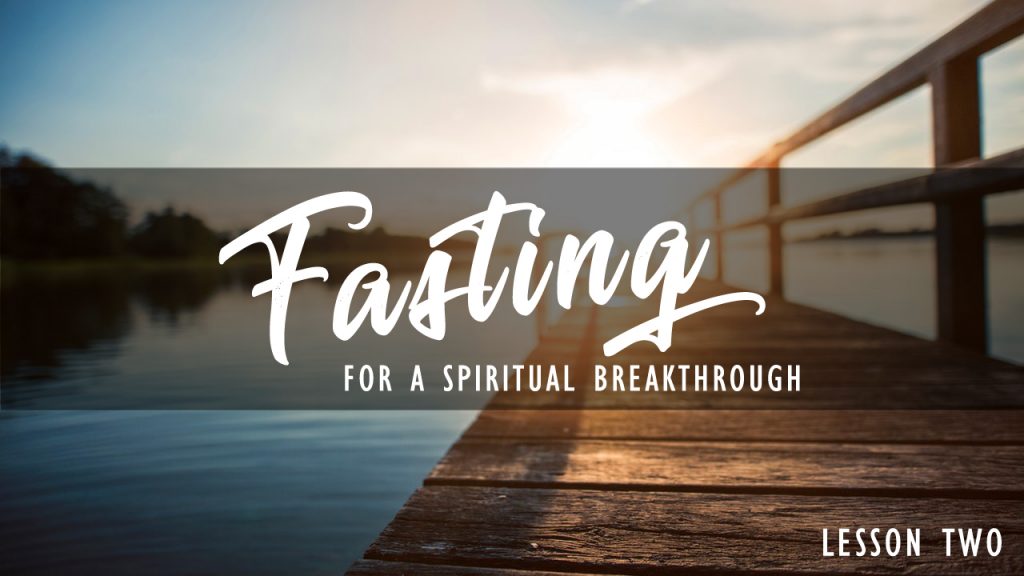 Isaiah 58:6-8
(KJV)
6 Is not this the fast that I have chosen? to loose the bands of wickedness, to undo the heavy burdens, and to let the oppressed go free, and that ye break every yoke?
7 Is it not to deal thy bread to the hungry, and that thou bring the poor that are cast out to thy house? when thou seest the naked, that thou cover him; and that thou hide not thyself from thine own flesh?
8 Then shall thy light break forth as the morning, and thine health shall spring forth speedily: and thy righteousness shall go before thee; the glory of the Lord shall be thy reward.
Matthew 17:18-21
(KJV)
18 And Jesus rebuked the devil; and he departed out of him: and the child was cured from that very hour.
19 Then came the disciples to Jesus apart, and said, Why could not we cast him out?
20 And Jesus said unto them, Because of your unbelief: for verily I say unto you, If ye have faith as a grain of mustard seed, ye shall say unto this mountain, Remove hence to yonder place; and it shall remove; and nothing shall be impossible unto you.
21 Howbeit this kind goeth not out but by prayer and fasting.
Ezra 8:23
(KJV)
23 So we fasted and besought our God for this: and he was intreated of us.
1 Samuel 7:6
(KJV)
6 And they gathered together to Mizpeh, and drew water, and poured it out before the Lord, and fasted on that day, and said there, We have sinned against the Lord. And Samuel judged the children of Israel in Mizpeh.
1 Kings 19:4
(KJV)
4 But he himself went a day's journey into the wilderness, and came and sat down under a juniper tree: and he requested for himself that he might die; and said, It is enough; now, O Lord, take away my life; for I am not better than my fathers.
1 Kings 19:8
(KJV)
8 And he arose, and did eat and drink, and went in the strength of that meat forty days and forty nights unto Horeb the mount of God.
1 Kings 17:16
(KJV)
16 And the barrel of meal wasted not, neither did the cruse of oil fail, according to the word of the Lord, which he spake by Elijah.
Acts 9:9
(KJV)
9 And he was three days without sight, and neither did eat nor drink.
Daniel 1:8
(KJV)
8 But Daniel purposed in his heart that he would not defile himself with the portion of the king's meat, nor with the wine which he drank: therefore he requested of the prince of the eunuchs that he might not defile himself.
Luke 1:15
(KJV)
15 For he shall be great in the sight of the Lord, and shall drink neither wine nor strong drink; and he shall be filled with the Holy Ghost, even from his mother's womb.
Esther 4:16
(KJV)
16 Go, gather together all the Jews that are present in Shushan, and fast ye for me, and neither eat nor drink three days, night or day: I also and my maidens will fast likewise; and so will I go in unto the king, which is not according to the law: and if I perish, I perish.
Esther 5:2
(KJV)
2 And it was so, when the king saw Esther the queen standing in the court, that she obtained favour in his sight: and the king held out to Esther the golden sceptre that was in his hand. So Esther drew near, and touched the top of the sceptre.
2 Corinthians 11:3
(KJV)
3 But I fear, lest by any means, as the serpent beguiled Eve through his subtilty, so your minds should be corrupted from the simplicity that is in Christ.
2 Corinthians 11:3
(NASB)
3 But I am afraid that, as the serpent deceived Eve by his craftiness, your minds will be led astray from the simplicity and purity of devotion to Christ.
James 1:22
(KJV)
22 But be ye doers of the word, and not hearers only, deceiving your own selves.
Galatians 6:3
(KJV)
3 For if a man think himself to be something, when he is nothing, he deceiveth himself.
1 Corinthians 3:18
(KJV)
18 Let no man deceive himself. If any man among you seemeth to be wise in this world, let him become a fool, that he may be wise.
1 Corinthians 6:9-10
(KJV)
9 Know ye not that the unrighteous shall not inherit the kingdom of God? Be not deceived: neither fornicators, nor idolaters, nor adulterers, nor effeminate, nor abusers of themselves with mankind,
10 Nor thieves, nor covetous, nor drunkards, nor revilers, nor extortioners, shall inherit the kingdom of God.
1 Corinthians 2:10-11
(KJV)
10 But God hath revealed them unto us by his Spirit: for the Spirit searcheth all things, yea, the deep things of God.
11 For what man knoweth the things of a man, save the spirit of man which is in him? even so the things of God knoweth no man, but the Spirit of God.