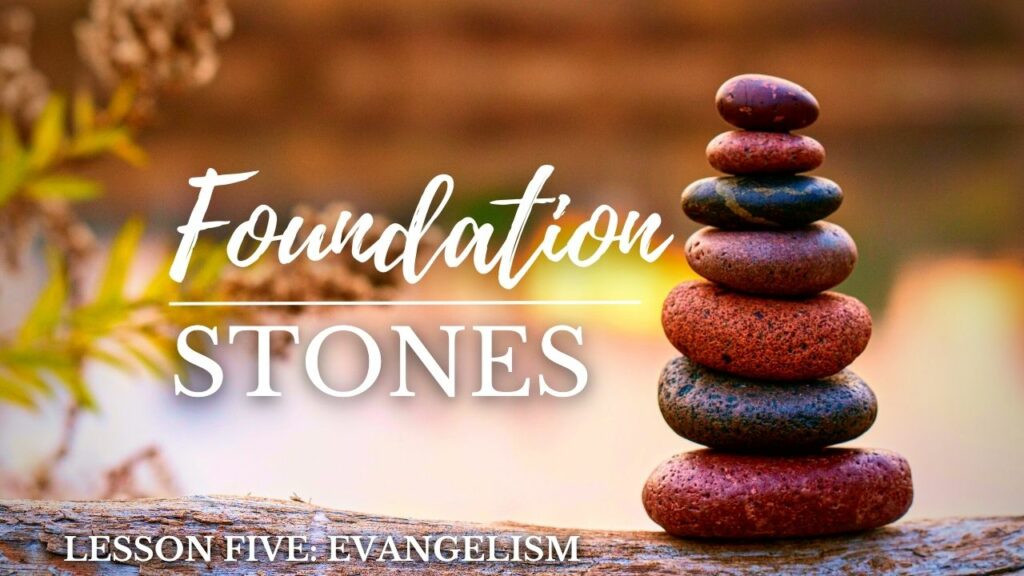 Joshua 4:21-22 (KJV)
21 And he spake unto the children of Israel, saying, When your children shall ask their fathers in time to come, saying, What mean these stones?
22 Then ye shall let your children know, saying, Israel came over this Jordan on dry land.
Ephesians 2:20 (KJV)
20 And are built upon the foundation of the apostles and prophets, Jesus Christ himself being the chief corner stone;
Acts 20:24 (TLB)
24 But life is worth nothing unless I use it for doing the work assigned me by the Lord Jesus—the work of telling others the Good News about God's mighty kindness and love.
John 3:16 (TLB)
16 For God loved the world so much that he gave his only Son[a] so that anyone who believes in him shall not perish but have eternal life.
2 Corinthians 5:18 (TLB)
18 All these new things are from God who brought us back to himself through what Christ Jesus did. And God has given us the privilege of urging everyone to come into his favor and be reconciled to him.
John 17:18 (NLT)
18 Just as you sent me into the world, I am sending them into the world.
Mark 16:15 (NLT)
15 And then he told them, "You are to go into all the world and preach the Good News to everyone, everywhere.
18If you refuse to warn the wicked when I want you to tell them, 'You are under the penalty of death; therefore repent and save your life,' they will die in their sins, but I will punish you. I will demand your blood for theirs.
2 Corinthians 5:18 (NLT)
18 All these new things are from God who brought us back to himself through what Christ Jesus did. And God has given us the privilege of urging everyone to come into his favor and be reconciled to him.
Ephesians 2:12 (NLT)
12 Remember that in those days you were living utterly apart from Christ; you were enemies of God's children, and he had promised you no help. You were lost, without God, without hope.
13 Anyone who calls upon the name of the Lord will be saved.
14 But how shall they ask him to save them unless they believe in him? And how can they believe in him if they have never heard about him? And how can they hear about him unless someone tells them?
1 Timothy 2:4 (NIV)
4 who wants all people to be saved and to come to a knowledge of the truth.
Daniel 12:3 (NLT)
3 Those who are wise will shine as bright as the sky, and those who lead many to righteousness will shine like the stars forever.
1 Thessalonians 2:19 (NLT)
19 After all, what gives us hope and joy, and what will be our proud reward and crown as we stand before our Lord Jesus when he returns? It is you!
Acts 1:8 (NIV)
8 But you will receive power when the Holy Spirit comes on you; and you will be my witnesses in Jerusalem, and in all Judea and Samaria, and to the ends of the earth."
Acts 6:7 (NIV)
7 So the word of God spread. The number of disciples in Jerusalem increased rapidly, and a large number of priests became obedient to the faith.
Acts 1:6 (KJV)
6 When they therefore were come together, they asked of him, saying, Lord, wilt thou at this time restore again the kingdom to Israel?
Acts 8:1 (KJV)
8 And Saul was consenting unto his death. And at that time there was a great persecution against the church which was at Jerusalem; and they were all scattered abroad throughout the regions of Judaea and Samaria, except the apostles.
Acts 8:2 (KJV)
2 And devout men carried Stephen to his burial, and made great lamentation over him.
Acts 10:47 (KJV)
47 Can any man forbid water, that these should not be baptized, which have received the Holy Ghost as well as we?
Acts 11:19-21 (KJV)
19 Now they which were scattered abroad upon the persecution that arose about Stephen travelled as far as Phenice, and Cyprus, and Antioch, preaching the word to none but unto the Jews only.
20 And some of them were men of Cyprus and Cyrene, which, when they were come to Antioch, spake unto the Grecians, preaching the Lord Jesus.
21 And the hand of the Lord was with them: and a great number believed, and turned unto the Lord.
Acts 11:25-26 (KJV)
25 Then departed Barnabas to Tarsus, for to seek Saul:
26 And when he had found him, he brought him unto Antioch. And it came to pass, that a whole year they assembled themselves with the church, and taught much people. And the disciples were called Christians first in Antioch.