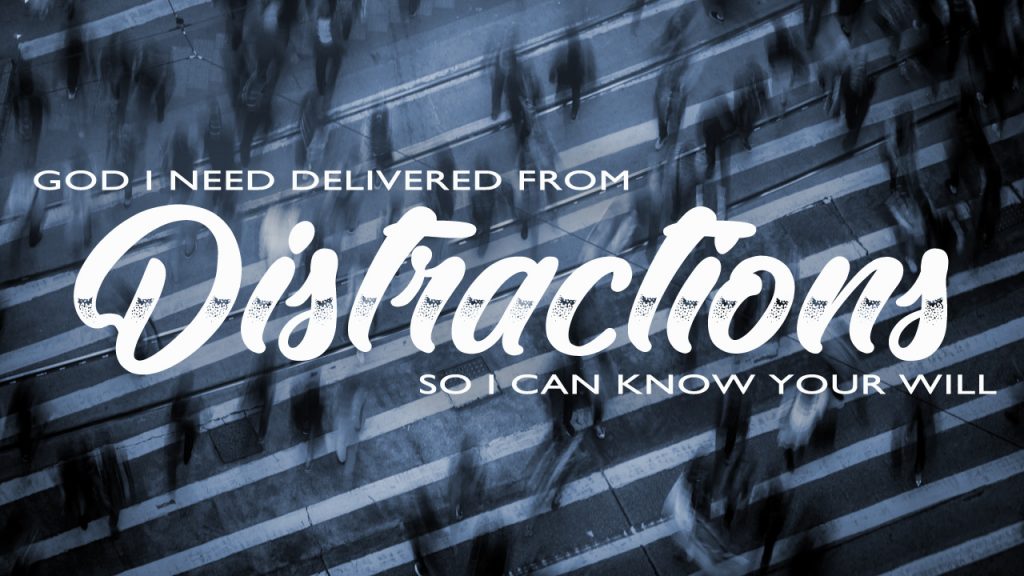 Matthew 6:13 (KJV)
13 And lead us not into temptation, but deliver us from evil: For thine is the kingdom, and the power, and the glory, for ever. Amen.
Romans 8:20-2 (KJV)
20 For the creature was made subject to vanity, not willingly, but by reason of him who hath subjected the same in hope,
21 Because the creature itself also shall be delivered from the bondage of corruption into the glorious liberty of the children of God.
22 For we know that the whole creation groaneth and travaileth in pain together until now.
23 And not only they, but ourselves also, which have the firstfruits of the Spirit, even we ourselves groan within ourselves, waiting for the adoption, to wit, the redemption of our body.
Luke 10:41-42 (NIV)
41 "Martha, Martha," the Lord answered, "you are worried and upset about many things,
42 but few things are needed—or indeed only one.[a] Mary has chosen what is better, and it will not be taken away from her."
Psalm 27:4 (NLT)
4 The one thing I ask of the Lord— the thing I seek most— is to live in the house of the Lord all the days of my life, delighting in the Lord's perfections and meditating in his Temple.
Ephesians 5:20 (KJV)
20 Giving thanks always for all things unto God and the Father in the name of our Lord Jesus Christ;
Galatians 5:22-23 (KJV)
22 But the fruit of the Spirit is love, joy, peace, longsuffering, gentleness, goodness, faith,
23 Meekness, temperance: against such there is no law.
Luke 12:48 (KJV)
48 But he that knew not, and did commit things worthy of stripes, shall be beaten with few stripes. For unto whomsoever much is given, of him shall be much required: and to whom men have committed much, of him they will ask the more.
Romans 8:1 (KJV)
1 There is therefore now no condemnation to them which are in Christ Jesus, who walk not after the flesh, but after the Spirit.
Romans 12:6 (KJV)
6 Having then gifts differing according to the grace that is given to us, whether prophecy, let us prophesy according to the proportion of faith; Ephesians 5:16 (KJV) 16 Redeeming the time, because the days are evil.
Romans 8:28 (KJV)
28 And we know that all things work together for good to them that love God, to them who are the called according to his purpose.
Acts 9:1-6 (KJV)
1 And Saul, yet breathing out threatenings and slaughter against the disciples of the Lord, went unto the high priest,
2 And desired of him letters to Damascus to the synagogues, that if he found any of this way, whether they were men or women, he might bring them bound unto Jerusalem.
3 And as he journeyed, he came near Damascus: and suddenly there shined round about him a light from heaven:
4 And he fell to the earth, and heard a voice saying unto him, Saul, Saul, why persecutest thou me?
5 And he said, Who art thou, Lord? And the Lord said, I am Jesus whom thou persecutest: it is hard for thee to kick against the pricks. 6 And he trembling and astonished said, Lord, what wilt thou have me to do? And the Lord said unto him, Arise, and go into the city, and it shall be told thee what thou must do.
Acts 9:15 (KJV)
15 But the Lord said unto him, Go thy way: for he is a chosen vessel unto me, to bear my name before the Gentiles, and kings, and the children of Israel:
Psalm 25:9 (KJV)
9 The meek will he guide in judgment: and the meek will he teach his way.
Acts 9:8 (KJV)
8 And Saul arose from the earth; and when his eyes were opened, he saw no man: but they led him by the hand, and brought him into Damascus.
Psalm 119:105 (KJV)
105 Thy word is a lamp unto my feet, and a light unto my path.
Proverbs 24:6 (KJV)
6 For by wise counsel thou shalt make thy war: and in multitude of counsellors there is safety.
Acts 9:17 (KJV)
17 And Ananias went his way, and entered into the house; and putting his hands on him said, Brother Saul, the Lord, even Jesus, that appeared unto thee in the way as thou camest, hath sent me, that thou mightest receive thy sight, and be filled with the Holy Ghost.