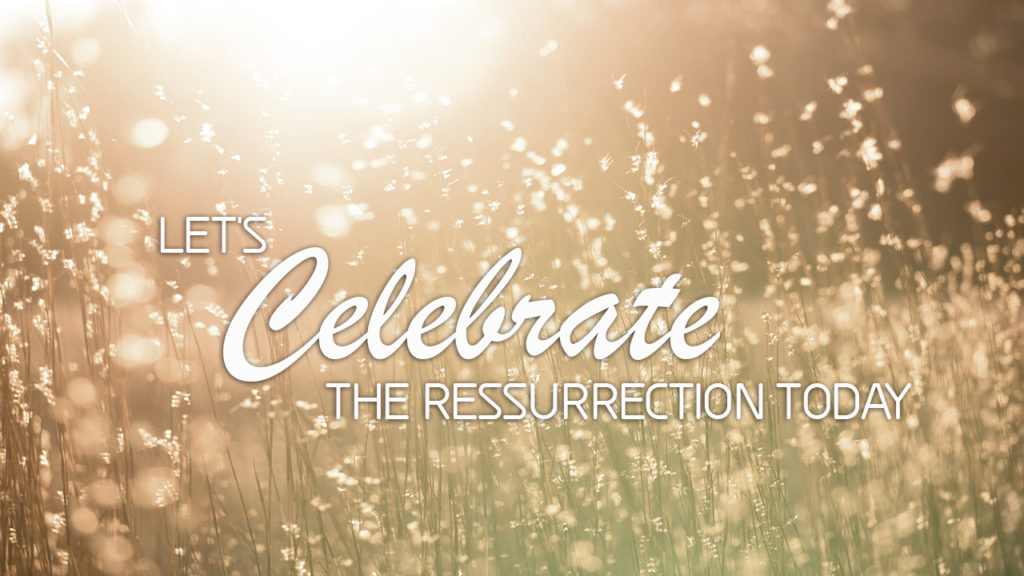 Matthew 28:1-8
 (KJV)
28 In the end of the sabbath, as it began to dawn toward the first day of the week, came Mary Magdalene and the other Mary to see the sepulchre.
2 And, behold, there was a great earthquake: for the angel of the Lord descended from heaven, and came and rolled back the stone from the door, and sat upon it.
3 His countenance was like lightning, and his raiment white as snow:
4 And for fear of him the keepers did shake, and became as dead men.
5 And the angel answered and said unto the women, Fear not ye: for I know that ye seek Jesus, which was crucified.
6 He is not here: for he is risen, as he said. Come, see the place where the Lord lay.
7 And go quickly, and tell his disciples that he is risen from the dead; and, behold, he goeth before you into Galilee; there shall ye see him: lo, I have told you.
8 And they departed quickly from the sepulchre with fear and great joy; and did run to bring his disciples word.
Philippians 3:10
 (KJV)
10 That I may know him, and the power of his resurrection, and the fellowship of his sufferings, being made conformable unto his death;
Hosea 4:6
 (KJV)
6 My people are destroyed for lack of knowledge: because thou hast rejected knowledge, I will also reject thee, that thou shalt be no priest to me: seeing thou hast forgotten the law of thy God, I will also forget thy children.
Exodus 23:25-26
 (KJV)
25 And ye shall serve the Lord your God, and he shall bless thy bread, and thy water; and I will take sickness away from the midst of thee.
26 There shall nothing cast their young, nor be barren, in thy land: the number of thy days I will fulfil.
Matthew 15:22-31
 (KJV)
22 And, behold, a woman of Canaan came out of the same coasts, and cried unto him, saying, Have mercy on me, O Lord, thou son of David; my daughter is grievously vexed with a devil.
23 But he answered her not a word. And his disciples came and besought him, saying, Send her away; for she crieth after us.
24 But he answered and said, I am not sent but unto the lost sheep of the house of Israel.
25 Then came she and worshipped him, saying, Lord, help me.
26 But he answered and said, It is not meet to take the children's bread, and to cast it to dogs.
27 And she said, Truth, Lord: yet the dogs eat of the crumbs which fall from their masters' table.
28 Then Jesus answered and said unto her, O woman, great is thy faith: be it unto thee even as thou wilt. And her daughter was made whole from that very hour.
29 And Jesus departed from thence, and came nigh unto the sea of Galilee; and went up into a mountain, and sat down there.
30 And great multitudes came unto him, having with them those that were lame, blind, dumb, maimed, and many others, and cast them down at Jesus' feet; and he healed them:
31 Insomuch that the multitude wondered, when they saw the dumb to speak, the maimed to be whole, the lame to walk, and the blind to see: and they glorified the God of Israel.
Matthew 8:23-27
 (KJV)
23 And when he was entered into a ship, his disciples followed him.
24 And, behold, there arose a great tempest in the sea, insomuch that the ship was covered with the waves: but he was asleep.
25 And his disciples came to him, and awoke him, saying, Lord, save us: we perish.
26 And he saith unto them, Why are ye fearful, O ye of little faith? Then he arose, and rebuked the winds and the sea; and there was a great calm.
27 But the men marvelled, saying, What manner of man is this, that even the winds and the sea obey him!
Jeremiah 1:9-10
 (KJV)
9 Then the Lord put forth his hand, and touched my mouth. And the Lord said unto me, Behold, I have put my words in thy mouth.
10 See, I have this day set thee over the nations and over the kingdoms, to root out, and to pull down, and to destroy, and to throw down, to build, and to plant.
Job 19:25
 (KJV)
25 For I know that my redeemer liveth, and that he shall stand at the latter day upon the earth:
Revelation 1:18
(KJV)
18 I am he that liveth, and was dead; and, behold, I am alive for evermore, Amen; and have the keys of hell and of death.
1 Thessalonians 4:13-18
 Version (KJV)
13 But I would not have you to be ignorant, brethren, concerning them which are asleep, that ye sorrow not, even as others which have no hope.
14 For if we believe that Jesus died and rose again, even so them also which sleep in Jesus will God bring with him.
15 For this we say unto you by the word of the Lord, that we which are alive and remain unto the coming of the Lord shall not prevent them which are asleep.
16 For the Lord himself shall descend from heaven with a shout, with the voice of the archangel, and with the trump of God: and the dead in Christ shall rise first:
17 Then we which are alive and remain shall be caught up together with them in the clouds, to meet the Lord in the air: and so shall we ever be with the Lord.
18 Wherefore comfort one another with these words.
John 6:63
 (KJV)
63 It is the spirit that quickeneth; the flesh profiteth nothing: the words that I speak unto you, they are spirit, and they are life.
John 10:10
 (KJV)
10 The thief cometh not, but for to steal, and to kill, and to destroy: I am come that they might have life, and that they might have it more abundantly.
Psalm 119:105
King James Version (KJV)
105 Thy word is a lamp unto my feet, and a light unto my path.
Acts 2:38
 (KJV)
38 Then Peter said unto them, Repent, and be baptized every one of you in the name of Jesus Christ for the remission of sins, and ye shall receive the gift of the Holy Ghost.