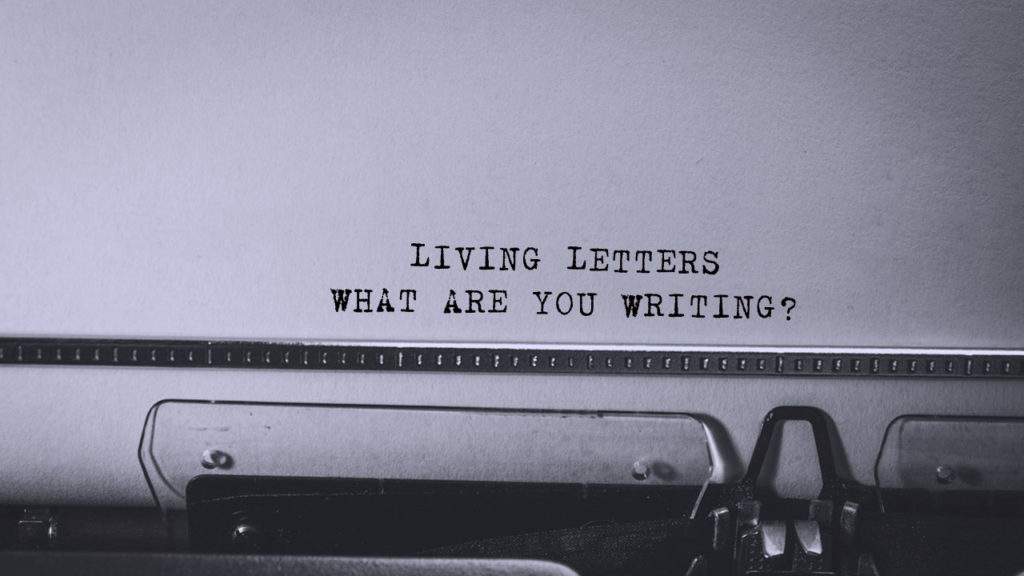 2 Corinthians 3:2-3 (KJV)
2 Ye are our epistle written in our hearts, known and read of all men:
3 Forasmuch as ye are manifestly declared to be the epistle of Christ ministered by us, written not with ink, but with the Spirit of the living God; not in tables of stone, but in fleshy tables of the heart.
Hebrews 8:8-10 (KJV)
8 For finding fault with them, he saith, Behold, the days come, saith the Lord, when I will make a new covenant with the house of Israel and with the house of Judah:
9 Not according to the covenant that I made with their fathers in the day when I took them by the hand to lead them out of the land of Egypt; because they continued not in my covenant, and I regarded them not, saith the Lord.
10 For this is the covenant that I will make with the house of Israel after those days, saith the Lord; I will put my laws into their mind, and write them in their hearts: and I will be to them a God, and they shall be to me a people:
Hebrews 10:16-17 (KJV)
16 This is the covenant that I will make with them after those days, saith the Lord, I will put my laws into their hearts, and in their minds will I write them;
17 And their sins and iniquities will I remember no more.
Ezekiel 36:26-27 (KJV)
26 A new heart also will I give you, and a new spirit will I put within you: and I will take away the stony heart out of your flesh, and I will give you an heart of flesh.
27 And I will put my spirit within you, and cause you to walk in my statutes, and ye shall keep my judgments, and do them.
Jeremiah 31:33 (KJV)
33 But this shall be the covenant that I will make with the house of Israel; After those days, saith the Lord, I will put my law in their inward parts, and write it in their hearts; and will be their God, and they shall be my people.
Jeremiah 26:2 (KJV)
2 Thus saith the Lord; Stand in the court of the Lord's house, and speak unto all the cities of Judah, which come to worship in the Lord's house, all the words that I command thee to speak unto them; diminish not a word:
Philippians 2:5 (KJV)
5 Let this mind be in you, which was also in Christ Jesus:
Romans 8:5 (NIV)
5 Those who live according to the flesh have their minds set on what the flesh desires; but those who live in accordance with the Spirit have their minds set on what the Spirit desires.
Acts 4:13 (KJV)
13 Now when they saw the boldness of Peter and John, and perceived that they were unlearned and ignorant men, they marvelled; and they took knowledge of them, that they had been with Jesus.
1 John 1:7 (KJV)
7 But if we walk in the light, as he is in the light, we have fellowship one with another, and the blood of Jesus Christ his Son cleanseth us from all sin.
1 John 1:9-10 (KJV)
9 If we confess our sins, he is faithful and just to forgive us our sins, and to cleanse us from all unrighteousness.
10 If we say that we have not sinned, we make him a liar, and his word is not in us.
Matthew 7:23 (KJV)
23 And then will I profess unto them, I never knew you: depart from me, ye that work iniquity.
Matthew 13:40-42 (KJV)
40 As therefore the tares are gathered and burned in the fire; so shall it be in the end of this world.
41 The Son of man shall send forth his angels, and they shall gather out of his kingdom all things that offend, and them which do iniquity;
42 And shall cast them into a furnace of fire: there shall be wailing and gnashing of teeth.
1 Thessalonians 1:8-9 (NLT)
8 And now the word of the Lord is ringing out from you to people everywhere, even beyond Macedonia and Achaia, for wherever we go we find people telling us about your faith in God. We don't need to tell them about it, 9 for they keep talking about the wonderful welcome you gave us and how you turned away from idols to serve the living and true God.
2 Corinthians 5:17 (KJV)
17 Therefore if any man be in Christ, he is a new creature: old things are passed away; behold, all things are become new.
Matthew 5:13-16 (KJV)
13 Ye are the salt of the earth: but if the salt have lost his savour, wherewith shall it be salted? it is thenceforth good for nothing, but to be cast out, and to be trodden under foot of men.
14 Ye are the light of the world. A city that is set on an hill cannot be hid.
15 Neither do men light a candle, and put it under a bushel, but on a candlestick; and it giveth light unto all that are in the house.
16 Let your light so shine before men, that they may see your good works, and glorify your Father which is in heaven.
Acts 13:47 (KJV)
47 For so hath the Lord commanded us, saying, I have set thee to be a light of the Gentiles, that thou shouldest be for salvation unto the ends of the earth.