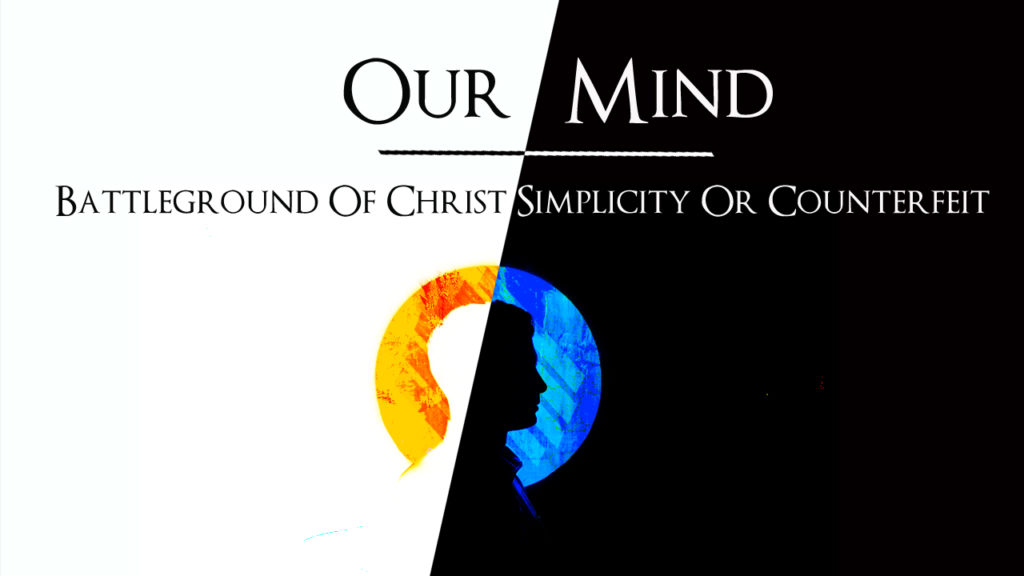 2 Corinthians 11:3
 (KJV)
3 But I fear, lest by any means, as the serpent beguiled Eve through his subtilty, so your minds should be corrupted from the simplicity that is in Christ.
Romans 8:6
 (KJV)
6 For to be carnally minded is death; but to be spiritually minded is life and peace.
Romans 8:7
 (KJV)
7 Because the carnal mind is enmity against God: for it is not subject to the law of God, neither indeed can be.
John 13:2
 (KJV)
2 And supper being ended, the devil having now put into the heart of Judas Iscariot, Simon's son, to betray him;
Acts 5:3
 (KJV)
3 But Peter said, Ananias, why hath Satan filled thine heart to lie to the Holy Ghost, and to keep back part of the price of the land?
Matthew 15:18-20
 (KJV)
18 But those things which proceed out of the mouth come forth from the heart; and they defile the man.
19 For out of the heart proceed evil thoughts, murders, adulteries, fornications, thefts, false witness, blasphemies:
20 These are the things which defile a man: but to eat with unwashen hands defileth not a man.
Revelation 21:8
 (KJV)
8 But the fearful, and unbelieving, and the abominable, and murderers, and whoremongers, and sorcerers, and idolaters, and all liars, shall have their part in the lake which burneth with fire and brimstone: which is the second death.
Isaiah 54:14
 (KJV)
14 In righteousness shalt thou be established: thou shalt be far from oppression; for thou shalt not fear: and from terror; for it shall not come near thee.
Psalm 19:14
 (KJV)
14 Let the words of my mouth, and the meditation of my heart, be acceptable in thy sight, O Lord, my strength, and my redeemer.
Matthew 13:19
 (KJV)
19 When any one heareth the word of the kingdom, and understandeth it not, then cometh the wicked one, and catcheth away that which was sown in his heart. This is he which received seed by the way side.
1 Peter 1:13
 (KJV)
13 Wherefore gird up the loins of your mind, be sober, and hope to the end for the grace that is to be brought unto you at the revelation of Jesus Christ;
2 Corinthians 10:3-5
 (KJV)
3 For though we walk in the flesh, we do not war after the flesh:
4 (For the weapons of our warfare are not carnal, but mighty through God to the pulling down of strong holds;)
5 Casting down imaginations, and every high thing that exalteth itself against the knowledge of God, and bringing into captivity every thought to the obedience of Christ;
Romans 12:2
 (KJV)
2 And be not conformed to this world: but be ye transformed by the renewing of your mind, that ye may prove what is that good, and acceptable, and perfect, will of God.
Ephesians 4:23
 (KJV)
23 And be renewed in the spirit of your mind;
Philippians 4:4-8
(KJV)
4 Rejoice in the Lord always: and again I say, Rejoice.
5 Let your moderation be known unto all men. The Lord is at hand.
6 Be careful for nothing; but in every thing by prayer and supplication with thanksgiving let your requests be made known unto God.
7 And the peace of God, which passeth all understanding, shall keep your hearts and minds through Christ Jesus.
8 Finally, brethren, whatsoever things are true, whatsoever things are honest, whatsoever things are just, whatsoever things are pure, whatsoever things are lovely, whatsoever things are of good report; if there be any virtue, and if there be any praise, think on these things.
2 Corinthians 11:3-4
 (KJV)
3 But I fear, lest by any means, as the serpent beguiled Eve through his subtilty, so your minds should be corrupted from the simplicity that is in Christ.
4 For if he that cometh preacheth another Jesus, whom we have not preached, or if ye receive another spirit, which ye have not received, or another gospel, which ye have not accepted, ye might well bear with him.
Luke 12:51-53
 (KJV)
51 Suppose ye that I am come to give peace on earth? I tell you, Nay; but rather division:
52 For from henceforth there shall be five in one house divided, three against two, and two against three.
53 The father shall be divided against the son, and the son against the father; the mother against the daughter, and the daughter against the mother; the mother in law against her daughter in law, and the daughter in law against her mother in law.
1 John 4:1-3
 (KJV)
1 Beloved, believe not every spirit, but try the spirits whether they are of God: because many false prophets are gone out into the world.
2 Hereby know ye the Spirit of God: Every spirit that confesseth that Jesus Christ is come in the flesh is of God:
3 And every spirit that confesseth not that Jesus Christ is come in the flesh is not of God: and this is that spirit of antichrist, whereof ye have heard that it should come; and even now already is it in the world.
John 14:15
 (KJV)
15 If ye love me, keep my commandments.