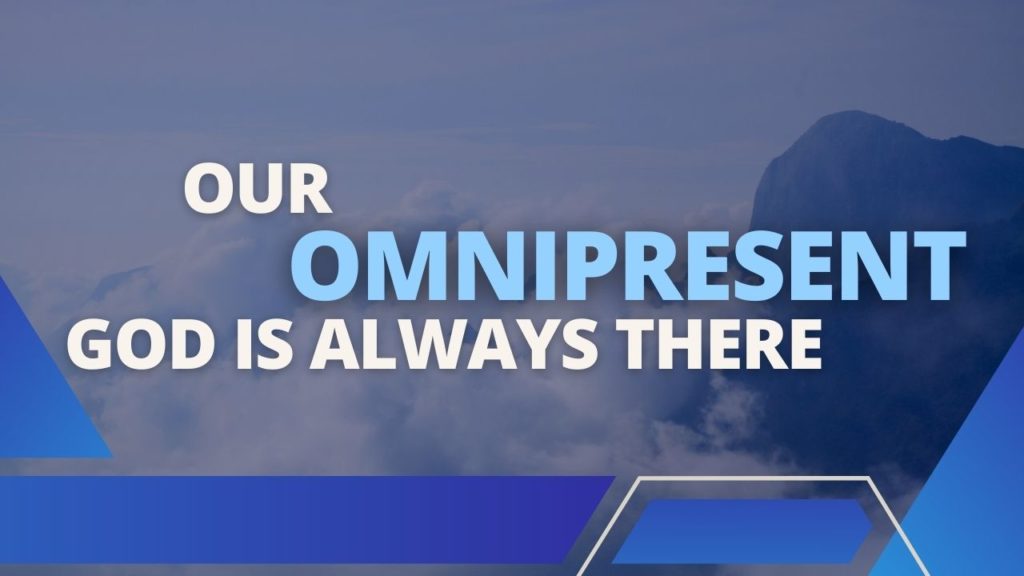 Psalm 139:7-10 (KJV)
7 Whither shall I go from thy spirit? or whither shall I flee from thy presence?
8 If I ascend up into heaven, thou art there: if I make my bed in hell, behold, thou art there.
9 If I take the wings of the morning, and dwell in the uttermost parts of the sea;
10 Even there shall thy hand lead me, and thy right hand shall hold me.
Jeremiah 23:23-24 (NLT)
23 Am I a God who is only close at hand?" says the Lord. "No, I am far away at the same time.
24 Can anyone hide from me in a secret place? Am I not everywhere in all the heavens and earth?" says the Lord.
Psalm 113:5 (KJV)
5 Who is like unto the Lord our God, who dwelleth on high,
Joel 3:21 (KJV)
21 For I will cleanse their blood that I have not cleansed: for the Lord dwelleth in Zion.
1 Kings 8:27 (KJV)
27 But will God indeed dwell on the earth? behold, the heaven and heaven of heavens cannot contain thee; how much less this house that I have builded?
Genesis 3:8 (KJV)
8 And they heard the voice of the Lord God walking in the garden in the cool of the day: and Adam and his wife hid themselves from the presence of the Lord God amongst the trees of the garden.
1 Corinthians 13:12 (KJV)
12 For now we see through a glass, darkly; but then face to face: now I know in part; but then shall I know even as also I am known.
John 2:19 (KJV)
19 Jesus answered and said unto them, Destroy this temple, and in three days I will raise it up.
Ezekiel 48:30-35 (KJV)
30 And these are the goings out of the city on the north side, four thousand and five hundred measures.
31 And the gates of the city shall be after the names of the tribes of Israel: three gates northward; one gate of Reuben, one gate of Judah, one gate of Levi.
32 And at the east side four thousand and five hundred: and three gates; and one gate of Joseph, one gate of Benjamin, one gate of Dan.
33 And at the south side four thousand and five hundred measures: and three gates; one gate of Simeon, one gate of Issachar, one gate of Zebulun.
34 At the west side four thousand and five hundred, with their three gates; one gate of Gad, one gate of Asher, one gate of Naphtali.
35 It was round about eighteen thousand measures: and the name of the city from that day shall be, The Lord is there.
John 15:11 (KJV)
11 These things have I spoken unto you, that my joy might remain in you, and that your joy might be full.
Psalm 16:11 (KJV)
11 Thou wilt shew me the path of life: in thy presence is fulness of joy; at thy right hand there are pleasures for evermore.
Isaiah 43:2 (KJV)
2 When thou passest through the waters, I will be with thee; and through the rivers, they shall not overflow thee: when thou walkest through the fire, thou shalt not be burned; neither shall the flame kindle upon thee.
Deuteronomy 31:6 (KJV)
6 Be strong and of a good courage, fear not, nor be afraid of them: for the Lord thy God, he it is that doth go with thee; he will not fail thee, nor forsake thee.
Matthew 18:20 (KJV)
20 For where two or three are gathered together in my name, there am I in the midst of them.
Psalm 42:1 (KJV)
42 As the hart panteth after the water brooks, so panteth my soul after thee, O God.
Colossians 1:27 (KJV)
27 To whom God would make known what is the riches of the glory of this mystery among the Gentiles; which is Christ in you, the hope of glory:
Acts 10:3-6 (KJV)
3 He saw in a vision evidently about the ninth hour of the day an angel of God coming in to him, and saying unto him, Cornelius.
4 And when he looked on him, he was afraid, and said, What is it, Lord? And he said unto him, Thy prayers and thine alms are come up for a memorial before God.
5 And now send men to Joppa, and call for one Simon, whose surname is Peter:
6 He lodgeth with one Simon a tanner, whose house is by the sea side: he shall tell thee what thou oughtest to do.
Acts 8:6-8 (KJV)
6 And the people with one accord gave heed unto those things which Philip spake, hearing and seeing the miracles which he did.
7 For unclean spirits, crying with loud voice, came out of many that were possessed with them: and many taken with palsies, and that were lame, were healed.
8 And there was great joy in that city.
John 7:38-39 (KJV)
38 He that believeth on me, as the scripture hath said, out of his belly shall flow rivers of living water.
39 (But this spake he of the Spirit, which they that believe on him should receive: for the Holy Ghost was not yet given; because that Jesus was not yet glorified.)
Matthew 28:20 (KJV)
20 Teaching them to observe all things whatsoever I have commanded you: and, lo, I am with you always, even unto the end of the world. Amen.