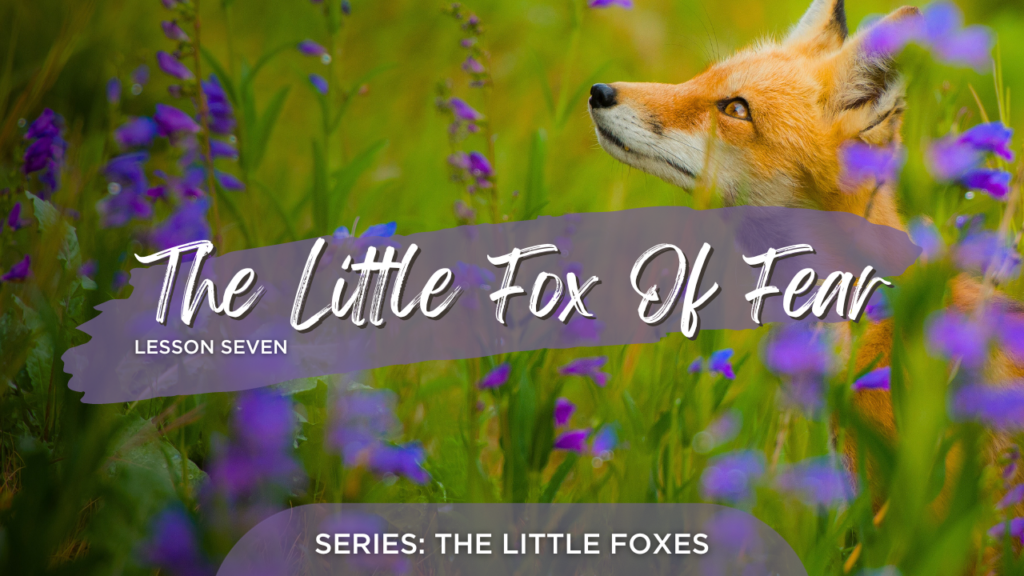 Song of Solomon 2:15 (KJV)
15
Take us the foxes, the little foxes, that spoil the vines: for our vines have tender grapes.
2 Timothy 1:7 (KJV)
7
For God hath not given us the spirit of fear; but of power, and of love, and of a sound mind.
Romans 8:15 (KJV)
15
For ye have not received the spirit of bondage again to fear; but ye have received the Spirit of adoption, whereby we cry, Abba, Father.
2 Corinthians 10:5 (KJV)
5
Casting down imaginations, and every high thing that exalteth itself against the knowledge of God, and bringing into captivity every thought to the obedience of Christ;
1 Kings 19:2-4 (KJV)
2
Then Jezebel sent a messenger unto Elijah, saying, So let the gods do to me, and more also, if I make not thy life as the life of one of them by to morrow about this time.

3 
And when he saw that, he arose, and went for his life, and came to Beersheba, which belongeth to Judah, and left his servant there.
4 
But he himself went a day's journey into the wilderness, and came and sat down under a juniper tree: and he requested for himself that he might die; and said, It is enough; now, O 
Lord
, take away my life; for I am not better than my fathers.
Hebrews 2:14-15 (KJV)
14
Forasmuch then as the children are partakers of flesh and blood, he also himself likewise took part of the same; that through death he might destroy him that had the power of death, that is, the devil;

15 
And deliver them who through fear of death were all their lifetime subject to bondage.
1 John 4:18 (KJV)
18
There is no fear in love; but perfect love casteth out fear: because fear hath torment. He that feareth is not made perfect in love.
Matthew 8:25-26 (KJV)
25
And his disciples came to him, and awoke him, saying, Lord, save us: we perish.

26 
And he saith unto them, Why are ye fearful, O ye of little faith? Then he arose, and rebuked the winds and the sea; and there was a great calm.
Matthew 28:20 (KJV)
20
Teaching them to observe all things whatsoever I have commanded you: and, lo, I am with you always, even unto the end of the world. Amen.
Hebrews 13:8 (KJV)
8
Jesus Christ the same yesterday, and to day, and for ever.
Isaiah 58:11 (KJV)
11
And the 
Lord
 shall guide thee continually, and satisfy thy soul in drought, and make fat thy bones: and thou shalt be like a watered garden, and like a spring of water, whose waters fail not.
Psalm 23:4 (KJV)
4
Yea, though I walk through the valley of the shadow of death, I will fear no evil: for thou art with me; thy rod and thy staff they comfort me.
Psalm 91:5-7 (KJV)
5
Thou shalt not be afraid for the terror by night; nor for the arrow that flieth by day;

6 
Nor for the pestilence that walketh in darkness; nor for the destruction that wasteth at noonday.
7 
A thousand shall fall at thy side, and ten thousand at thy right hand; but it shall not come nigh thee.
Psalm 91:1-4 (KJV)
1
He that dwelleth in the secret place of the most High shall abide under the shadow of the Almighty.

2 
I will say of the 
Lord
, He is my refuge and my fortress: my God; in him will I trust.
3 
Surely he shall deliver thee from the snare of the fowler, and from the noisome pestilence.
4 
He shall cover thee with his feathers, and under his wings shalt thou trust: his truth shall be thy shield and buckler.
2 Timothy 1:7 (KJV)
7
For God hath not given us the spirit of fear; but of power, and of love, and of a sound mind.
Ephesians 4:27 (KJV)
27
Neither give place to the devil.
James 4:7 (KJV)
7
Submit yourselves therefore to God. Resist the devil, and he will flee from you.
2 Timothy 1:6 (KJV)
6
Wherefore I put thee in remembrance that thou stir up the gift of God, which is in thee by the putting on of my hands.