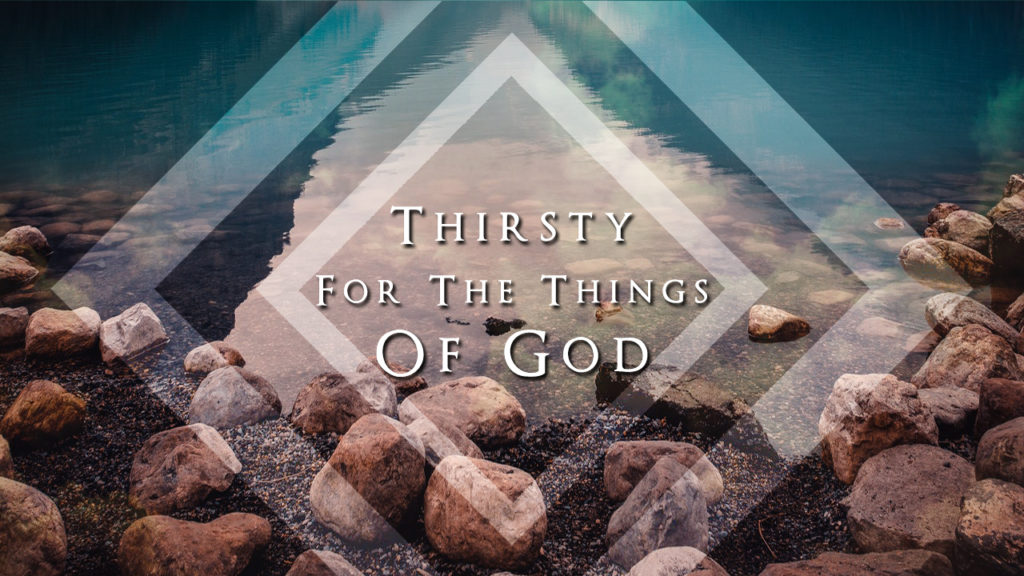 Matthew 5:6 (KJV)
6 Blessed are they which do hunger and thirst after righteousness: for they shall be filled.
John 1:14 (KJV)
14 And the Word was made flesh, and dwelt among us, (and we beheld his glory, the glory as of the only begotten of the Father,) full of grace and truth.
John 6:35 (KJV)
35 And Jesus said unto them, I am the bread of life: he that cometh to me shall never hunger; and he that believeth on me shall never thirst.
John 7:37-38 (KJV)
37 In the last day, that great day of the feast, Jesus stood and cried, saying, If any man thirst, let him come unto me, and drink.
38 He that believeth on me, as the scripture hath said, out of his belly shall flow rivers of living water.
Isaiah 55:1-2 (KJV)
1 Ho, every one that thirsteth, come ye to the waters, and he that hath no money; come ye, buy, and eat; yea, come, buy wine and milk without money and without price.
2 Wherefore do ye spend money for that which is not bread? and your labour for that which satisfieth not? hearken diligently unto me, and eat ye that which is good, and let your soul delight itself in fatness.
Psalm 63:1 (KJV)
63 O God, thou art my God; early will I seek thee: my soul thirsteth for thee, my flesh longeth for thee in a dry and thirsty land, where no water is;
Revelation 22:17 (KJV)
17 And the Spirit and the bride say, Come. And let him that heareth say, Come. And let him that is athirst come. And whosoever will, let him take the water of life freely.
Isaiah 44:3 (NKJV)
3 For I will pour water on him who is thirsty, and floods on the dry ground;
I will pour My Spirit on your descendants, and My blessing on your offspring;
Matthew 7:7-8 (NKJV)
7 "Ask, and it will be given to you; seek, and you will find; knock, and it will be opened to you.
8 For everyone who asks receives, and he who seeks finds, and to him who knocks it will be opened.
Psalm 27:1-6 (NLT)
1 The Lord is my light and my salvation so why should I be afraid? The Lord is my fortress, protecting me from danger, so why should I tremble?
2 When evil people come to devour me, when my enemies and foes attack me, they will stumble and fall.
3 Though a mighty army surrounds me, my heart will not be afraid. Even if I am attacked, I will remain confident.
4 The one thing I ask of the Lord the thing I seek most is to live in the house of the Lord all the days of my life, delighting in the Lord's perfections and meditating in his Temple.
5 For he will conceal me there when troubles come; he will hide me in his sanctuary. He will place me out of reach on a high rock.
6 Then I will hold my head high above my enemies who surround me. At his sanctuary I will offer sacrifices with shouts of joy, singing and praising the Lord with music.
Psalm 63:1-4 (NKJV)
1 O God, You are my God; early will I seek You; my soul thirsts for You; my flesh longs for You in a dry and thirsty land Where there is no water.

2 So I have looked for You in the sanctuary, to see Your power and Your glory.
3 Because Your lovingkindness is better than life, my lips shall praise You.
4 Thus I will bless You while I live; I will lift up my hands in Your name.
Mark 5:24-29 (NIV)
24 So Jesus went with him. A large crowd followed and pressed around him.
25 And a woman was there who had been subject to bleeding for twelve years.
26 She had suffered a great deal under the care of many doctors and had spent all she had, yet instead of getting better she grew worse.
27 When she heard about Jesus, she came up behind him in the crowd and touched his cloak,
28 because she thought, "If I just touch his clothes, I will be healed."
29 Immediately her bleeding stopped and she felt in her body that she was freed from her suffering.
Philippians 3:7-9 (NIV)
7 But whatever were gains to me I now consider loss for the sake of Christ.
8 What is more, I consider everything a loss because of the surpassing worth of knowing Christ Jesus my Lord, for whose sake I have lost all things. I consider them garbage, that I may gain Christ
9 and be found in him, not having a righteousness of my own that comes from the law, but that which is through faith in Christ—the righteousness that comes from God on the basis of faith.