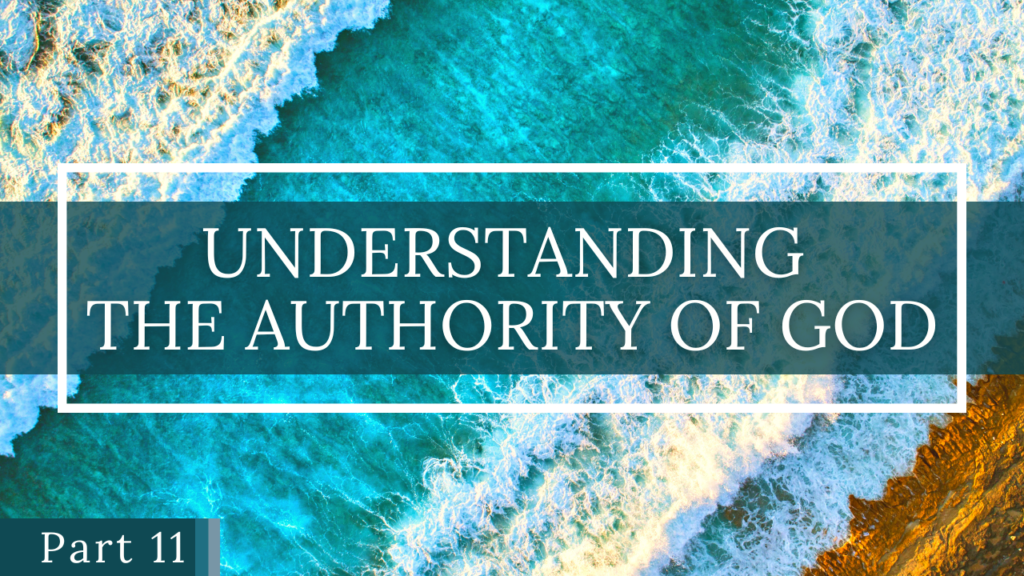 Acts 5:28-29 (KJV)
28
Saying, Did not we straitly command you that ye should not teach in this name? and, behold, ye have filled Jerusalem with your doctrine, and intend to bring this man's blood upon us.

29 
Then Peter and the other apostles answered and said, We ought to obey God rather than men.
Acts 4:13-21 (KJV)
13
Now when they saw the boldness of Peter and John, and perceived that they were unlearned and ignorant men, they marvelled; and they took knowledge of them, that they had been with Jesus.

14 
And beholding the man which was healed standing with them, they could say nothing against it.

15 
But when they had commanded them to go aside out of the council, they conferred among themselves,

16 
Saying, What shall we do to these men? for that indeed a notable miracle hath been done by them is manifest to all them that dwell in Jerusalem; and we cannot deny it.

17 
But that it spread no further among the people, let us straitly threaten them, that they speak henceforth to no man in this name.

18 
And they called them, and commanded them not to speak at all nor teach in the name of Jesus.
19 
But Peter and John answered and said unto them, Whether it be right in the sight of God to hearken unto you more than unto God, judge ye.

20 
For we cannot but speak the things which we have seen and heard.

21 
So when they had further threatened them, they let them go, finding nothing how they might punish them, because of the people: for all men glorified God for that which was done.
Exodus 1:16-21 (KJV)
16
And he said, When ye do the office of a midwife to the Hebrew women, and see them upon the stools; if it be a son, then ye shall kill him: but if it be a daughter, then she shall live.

17 
But the midwives feared God, and did not as the king of Egypt commanded them, but saved the men children alive.

18 
And the king of Egypt called for the midwives, and said unto them, Why have ye done this thing, and have saved the men children alive?

19 
And the midwives said unto Pharaoh, Because the Hebrew women are not as the Egyptian women; for they are lively, and are delivered ere the midwives come in unto them.

20 
Therefore God dealt well with the midwives: and the people multiplied, and waxed very mighty.

21 
And it came to pass, because the midwives feared God, that he made them houses.
Acts 5:29 9 (KJV)
29
Then Peter and the other apostles answered and said, We ought to obey God rather than men.
Daniel 6:9-10 (KJV)
9
Wherefore king Darius signed the writing and the decree.

10 
Now when Daniel knew that the writing was signed, he went into his house; and his windows being open in his chamber toward Jerusalem, he kneeled upon his knees three times a day, and prayed, and gave thanks before his God, as he did aforetime.
Matthew 2:12-14 (KJV)
12
And being warned of God in a dream that they should not return to Herod, they departed into their own country another way.

13 
And when they were departed, behold, the angel of the Lord appeareth to Joseph in a dream, saying, Arise, and take the young child and his mother, and flee into Egypt, and be thou there until I bring thee word: for Herod will seek the young child to destroy him.
14 
When he arose, he took the young child and his mother by night, and departed into Egypt:
Daniel 3:16-18 (KJV)
16
Shadrach, Meshach, and Abednego, answered and said to the king, O Nebuchadnezzar, we are not careful to answer thee in this matter.

17 
If it be so, our God whom we serve is able to deliver us from the burning fiery furnace, and he will deliver us out of thine hand, O king.
18 
But if not, be it known unto thee, O king, that we will not serve thy gods, nor worship the golden image which thou hast set up.
Hebrews 11:36-39 (KJV)
36
And others had trial of cruel mockings and scourgings, yea, moreover of bonds and imprisonment:

37 
They were stoned, they were sawn asunder, were tempted, were slain with the sword: they wandered about in sheepskins and goatskins; being destitute, afflicted, tormented;

38 
(Of whom the world was not worthy:) they wandered in deserts, and in mountains, and in dens and caves of the earth.
39 
And these all, having obtained a good report through faith, received not the promise:
1 Corinthians 7:12-14 (KJV)
12
But to the rest speak I, not the Lord: If any brother hath a wife that believeth not, and she be pleased to dwell with him, let him not put her away.

13 
And the woman which hath an husband that believeth not, and if he be pleased to dwell with her, let her not leave him.

14 
For the unbelieving husband is sanctified by the wife, and the unbelieving wife is sanctified by the husband: else were your children unclean; but now are they holy.
Romans 1:16-17 (KJV)
16
For I am not ashamed of the gospel of Christ: for it is the power of God unto salvation to every one that believeth; to the Jew first, and also to the Greek.

17 
For therein is the righteousness of God revealed from faith to faith: as it is written, The just shall live by faith.
2 Timothy 1:8-18 (KJV)
8
Be not thou therefore ashamed of the testimony of our Lord, nor of me his prisoner: but be thou partaker of the afflictions of the gospel according to the power of God;

9 
Who hath saved us, and called us with an holy calling, not according to our works, but according to his own purpose and grace, which was given us in Christ Jesus before the world began,
10 
But is now made manifest by the appearing of our Saviour Jesus Christ, who hath abolished death, and hath brought life and immortality to light through the gospel:
11 
Whereunto I am appointed a preacher, and an apostle, and a teacher of the Gentiles.
12 
For the which cause I also suffer these things: nevertheless I am not ashamed: for I know whom I have believed, and am persuaded that he is able to keep that which I have committed unto him against that day.

13 
Hold fast the form of sound words, which thou hast heard of me, in faith and love which is in Christ Jesus.
14 
That good thing which was committed unto thee keep by the Holy Ghost which dwelleth in us.
15 
This thou knowest, that all they which are in Asia be turned away from me; of whom are Phygellus and Hermogenes.

16 
The Lord give mercy unto the house of Onesiphorus; for he oft refreshed me, and was not ashamed of my chain:

17 
But, when he was in Rome, he sought me out very diligently, and found me.

18 
The Lord grant unto him that he may find mercy of the Lord in that day: and in how many things he ministered unto me at Ephesus, thou knowest very well.
Hebrews 12:2-4 (KJV)
2
Looking unto Jesus the author and finisher of our faith; who for the joy that was set before him endured the cross, despising the shame, and is set down at the right hand of the throne of God.

3 
For consider him that endured such contradiction of sinners against himself, lest ye be wearied and faint in your minds.

4 
Ye have not yet resisted unto blood, striving against sin.
Colossians 3:15 (KJV)
15
And let the peace of God rule in your hearts, to the which also ye are called in one body; and be ye thankful.
Romans 1:21-22 (KJV)
21
Because that, when they knew God, they glorified him not as God, neither were thankful; but became vain in their imaginations, and their foolish heart was darkened.

22 
Professing themselves to be wise, they became fools,
Colossians 3:16-17 (KJV)
16
Let the word of Christ dwell in you richly in all wisdom; teaching and admonishing one another in psalms and hymns and spiritual songs, singing with grace in your hearts to the Lord.

17 
And whatsoever ye do in word or deed, do all in the name of the Lord Jesus, giving thanks to God and the Father by him.
Colossians 3:18-25 (KJV)
18
Wives, submit yourselves unto your own husbands, as it is fit in the Lord.

19 
Husbands, love your wives, and be not bitter against them.

20 
Children, obey your parents in all things: for this is well pleasing unto the Lord.
21 
Fathers, provoke not your children to anger, lest they be discouraged.

22 
Servants, obey in all things your masters according to the flesh; not with eyeservice, as menpleasers; but in singleness of heart, fearing God;

23 
And whatsoever ye do, do it heartily, as to the Lord, and not unto men;

24 
Knowing that of the Lord ye shall receive the reward of the inheritance: for ye serve the Lord Christ.

25 
But he that doeth wrong shall receive for the wrong which he hath done: and there is no respect of persons.
Ephesians 4:1-15 (KJV)
1
I therefore, the prisoner of the Lord, beseech you that ye walk worthy of the vocation wherewith ye are called,

2 
With all lowliness and meekness, with longsuffering, forbearing one another in love;

3 
Endeavouring to keep the unity of the Spirit in the bond of peace.

4 
There is one body, and one Spirit, even as ye are called in one hope of your calling;

5 
One Lord, one faith, one baptism,

6 
One God and Father of all, who is above all, and through all, and in you all.

7 
But unto every one of us is given grace according to the measure of the gift of Christ.

8 
Wherefore he saith, When he ascended up on high, he led captivity captive, and gave gifts unto men.

9 
(Now that he ascended, what is it but that he also descended first into the lower parts of the earth?

10 
He that descended is the same also that ascended up far above all heavens, that he might fill all things.)

11 
And he gave some, apostles; and some, prophets; and some, evangelists; and some, pastors and teachers;

12 
For the perfecting of the saints, for the work of the ministry, for the edifying of the body of Christ:

13 
Till we all come in the unity of the faith, and of the knowledge of the Son of God, unto a perfect man, unto the measure of the stature of the fulness of Christ:

14 
That we henceforth be no more children, tossed to and fro, and carried about with every wind of doctrine, by the sleight of men, and cunning craftiness, whereby they lie in wait to deceive;

15 
But speaking the truth in love, may grow up into him in all things, which is the head, even Christ: