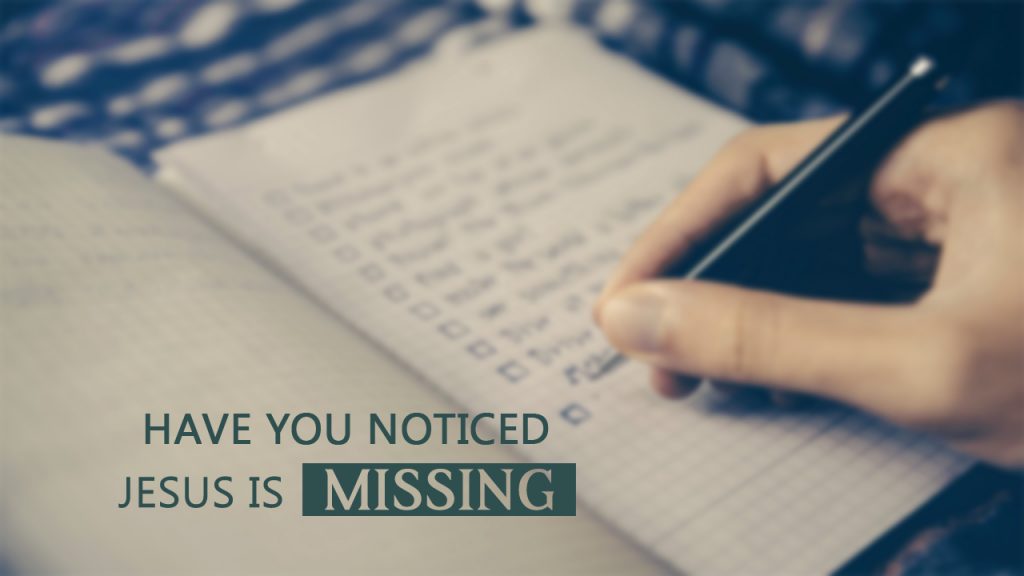 Luke 2:41-52  (KJV)
41 Now his parents went to Jerusalem every year at the feast of the passover.
42 And when he was twelve years old, they went up to Jerusalem after the custom of the feast.
43 And when they had fulfilled the days, as they returned, the child Jesus tarried behind in Jerusalem; and Joseph and his mother knew not of it.
44 But they, supposing him to have been in the company, went a day's journey; and they sought him among their kinsfolk and acquaintance.
45 And when they found him not, they turned back again to Jerusalem, seeking him.
46 And it came to pass, that after three days they found him in the temple, sitting in the midst of the doctors, both hearing them, and asking them questions.
47 And all that heard him were astonished at his understanding and answers.
48 And when they saw him, they were amazed: and his mother said unto him, Son, why hast thou thus dealt with us? behold, thy father and I have sought thee sorrowing.
49 And he said unto them, How is it that ye sought me? wist ye not that I must be about my Father's business?
50 And they understood not the saying which he spake unto them.
51 And he went down with them, and came to Nazareth, and was subject unto them: but his mother kept all these sayings in her heart.
52 And Jesus increased in wisdom and stature, and in favour with God and man.
1 Thessalonians 5:16-18 (NIV)
16 Rejoice always,
17 pray continually,
18 give thanks in all circumstances; for this is God's will for you in Christ Jesus.
Matthew 20:25-29  (NIV)
25 Jesus called them together and said, "You know that the rulers of the Gentiles lord it over them, and their high officials exercise authority over them.
26 Not so with you. Instead, whoever wants to become great among you must be your servant,
27 and whoever wants to be first must be your slave.
28 just as the Son of Man did not come to be served, but to serve, and to give his life as a ransom for many."
29 As Jesus and his disciples were leaving Jericho, a large crowd followed him.
Micah 6:8  (NLT)
8 No, O people, the Lord has told you what is good, and this is what he requires of you: to do what is right, to love mercy, and to walk humbly with your God.
Philippians 4:6-7  (NLT)
6 Don't worry about anything; instead, pray about everything. Tell God what you need, and thank him for all he has done.
7 Then you will experience God's peace, which exceeds anything we can understand. His peace will guard your hearts and minds as you live in Christ Jesus.
Ephesians 2:10 (NLT)
10 For we are God's masterpiece. He has created us anew in Christ Jesus, so we can do the good things he planned for us long ago.
Ecclesiastes 2:26  (NIV)
26 To the person who pleases him, God gives wisdom, knowledge and happiness, but to the sinner he gives the task of gathering and storing up wealth to hand it over to the one who pleases God. This too is meaningless, a chasing after the wind.
Matthew 5:3-12 (NIV)
3 "Blessed are the poor in spirit, for theirs is the kingdom of heaven.
4 Blessed are those who mourn, for they will be comforted.
5 Blessed are the meek, for they will inherit the earth.
6 Blessed are those who hunger and thirst for righteousness, for they will be filled.
7 Blessed are the merciful, for they will be shown mercy.
8 Blessed are the pure in heart, for they will see God.
9 Blessed are the peacemakers, for they will be called children of God.
10 Blessed are those who are persecuted because of righteousness, for theirs is the kingdom of heaven.
11 "Blessed are you when people insult you, persecute you and falsely say all kinds of evil against you because of me.
12 Rejoice and be glad, because great is your reward in heaven, for in the same way they persecuted the prophets who were before you.
Ecclesiastes 7:14 (NIV)
14 When times are good, be happy; but when times are bad, consider this: God has made the one as well as the other. Therefore, no one can discover anything about their future.
Matthew 7:21-27  (NIV)
21 "Not everyone who says to me, 'Lord, Lord,' will enter the kingdom of heaven, but only the one who does the will of my Father who is in heaven.
22 Many will say to me on that day, 'Lord, Lord, did we not prophesy in your name and in your name drive out demons and in your name perform many miracles?'
23 Then I will tell them plainly, 'I never knew you. Away from me, you evildoers!'
24 "Therefore everyone who hears these words of mine and puts them into practice is like a wise man who built his house on the rock.
25 The rain came down, the streams rose, and the winds blew and beat against that house; yet it did not fall, because it had its foundation on the rock.
26 But everyone who hears these words of mine and does not put them into practice is like a foolish man who built his house on sand.
27 The rain came down, the streams rose, and the winds blew and beat against that house, and it fell with a great crash."