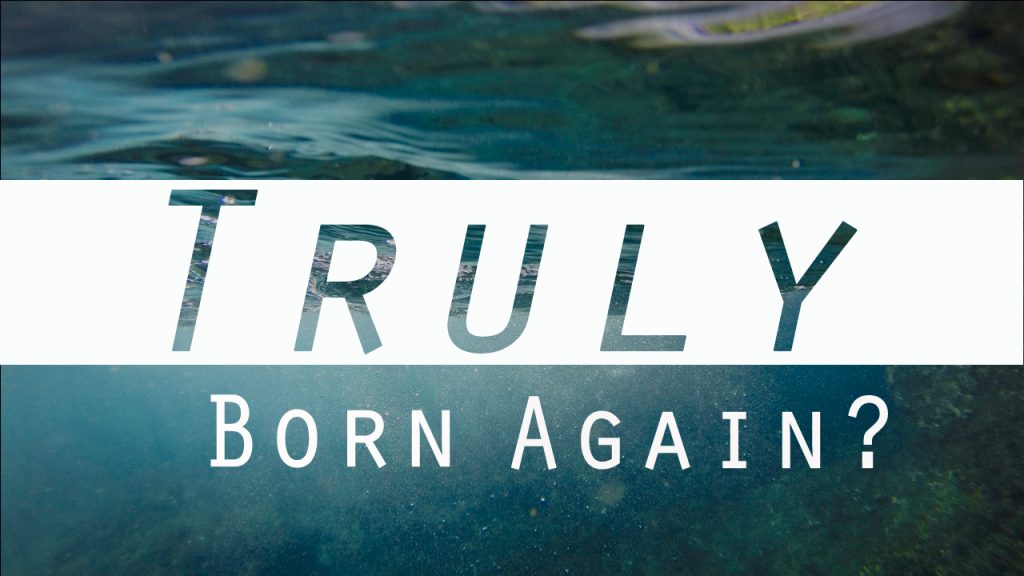 John 3:5-6 (KJV)
5 Jesus answered, Verily, verily, I say unto thee, Except a man be born of water and of the Spirit, he cannot enter into the kingdom of God.
6 That which is born of the flesh is flesh; and that which is born of the Spirit is spirit.
Galatians 5:16-26 (KJV)
16 This I say then, Walk in the Spirit, and ye shall not fulfil the lust of the flesh.
17 For the flesh lusteth against the Spirit, and the Spirit against the flesh: and these are contrary the one to the other: so that ye cannot do the things that ye would.
18 But if ye be led of the Spirit, ye are not under the law.
19 Now the works of the flesh are manifest, which are these; Adultery, fornication, uncleanness, lasciviousness,
20 Idolatry, witchcraft, hatred, variance, emulations, wrath, strife, seditions, heresies,
21 Envyings, murders, drunkenness, revellings, and such like: of the which I tell you before, as I have also told you in time past, that they which do such things shall not inherit the kingdom of God.
22 But the fruit of the Spirit is love, joy, peace, longsuffering, gentleness, goodness, faith,
23 Meekness, temperance: against such there is no law.
24 And they that are Christ's have crucified the flesh with the affections and lusts.
25 If we live in the Spirit, let us also walk in the Spirit.
26 Let us not be desirous of vain glory, provoking one another, envying one another.
2 Corinthians 5:17 (KJV)
17 Therefore if any man be in Christ, he is a new creature: old things are passed away; behold, all things are become new.
Romans 6:12-17 (KJV)
12 Let not sin therefore reign in your mortal body, that ye should obey it in the lusts thereof.
13 Neither yield ye your members as instruments of unrighteousness unto sin: but yield yourselves unto God, as those that are alive from the dead, and your members as instruments of righteousness unto God.
14 For sin shall not have dominion over you: for ye are not under the law, but under grace.
15 What then? shall we sin, because we are not under the law, but under grace? God forbid.
16 Know ye not, that to whom ye yield yourselves servants to obey, his servants ye are to whom ye obey; whether of sin unto death, or of obedience unto righteousness?
17 But God be thanked, that ye were the servants of sin, but ye have obeyed from the heart that form of doctrine which was delivered you.
Matthew 4:19 (KJV)
19 And he saith unto them, Follow me, and I will make you fishers of men.
Matthew 18:3 (KJV)
3 And said, Verily I say unto you, Except ye be converted, and become as little children, ye shall not enter into the kingdom of heaven.
Luke 22:31-34 (KJV)
31 And the Lord said, Simon, Simon, behold, Satan hath desired to have you, that he may sift you as wheat:
32 But I have prayed for thee, that thy faith fail not: and when thou art converted, strengthen thy brethren.
33 And he said unto him, Lord, I am ready to go with thee, both into prison, and to death.
34 And he said, I tell thee, Peter, the cock shall not crow this day, before that thou shalt thrice deny that thou knowest me.
Acts 3:19 (KJV)
19 Repent ye therefore, and be converted, that your sins may be blotted out, when the times of refreshing shall come from the presence of the Lord.
Proverbs 7:2-3 (KJV)
2 Keep my commandments, and live; and my law as the apple of thine eye.
3 Bind them upon thy fingers, write them upon the table of thine heart.
Proverbs 8:32-36 (KJV)
32 Now therefore hearken unto me, O ye children: for blessed are they that keep my ways.
33 Hear instruction, and be wise, and refuse it not.
34 Blessed is the man that heareth me, watching daily at my gates, waiting at the posts of my doors.
35 For whoso findeth me findeth life, and shall obtain favour of the Lord.
36 But he that sinneth against me wrongeth his own soul: all they that hate me love death.
John 8:51 (KJV)
51 Verily, verily, I say unto you, If a man keep my saying, he shall never see death.
John 14:15 (KJV)
15 If ye love me, keep my commandments.
John 14:24 (KJV)
24 He that loveth me not keepeth not my sayings: and the word which ye hear is not mine, but the Father's which sent me.
Revelation 1:8 (KJV)
8 I am Alpha and Omega, the beginning and the ending, saith the Lord, which is, and which was, and which is to come, the Almighty.
Jeremiah 7:2-3 (KJV)
2 Stand in the gate of the Lord's house, and proclaim there this word, and say, Hear the word of the Lord, all ye of Judah, that enter in at these gates to worship the Lord.
3 Thus saith the Lord of hosts, the God of Israel, Amend your ways and your doings, and I will cause you to dwell in this place.
Job 13:15-16 (KJV)
15 Though he slay me, yet will I trust in him: but I will maintain mine own ways before him.
16 He also shall be my salvation: for an hypocrite shall not come before him.
Job 2:7-10 (KJV)
7 So went Satan forth from the presence of the Lord, and smote Job with sore boils from the sole of his foot unto his crown.
8 And he took him a potsherd to scrape himself withal; and he sat down among the ashes.
9 Then said his wife unto him, Dost thou still retain thine integrity? curse God, and die.
10 But he said unto her, Thou speakest as one of the foolish women speaketh. What? shall we receive good at the hand of God, and shall we not receive evil? In all this did not Job sin with his lips.
James 5:12-16 (KJV)
12 But above all things, my brethren, swear not, neither by heaven, neither by the earth, neither by any other oath: but let your yea be yea; and your nay, nay; lest ye fall into condemnation.
13 Is any among you afflicted? let him pray. Is any merry? let him sing psalms.
14 Is any sick among you? let him call for the elders of the church; and let them pray over him, anointing him with oil in the name of the Lord:
15 And the prayer of faith shall save the sick, and the Lord shall raise him up; and if he have committed sins, they shall be forgiven him.
16 Confess your faults one to another, and pray one for another, that ye may be healed. The effectual fervent prayer of a righteous man availeth much.